Tips and Tricks to Travel Sustainably in Aruba
"Take a deep breath, breathe into your stomach, and exhale slowly," says yoga instructor Dani. As the gentle wind caresses my hair, I take a deep breath of the salty, pure air. Even though my eyes are closed, I can still feel the unreal beauty of Aruba, the warmth on my skin and the smile on my face. This is happiness. Raw happiness.
Moments later, as I awkwardly slide into the camel pose, I can't help but giggle and open my eyes. Upside down, that sunset over the rough waves and rugged rocks looks even more spectacular.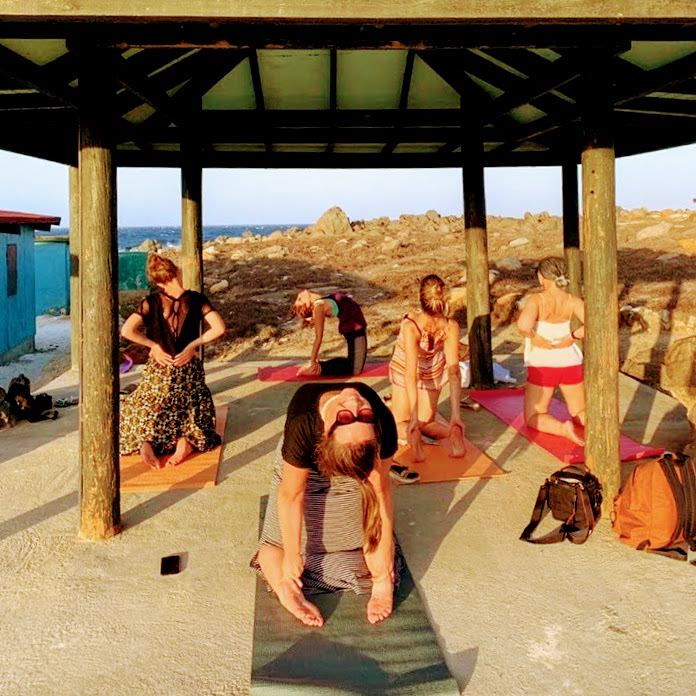 After the yoga class, we enjoy the cooking skills of Frank Kelly. He prepares authentic and creative food for us along the water's edge, on the steps of an old fisherman's house with no water and electricity supplies. While waiting to start the feast, we sip delicious rum cocktails and talk to one another about the crisis in nearby Venezuela, traveling and living in Aruba, and the possibilities of sustainable tourism. In the background is the clattering sound of the fire and the waves. Like me, Frank tries to avoid single-use plastic as much as possible.
The, fully satiated, I think of the delicious food again and gaze at the vast ocean. "I can't wait to get to be back soon, Aruba," I silently vow.
Think sustainably from the start
Bon bini Aruba… Welcome to Aruba!
"The national slogan of Aruba – one happy island – couldn't be more spot on. If there's one thing you're sure to find here, among these lovely people and entrenched in these varied, rich experiences, it's happiness."

Charlotte TravelRebel
So how do you get here with the least amount of impact? Well, the easiest way to reach Aruba from Belgium or the Netherlands is by a direct flight with KLM.
(Would you like to learn more about how to fly more consciously? Read my five tips and and learn about compensating for your flights.)
Communication goes a long way
In Aruba almost everyone understands Dutch, English and Spanish.
What intrigued me the most is the local language Papiamento. This is a Creole language composed of Spanish, Portuguese, Dutch, English and French elements. The real connoisseurs may also find Arawakan and African languages in it, but my knowledge of languages does not go that far.
Papiamento is spoken in Aruba, Bonaire and Curaçao (the ABC islands also called the Netherlands Antilles).
Here are some basic Papiamento phrases that you should learn. Locals will definitely appreciate it!
Bon dia = Good day / Good morning
Con ta bay? = How are you?
Bon tardi = Good afternoon
Bon nochi = Good evening
Hopi bon = It is going well, also very well and you could also use it as "Blessed".
Dushi = Love, tasty (food, but in the broadest sense of the word)
Danki = Thank you
Masha Danki = Many thanks
Sun and fun
The sun always shines in Aruba! How wonderful (dushi) is that?
There is also always a more than welcome breeze. Maybe I should go back to wind or kite surf in this little paradise.
It is also a wonderful destination to go sailing because of the constant trade wind and the very calm water. Rent small sailboats from Palm Beach, join the larger catamarans, or opt for crewed sailing yachts at Palm Pier.
Get on board the Monforte Cruise and enjoy a day of sailing with a great crew.
There are many water sports available in Aruba such as: kayaking, paddle boarding, wakeboarding, deep sea fishing, snorkeling, diving, …
TIP: Don't forget to apply a coral safe +50 SPF sunblock!
(And speaking of sunblock, did you know that from 2020 the use of sunscreens containing oxybenzone, a chemical/synthetic UV filer, will no longer be allowed in Aruba? The island wants to protect its beautiful reefs, one of the most endangered ecosystems in the world, so it is best to buy coral safe sun creams (also available locally). Read our tips for reef-safe sunscreens here.
Utter relaxation
You can take yoga classes pretty much anywhere or try a more intensive pilates class. At the Manchebo Resort & Spa you can participate in sunset yoga every day, try out morning Vinyasa yoga, or partake in guided deep relaxation, meditation and pilates classes. During your workout you get to enjoy breathtaking views of swaying palm trees, white beaches and the bright blue sea. Afterwards, get pampered with a wonderful massage
As a non-resort guest you simply pay $15 per lesson. Just bring your towel and wear comfortable clothes.
Address: J.E. Irausquin Boulevard 55, Eagle Beach Aruba – info@manchebo.com
Stunning beaches
Have you been dreaming of the white-sand beaches all your life? You know, those you read about in books? And, of course, those palm trees and bright blue water? Well, just come to Aruba and you can wiggle your toes in the white sand yourself!
https://www.instagram.com/p/B2bYF9RIZv-/
Arikok National Park
Today 18% of the island belongs to Arikok National Park. Another 2% will be added soon. This means that one-fifth of Aruba will be a national park!
The informative tour led by local ranchers is very educational and beneficial for the conservation of the park. You can also find old murals of the very first inhabitants of Aruba, namely the Caquetio Indians.
Entrance fee to the National Park is $11. Through this contribution, the area can be maintained and you contribute directly to sustainable tourism.
"Maintain, protect, and manage the existing flora, fauna, landscapes, ecological habitats and cultural-historical heritage for the benefit of future generations."
At the entrance of the National Park you find this nice description of what sustainable travel actually is. We are all trying to do our part and travel more consciously so that our children, grandchildren and their children can enjoy all the wonderful things our world has to offer.
Worthy initiatives
The new SAVE OUR SHARKS project is one that is close to my heart as a conscious traveler and diver.
Sharks are necessary in the ecosystem and help maintain a healthy ocean and reefs. They reproduce slowly and are especially vulnerable to overfishing and habitat loss. Aruba and Arikok National Park are committed to growing the population and variety.
Worldwide, 11,417 sharks are killed by humans every hour. EVERY HOUR. Needless to say, it's high time to change that.
I have already received intel that Aruba will soon have a Marine National Park. Therefore, they will recruit people with a heart for sharks and nature conservation. Are you passionate about sharks and marine life? If so, this could be the ideal job.
Practical guide: How to explore Aruba sustainably
So now that you know how to get there and what there is see and do, here's how to make the most of your trip in a conscious manner.
1. Drink tap water
There is high-quality drinkable water available everywhere in Aruba. The water has been tested by the World Health Organization and is as safe as bottled water. So feel free to bring that awesome reusable drinking bottle with you and do your bit.
2. Make the effort
Did you know that from 2020 the use of disposable plastic has been completely prohibited in Aruba?
On vacation we often immediately go into complete relaxation mode and sometimes forget the little things we do at home, such as turning off the lights in the hotel room. Be conscientious here too. Don't let the water run and limit your showers if you can. Read more tips in my Sustainable Travel 101 article and explore a little more consciously next time.
https://www.instagram.com/p/B2W_fy-IhnY/
3. Travel outside the high season
Do you want to make a real difference? Then travel outside the high season.
The sun shines all year round, prices are cheaper in the low season and the local population can enjoy a continuous income this way. Win-win!
4. Don't forget your passport
Super simple, just bring your international passport. Apparently, you can also be accepted with just your Dutch identity card, but be on the safe side, bring that nice international passport and get an extra stamp.
No visa applications required for Aruba. Yay!
5. Medical care & accessible travel
There is a well-equipped hospital near the region of the major hotels. You do not have to fear tropical diseases in Aruba, but if you are traveling a bit more adventurously, be sure to check my complete medical checklist before your journey.
Less agile? Don't worry… you can still travel comfortably and enjoy Aruba.
6. Money, Money, Money
Bank cards are accepted almost everywhere in Aruba. Nice and easy. If you still have some American dollars at home from a previous trip, be sure to take them with you. You can easily withdraw money in most major hotels and the local currency is the Aruban Florin (1 Florin = approximately 0.5 Euro)
The United Nations Environment Program reports that in a typical mass tourism package, out of every USD 100 spent by a tourist, only USD 5 actually remains in the local economy.
So buy local souvenirs instead of the many cheap 'made in China' souvenirs. Local products may be slightly more expensive, but in this way you can be sure that your money has a direct (positive) impact.
https://www.instagram.com/p/B2hoaKro03m
My favorite places to eat in Aruba
And how can a post on Aruba forget food? It is the ideal destination if you like to eat fish, are vegetarian or vegan, or are gluten intolerant… this island really has it all!
1. Elements Restaurant at Bucuti and Tara Beach Resort
This is my absolute favorite resort! Sustainability down to the last detail. And an unforgettable setting on the beach. Bucuti and Tara Beach Resort is the very first carbon neutral property in the Caribbean. This resort produces 63% less waste and is strongly committed to reusing different materials.
The accompanying restaurant Elements will blow your mind. You can choose European and Caribbean dishes with a strong focus on healthy food, many vegan or vegetarian options, all the while enjoying a breathtaking view of the ocean.
Nice extra: the menu is actually on an iPad where you easily see the allergens, calories and ingredients each dish contains.
2. Wilhelmina
Wow, I am still a bit speechless when I think back to the evening at Wilhelmina's. What a wonderful experience and FANTASTIC food!
My mouth still waters when I think of the watermelon and scallops as a starter and the mahi mahi (a popular fish you will see on the menu very often in Aruba).
Address: Wilhelminastraat 74, oranjestad
Tip: Book in time via their website http://www.wilhelminaaruba.com/
3. Passions on the Beach
In a romantic mood? Or is Aruba your honeymoon destination? If so, then have dinner at sunset at Passions on the Beach.
Bare feet in the white sand, the sound of the ocean, tropical breeze, the perfect romantic setting and good food. You'll definitely score major points with your significant other.
Small detail: The menus glow in the dark!
Address: J.E. Irausquin Blvd 252, Noord, Aruba
4. Eduardo's Beach Shack
Looking for a sustainable and healthy lunch? Stop by Eduardo's Beach Shack! They have delicious poke and fruit bowls, coco ice cream, smoothies, and so much more.
They try to work with recycled packaging, which earns them brownie points in my book!
Address: J.E. Irausquin Blvd 87, Noord, Aruba
A nice place to stay at
If you want a small-scale and unique stay with two Flemish sisters (twins!), consider the Boardwalk Boutique Hotel.
The brightly colored casita will soon feel like a real home in Aruba.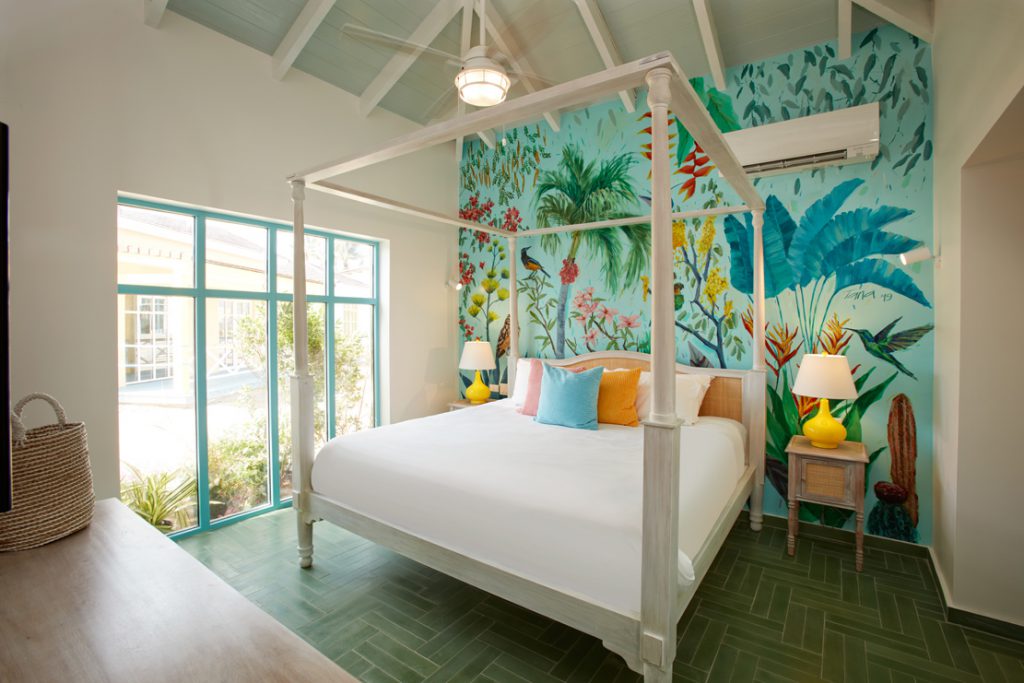 Boardwalk also filters the 'black water' and later uses it to spray the tropical plants between the houses. Every little bit helps.
And there you have it — pretty much all the information you need to plan a spectacular trip.
ARUBA, YOU ARE ONE HAPPY ISLAND, YOU MADE ME FALL IN LOVE!
I'll be back Aruba, I'll be back.