Why you should give this region a chance during the summer
Everybody knows Tyrol (or Tirol) for its famous ski areas such as Sölden, Kitzbühel or Ischgl. But when all the snow has melted during the summer and the cows return to their green meadows, a new paradise awakens. In the region of Defereggen you can hike, bike, eat and relax to your heart's content under the bright sun at the Hohe Tauern (high mountains) National Park.
Hohe Tauern National Park
The  Hohe Tauern National Park is the largest national park in Eastern Europe, boasting 1.856 m² of terrain. That also makes it the biggest and oldest in Austria. It is spread over three regions: Tyrol, Salzburg and Carinthia. You have numerous options to go out and about on foot, with crampons or with an (e-)mountain bike. There are around 200 huts scattered across the park to help you with a good meal or a bed if you're planning a multi-day walk.
In the western part of the park, right by the Italian border, you can find the oldest mountain village of Austria: Jagdhusalm. Ever since 1212, farmers have been coming here in summer time to care for their cows on a height of 2,000 meters. This place gives you an opportunity to take really picturesque photos when the sun rolls over. In this bit of the park cars are only allowed to drive through on Tuesdays, so you can usually enjoy genuine peace and quiet when you hike or bike up. You can even charge your e-mountain bike at the top. If you continue on the trail for half an hour more, you'll find yourself right on the border shared with South Tyrol. There are no options to stay the night in Jagdhusalm but you can certainly get an amazingly fresh meal here.
There are also a lot of wild animals in the park. Hohe Tauern has its own 'big five' you can spot with your binoculars: chamois, ibex, marmots, eagles and vultures. During our sunrise hike we were constantly searching the mountainsides and skies to locate them. And if you look closely, you'll see them! It is truly magical when the deer, chamois and ibex climb up from the valley after they've woken up and return to the peaks. Don't forget to also scan the trail for cow poop unless you want to walk in it, like I did! After all, you're in their domain…
Practical information
How to get there: Austria is easily accessible by train. From Brussels, it's easy to travel right to Innsbruck. You can already get a return trip ticket starting from EUR 120. If you prefer to go by car, there are plenty of CNG or electrical charging stations along the road. This is possible, for example, by renting an electric campervan from Goboony. This way you can combine sleeping and traveling. And to top it all off, you rent directly from the owner who you meet personally when you pick up your van. If you want to get there faster and prefer flying, the best way is by going to München or Innsbruck.
Where to sleep: In one of the picturesque hotels in the valley, of course. I stayed at Hotel Jesacherhof in Sint-Jakob, Defereggental. There are also dozens of campgrounds in East Tyrol. You should also keep in mind the beautiful mountain huts with amazing views and good food. Just don't forget to book your stay in advance on East Tyrol's Website.
Book now with more than 15% off travel. Now through to January 4th 2021
Food: You can easily enjoy good meals in one of the huts during your hike. I can definitely recommend the huts in Obersee and Jagdhusalm. I got completely swept away by their fresh potato dishes and desserts.
Language: In East Tyrol, everybody speaks German and some also speak Italian. Not everybody speaks English, but they make up for that with their amazing hospitality.
Must-see spots: Obersee, Steller Sattel, Ochsenlacke, Jagdhusalm, and Großglockner.
How can you make a difference with this trip?
Well, you can already make a difference by looking up everything on the website of Ecosia instead of Google. Ecosia invests 80% of its revenue in planting trees. So go ahead and look up a million things… and don't feel bad when you click on an advertisement.
Additionally, Austria's hotels are mainly operated by locals, although a lot of young people leave the mountain areas. By staying here, you make sure they earn something from your visit and can keep offering employment opportunities. Book your stay through this link and you will automatically make a donation to OZG (or simply choose another charity on trooper.be).
Enjoy all the Austrian treats you want, such as schnaps, cheese, bacon, bread and desserts. You can also fill up your water bottle at the fresh mountain streams and lakes. Avoid buying your groceries at the supermarket. Take home some honey, jam or schnaps so you can keep enjoying Austria for even longer.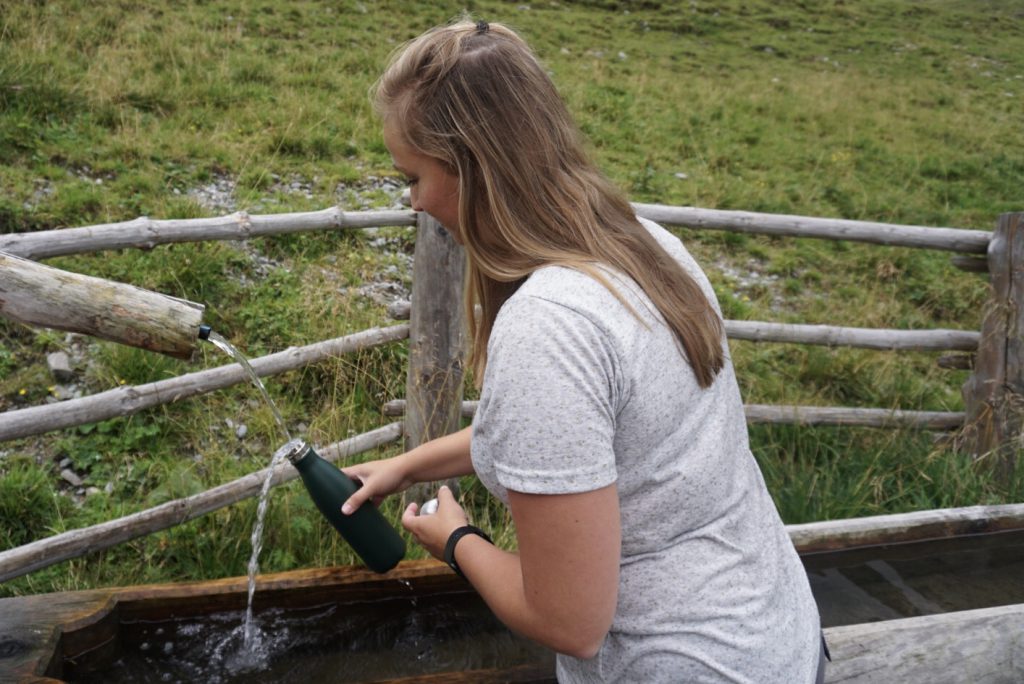 In summary: Five reasons to go to East Tyrol in the summer
     

The Hohe Tauern National Park is the oldest and largest park in Austria. You can also find a giant of a mountain there, the Großglockner (3,798 m). Furthermore, you'll be able to enjoy 2,500 km of walking trails and 600 km of mountain biking trails.

     

Have you always wanted to go on a safari or are you crazy about wildlife? You'll find chamois, ibex, marmots, eagles and vultures. Remember, you have the best chance of spotting these creatures along the mountainside with your binoculars at sunrise.

     

East Tyrol is famous for the pureness of its water and you will see this in a lot of places. You can drink the clearest water here straight from the streams. Moreover, a

2,000-meter-deep source

can even heal you from irritated skin or infections with a refreshing foot bath.

     

You truly get to hike or bike on your own, or among the locals. No crowds, no rush. So if you'd rather have the mountain to yourself, or want to explore some favorite spots with the locals, you'll get plenty of chances here.

     

Nothing beats fresh produce and you can find that in abundance here. While hiking, East Tyrol will keep treating you with fresh blueberries, raspberries, cranberries, thyme and mushrooms. In the huts along the trail, you'll get the very best food, all fresh!