Those who think of the Costa Brava probably do not immediately think of a quiet road trip. I can hear you thinking. Isn't that for teenagers who only walk around dead drunk and sleep it off every day after a night out? This is often the case in summer, because that is also the Costa Brava. But the Costa Brava is so much more than that. We went roadtripping through the Costa Brava for 7 days with the Volkswagen ID3. We visited the most beautiful places and places to stay to tell you why the Costa Brava is definitely worth a visit.
Read more: Travelrebel Silke wrote about the 7 best restaurants in the Costa Brava & the 9 great activities to discover in the Costa Brava
DAY 1: LA MOLINA – RIBES DE FRESER – RIPOLL – LA VALL DE BIANYA
On the first day we drove towards the ski village of La Molina with our electric Volkswagen ID 3. It was the end of the season and a lot of the snow had already melted. But still some skiers dared to hit the slopes one last time. Apart from the 50km of slopes in La Molina. You can also enjoy breathtaking views of the Catalan Pyrenees.
From La Molina, our journey continued towards Ribes de Freser a little further into town. There we had a delicious lunch at Els Caçadors where they focus on the slow food concept. More about this restaurant in 7 best restaurants in the Costa Brava.
About 20km further, we were in Ripoll where the monastery is located. This was unfortunately closed but this did not take away from the other beauty of the city. In the city there are several paid parking spaces that are within walking distance of the city centre, which makes it very accessible to go there by car.
After a full day we headed to our first hotel of the week
HOTEL MAS LA FERRERIA
Our first place to sleep was around the Bianya and Bac valleys that belong to the Garrotxa volcano zone. Hotel Mas La Ferreria is a centuries-old building that dates back to the 14th century and was completely renovated in the 21st century. During the renovation they kept the antiquity and charm of the building and this is reflected everywhere.
Mas La Ferreria is highly recommended as a stop on your road trip for its hospitality alone. They have 9 completely different rooms, each with its own charm. Furthermore, the rooms are equipped with high quality products that make sure you can fully relax. As you can read, mountain views, no noise, beautiful surroundings. They are really in an unbeatable location.
Dinner and breakfast are served in a typical century old place, very quiet, nicely decorated while maintaining the character. Both meals were served with local products.
What was most important to us in this place was that they are doing everything they can to become more sustainable. They have provided two charging stations that make it possible to charge your electric vehicles. Furthermore, each room has a separate temperature system to conserve energy as much as possible. Most importantly, they try to reduce the use of plastic as much as possible.
I will definitely be going back there
DAY 2: GARROTXA – CASTELLFOLLIT DE LA ROCA – BESALÙ – FIGUERES EN PAU
With our batteries recharged, we went to the Garrotxa, where we enjoyed hiking to get to know the volcano area a little better. Besides tasting a typical volcano flower, we also got to know its history a little better. Parking the car is done at the Aparcament de Santa Margarida where you can leave your car with peace of mind and it is completely free.
After a good morning hike, we headed for Castellfollit de la Roca and Besalù. These 2 old charming towns were a perfect stopover on our way to Figueres. You can park your car in one of the free public car parks nearby and then go and explore the town to soak up some local culture.
Figueres is best known for the Dali museum. In the museum, you can imagine yourself in the illusion that Mr. Dali tried to create. Take your time to visit this museum so that you can feast your eyes on it as you will be amazed at the amount of art that awaits you.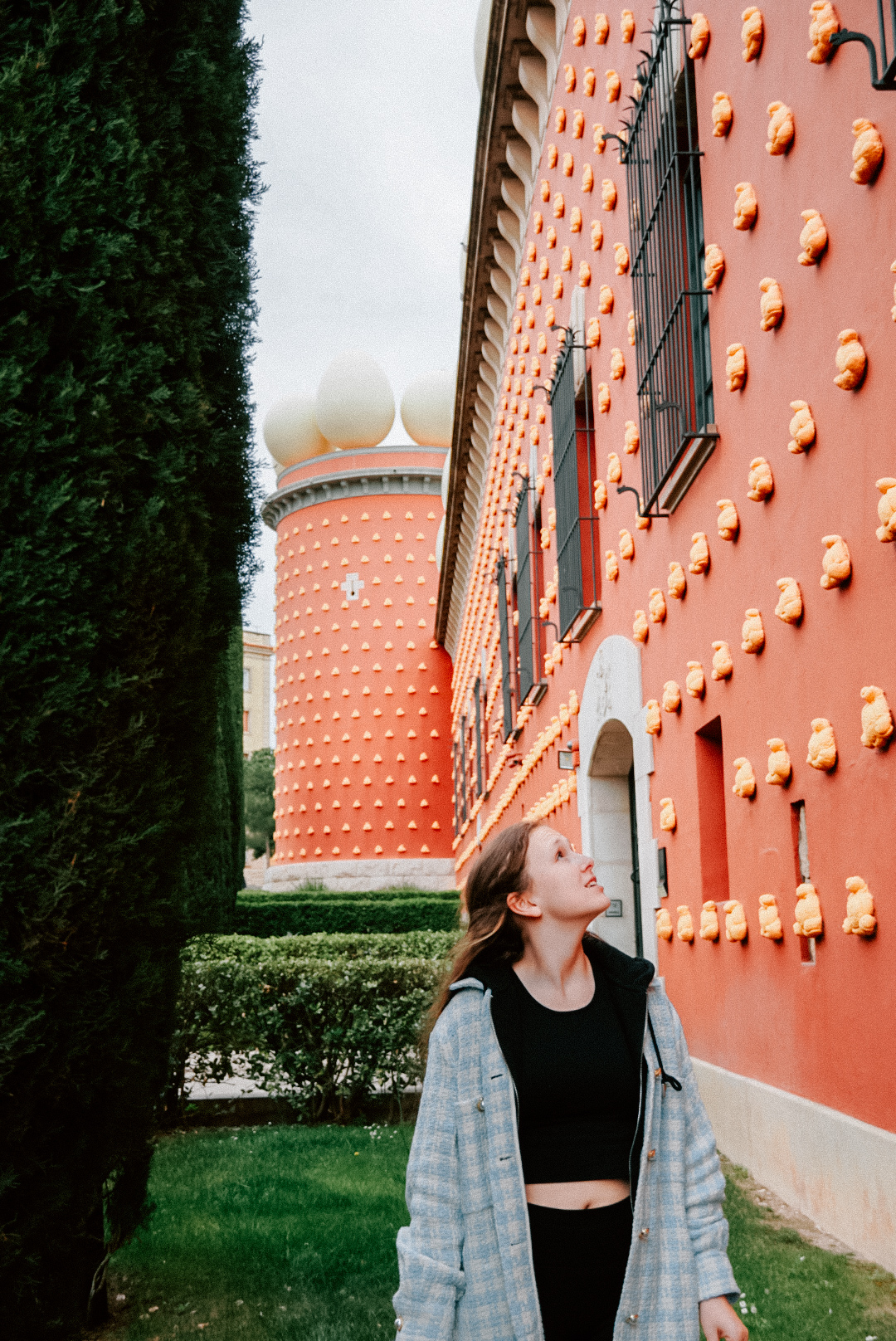 HOTEL MAS LAZULI
Hotel Mas Lazuli located in Pau between the ancient town of Cadaques and the sea town of Roses is a fully restored 12th century hotel. This hotel has a beautiful view of their own vineyards and is surrounded by olive trees. This setting allows you to completely unwind and enjoy all the facilities on offer. Apart from their wellness complex, they also offer various experiences. Would you rather enjoy a wellness experience for 2, a boat trip through the bay of Roses and Cap de Creus or completely immerse yourself in the vineyards. As you can hear, there is something for everyone.
Dinner brought us back to the culinary heritage of the region. First, you can order wine from their own vineyard. Also, all dishes are made with local products.
DAY 3: COLERA – LLANCA – SANT PERE DE RODES – CADAQUES
We start the day with a half-hour drive towards the coastal town of Colera, where Cellar hugas de battle is located. This town lives from tourism because only 300 Spaniards live there, all the other inhabitants are tourists. Besides delicious wines, they also boast a vineyard on top of the hills that offers a beautiful view over the sea and their other vineyards. The car can be parked for free at the back of the shop.
HOTEL VILLA GALA
Hotel Villa Gala located in the ancient town of Cadaques is 2min walk from the sea. This hotel gives you a sense of tranquillity through the Mediterranean style they have created with a focus on shades of blue and white. Walking into the hotel room, you will immediately be attracted by the adjoining terrace. Yes, every room in this hotel has a terrace overlooking the sea, the mountains or the city. Who doesn't like a good view right?!
Unfortunately the restaurant was closed when we visited the hotel, but we heard that the cuisine is inspired by the region. Which makes it very interesting since they are close to the mountains and the sea. The products are also produced locally which you can see immediately when you have breakfast in the morning.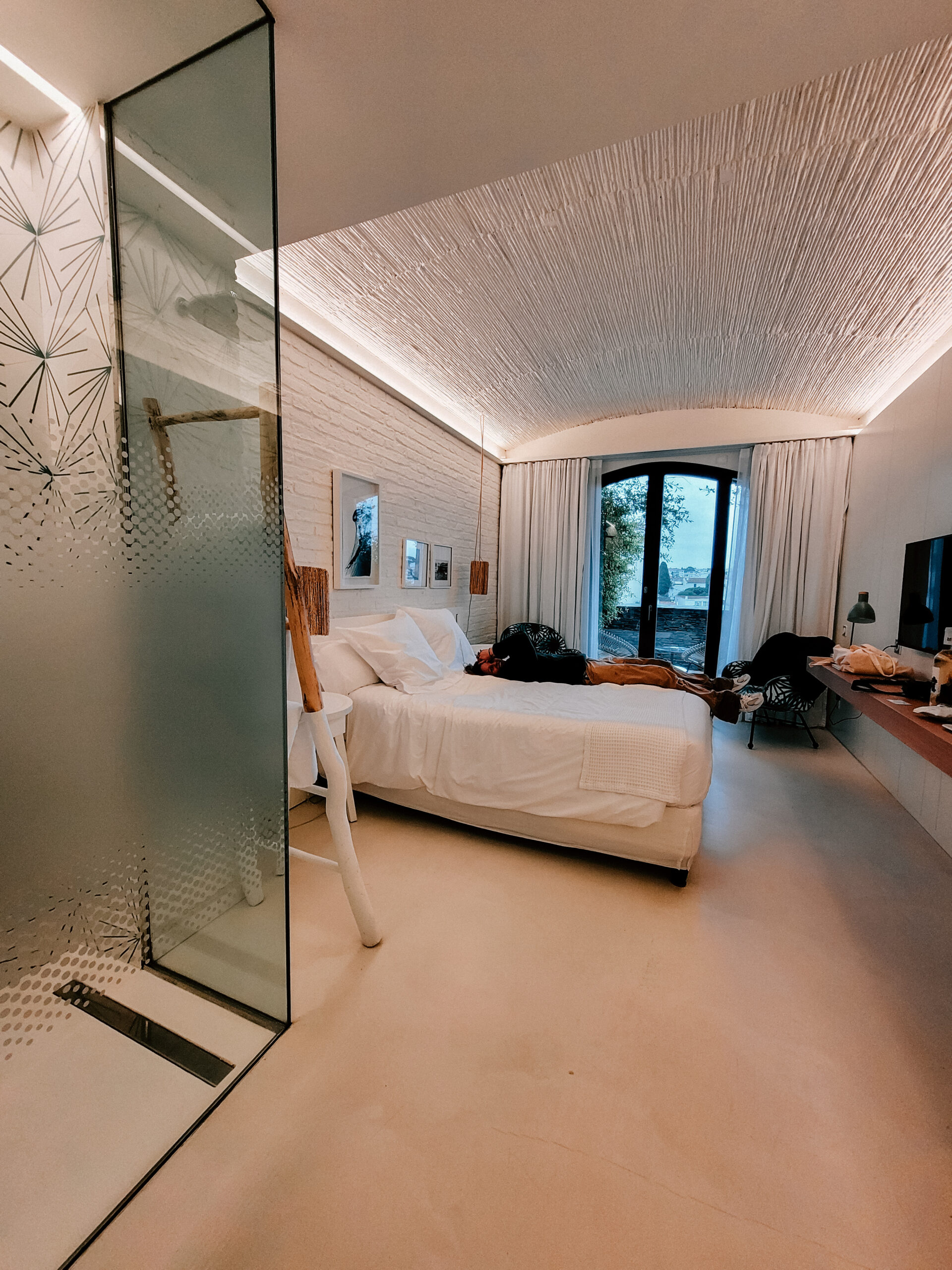 DAY 4: CADAQUES – CAP DE CREUS – SANT PERE PESCADOR
After a good night's rest at Hotel Villa Gala, our journey continued towards Cap de Creus. Some 15 minutes and a lot of winding roads later, we were rewarded with a beautiful view. Even in bad weather Cap de Creus is definitely a must for breathtaking views and various hiking routes.
After Cap de Creus we went back to Cadaques. If you want to visit something in Cadaques or enjoy a coffee in one of the many coffee bars. Then you should pay attention to where you park. The safest is to park your car in the car parks indicated with a P for parking. In the city you will often find different coloured lines at parking places. Green is for residents (with permit), Blue is paying and is accessible to everyone. White is free and on the yellow lines parking is prohibited. We chose the parking lot that is located when you enter the city. That way we were safely parked.
After visiting Cadaques we left for our last stay of the week.
CAMPING AQUARIUS
Camping Aquarius located at Sant Pere Pescador has already received some awards for the best campsite in the area. Furthermore, the campsite is located directly on the sea where you can practice various water sports such as kite surfing, windsurfing and many more.
The campsite can accommodate several campers, tents, caravans, mobile homes and so on. They also offer cottages equipped with everything you need to get through the days. From a supermarket to a bar to a beach bar where you can eat delicious nachos and/or burgers. Everything is there for you to have a good time at the campsite.
A big plus on the campsite are the 2 charging stations that are present to charge your electric vehicle. You can charge your car by installing an app or you can request a charge card to charge your car.
DAY 5: GUALTA – FONTCLARA – RUPIÀ
Friday morning started with a nice e-bike ride to medieval villages built on different hills. When you enter the villages, it seems like you go back in time. You find medieval buildings and small pebbles that catapult you back to how it used to be. For this activity, you can park your car and leave it with an easy mind on the domain where the activity is located.
After a bike ride, it was time to visit something that everyone immediately thinks of when they hear Spain. Olive oil from fontclara was one of the souvenirs we all wanted to take home. We were warmly welcomed here and the owner Mr Zanotelli took the time to greet us and welcome us to his estate. His love for the region and the product is obvious when you hear him talk.
DAY 6: GIRONA – PALS – L'ESCALA
From our sleeping place we headed for Girona. The city where Game of Thrones was filmed several times. Don't know what Game of Thrones is? Don't worry, Girona remains a beautiful and vibrant city with narrow alleys and an ancient culture. More about Girona and our other activities can be found in the blog 9 great activities to discover the costa brava outside barcelona.
DAY 7: L'ESCALA – HOMEBOUND
It was our last day but before we could go home. We had one more activity planned. Those who come to the Costa Brava should visit the anchovy museum to learn more about the culture. Our guide was so passionate that it was a pleasure to follow the tour.
After a week full of adventure, satisfaction, lots of stories and a fully charged car, we returned home.
Wanna know more? check out the following instagram Pages: @foodcostabrava @costabravapirineu and premiumcostabravagirona
COSTA BRAVA WE WILL SEE YOU SOON!