HOW TO AVOID MASS TOURISM IN WESTERN CANADA
When the national parks in Canada thaw around June, you have about four months to enjoy them. The Banff, Jasper, and Glacier National Parks attract thousands of visitors with their wild flowers, azure lakes and glaciers.
Are you interested in discovering Canada on your own? Then read on and make a note of these lesser-known tips. Canada is the perfect destination to discover by car or campervan.
Go fishing with a local
Vancouver Island is known for the whales and orcas that migrate there every year. You can book a boat or Zodiac tour in every city to find them. But do you want to go for the authentic experience? Then go fishing early in the morning with one of the locals. It is a guaranteed way to show you the best places to spot wolves and bears. Meanwhile, whales swim around you as you reel in salmon. If you're lucky, you'll also catch some sea bass that you can feed to the eagles later. After five hours of bobbing up and down, you know the wildest stories of your guide and go home with a nice portion of fish to throw on the barbecue grill. Do not forget to apply for a fishing license in advance and to tick the salmon option.
Visit a provincial park
The nature in Canada is endless and therefore certainly not limited to the national parks. There are more than a thousand lesser known provincial parks where it is a lot quieter. Here, you can enjoy the fantastic nature just as much. Check out the free natural hot springs or be surprised by a moose during your walk. The famous hot springs often look more like outdoor swimming pools than natural phenomena. My favorite provincial parks are undoubtedly Wells Gray Provincial Park and Strathcona Provincial Park.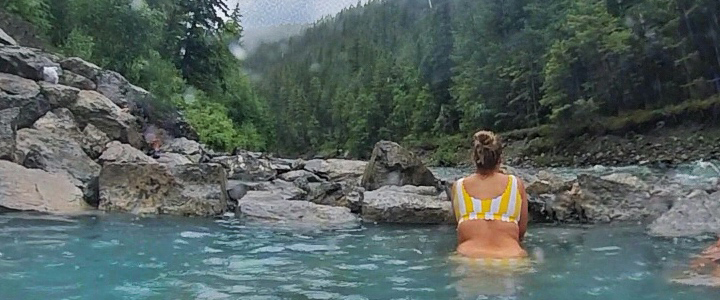 Sleep in a mountain hut
Most hotels and campsites in Western Canada are fully booked weeks in advance during peak season. However, what you cannot always book in advance are the mountain huts in national parks. You have to reserve those on the very day you visit the park. Apply for your backcountry pass, pack your camping gear, and try these huts out. The Canadians also prefer to book their trips this way during the busiest months.
Oh, want to isolate yourself completely? Then consider a multi-day trip.
Experience sunset on Moraine Lake
A lake that you should not miss on your trip through this region is definitely Moraine Lake. Unfortunately, if you're in the mood to see the sun rise, the parking lot can fill up really early sometimes, as early as half past five in the morning! It then remains closed for the rest of the day. That is why most travel guides advise you to leave on time. So, to see the sun set, it's better to just lie back, explore the walks around Lake Louise and come back in the evening. There are fewer people at this time and the light is even more magical.
Go wine tasting in the Okanagan Valley
The Okanagan Valley is known for its warm climate and good wine. It is also the perfect stop between Vancouver and the Rocky Mountains. Stock up on wine before you head out into the mountains or recover from a few weeks of brisk walking. There are plenty of local winemakers who will tell you all about their place in the sun with great enthusiasm. On the road between the different domains, you will find stalls everywhere with tasty cherries and peaches. Trust me when I say that the fruit is absolutely irresistible.
ABOUT TRAVEL REBEL SILKE
Silke wants to give the poorly appreciated term YOLO a better meaning. She always tries to set off on long journeys in the summer and winter and uses every extended weekend to plan a trip. Nature and walking feature in all those journeys. That probably has to do with her dog, Nacho, who she regularly takes with her on adventures. Her boyfriend Bart regularly accompanies her to capture the best images with the camera and drone.