At the end of our trip to one of the most enchanting places I've ever visited, all it took was a glance to reinforce the feeling of absolute coziness and contentment. At once, these words sprung to mind:
Das Glück is a bird. Die Zufriedenheit is sein Nest.
Simply translated, they mean: 'Happiness is a bird. Satisfaction is his nest'.
Kitzbühel was true enjoyment, extreme happiness, and a unique sense of satisfaction.
Kitzbühel was also the tip of your nose freezing from the icy wind during a snowshoe hike, gourmet food by a fire, and the lovely warmth of the bright sun on your face on the terrace.
In short, Kitzbühel was varied. Vastly varied. And also boasted some surprisingly fun and sustainable initiatives.
Needless to say, a top destination for travelrebels.
(Oh, by the way, the Kaiserschmarrn and schnitzels were scrumptious, but enough has been written about that!)
Alright, let's start with some practical details.
How to get to Kitzbühel
Kitzbühel is a beautiful and colorful village in Tyrol, Austria. The ski fanatics among you will certainly have heard of it because it has "the most spectacular downhill race in the world". Yup, you heard correctly, so more on that later for sure. Here are some options on how you can arrive at this little piece of heaven.
Train
Taking the train means no traffic jams during busy holiday periods, no struggling with snow chains, and arriving at your destination nicely rested. You can take the train from practically everywhere in Europe to a bunch of major cities in Austria. There are several connections per day to Kitzbühel and most hotels are happy to pick you up at the station. A lot of the international express trains also stop in Kitzbühel. For more information on the Austrian Railways, click here.
TIP: The landscapes along the way are truly stunning, so try to stay awake and take those in!
You can also get to other sustainable ski resorts by train from Belgium. Read our stories of Les Arcs, Verbier, Hochkönig, Val Di Fassa and Ischgl here.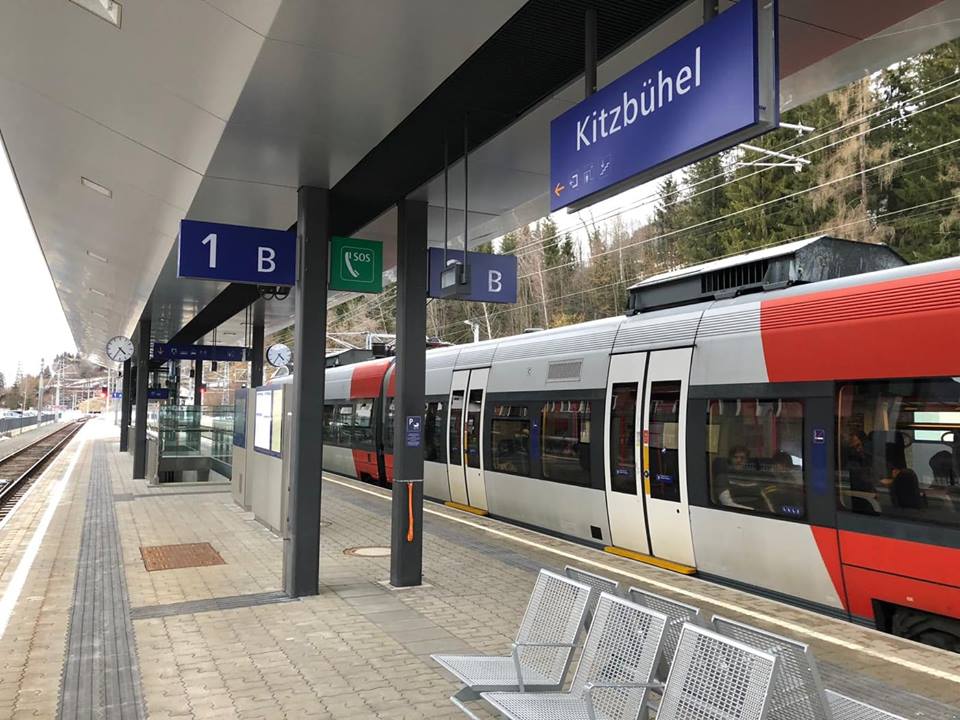 Car
Many Belgians prefer to travel by car to the mountains. If you still have space in your car, consider picking up someone headed to the same destination. It would mean one less car on the road and might even result in very interesting conversations.
Kitzbühel is pretty easy to reach and isn't super high, so you don't have to worry about crazy altitude and endless sharp turns. This is especially relevant for those parents who will also have children in the back seat. You could even opt for an electric car. Or you can carpool with other travelers through BlaBlaCar.
Plane
Prefer the ease of a flight? If so, you can fly to Munich, Innsbruck, and Salzburg. Ask your hotel if it has an airport shuttle or simply jump on the train once you've arrived. There are also many shared or private minibuses from the airports to Kitzbühel.
The train from Salzburg to Kitzbühel can be booked for as little as EUR 9. The journey takes between 2 and 2.5 hours. Innsbruck is approximately an hour's drive from Kitzbühel and the train will get you there in less than an hour. There are also dozens of trains a day from Munich to Kitzbühel.
https://www.instagram.com/p/BvOJi_1FcrW/?utm_source=ig_embed
Kitzbühel for non-skiers
As I said before, Kitzbühel is enormously varied. Even as a non-skier, you can have a lot of fun.
Torchlight hike
I was immediately catapulted back to my years in the Chiro. As some know, I have been in a youth movement for many years and had the time of my life there. (For those outside of Belgium, Chiro is a kind of volunteer work with children. You work with a leadership team/crew to give children the best time: build camps, splatter around in the mud, assemble challenging games, and go on torchlight hikes.)
https://www.instagram.com/p/BvAIhzfFAF9/?utm_source=ig_embed
For those of you who don't know, a torchlight hike in the mountains is like a little bit of magic. Put on your moonboots and warm scarf, light that fire, and enjoy the snowflakes that swirl around you.
Every Friday evening there is a torchlight tour organized by Kitzbühel Tourismus. The meeting point is the tourist office of Kitzbühel (in the center, near the casino) and the time is 19:30 sharp. For EUR 10, inclusive of a hot drink, I'd say it's a pretty good deal.
Snowshoe hiking
You know what I'm talking about… those rocket shoes, right? I myself had never done it before and thought it would be super intensive. The image in my head had me falling on my face within two meters. Well, guess what? I only stumbled twice (and that, too, very gently) and there were no buckets of sweat.
Snowshoe hiking is actually very relaxing. You can, of course, make it as intensive as you want, but the silence of the mountains, the soft creaking of the fresh snow, and the cadence of walking made me happy. Pure relaxation.
This is also a great activity when it snows quite hard in the mountains. Often, the situation isn't ideal for skiing, but you can definitely go snowshoe hiking.
These snowshoe walks also depart from the tourist office on Wednesdays and Fridays at 9:45 sharp. The price is EUR 12. In the afternoon, there is also a kind of 'taster' snowshoe hike that leaves at 13:30 and costs only EUR 6.
A sunset hike or full moon hike
Every Tuesday you can go on sunset hike, starting at about 15:00. The full moon hikes obviously just take place during a few exceptional moments. Just ask the tourist office at +43 5356 66660.
Curling and skating
Apparently, you can go skating at both the Sportpark and Rasmushof and even try out curling. Click here for some great information on winter activities in Kitzbühel .
Museum visit
In the city center you have the Sammlung Alfons Walde Museum. I found it super cool to get to know about the history of the town as well as the famous Hahnenkamm race. Often, there are often temporary exhibitions here as well.
Admission price: EUR 7 for adults and free for those under 18 years.
A legendary sports city in the Alps
Kitzbühel is, above all else, a super cool destination for snowboarding and skiing.
This pearl is without a doubt one of the most famous ski resorts in Austria and boasts some very famous mountains such as the Kitzbüheler Horn and the Hahnenkamm. The area has already won the prize of 'Austria's Best Ski Resort' five times and even the 'World's Best Ski Resort' once in 2015.
Kitzbühel has played a central role in the ski world for the last 125 years and is home to the most awesome downhill race in the world, the Hahnenkamm race.
This video will show you perfectly what going down the notorious Hahnenkamm is really like.
Speaking of cool experiences, we also had the chance to go down on the 'Legendary Streif' with a guide. Technically, you can go ahead without a guide, but it's nice to hear the insane stories, especially those about the infamous Mausefalle, from a true top skier. We set out with Toby from the Skischule Jochberg Wagstätt and had a fantastic time. (Side note: I have also given some snowboarding lessons and am a fan of their method. They only give lessons to very small groups , both children and adults, with absolute top teachers. If you want to invest in your own skiing technique, do check them out.)
https://www.instagram.com/p/BvI-DP1FUEO/?utm_source=ig_embed
Kitzbühel has many blue pistes (about 106 kilometers), perfect for the novice skier. Also quite a lot of flat pieces, which make it a bit harder for the novice snowboarder. Furthermore, you can find 60 kilometers of red runs (medium difficulty level) and 19 kilometers of black runs (great for the more advanced among us). But, of course, the most fun can be had outside the pistes (please note that off-piste can be dangerous, so I encourage you not to do this without prior knowledge). Freestylers will really enjoy the Kitzbühel Snowpark. There are many kickers, boxes, special obstacles, rails and jibs. Something for everyone!
Sustainable initiatives
We Respect Nature project
Kitzski (the ski area of Kitzbühel) supports the We Respect Nature project. There are several areas marked with orange triangles on the map where you will see the parameters of this initiative. These are areas that are absolutely not accessible to people. Therefore, don't even think of skiing or snowboarding off-piste here. The logic behind this is that it is crucial to have effectively shielded spaces for the true mountain dwellers — the animals. If you start freestyling in these areas, you chase these creatures away and ruin their habitat. But don't worry, there's lots of enough space to go off-piste elsewhere.
Snow farming
Excuse me, recycling of snow? If you're perplexed, join the club… that was my initial reaction as well. Allow me to explain.
Kitzbühel wants to open early in the season (i.e. October), which is why the resort needs enough snow there and then. However, because there is often not enough snowfall in many areas, they recycle snow from last season.
How does that work exactly? Well, actually, it's pretty simple in theory. At the end of the season (April/May), they take the remaining snow to a snow depot and wrap it with a special kind of packaging to preserve it until the start of the new season. There's minimal wastage of energy and water in this way, so I'm all for it!
So what do you think? Will you be visiting Kitzbühel soon? Do you know any cool sustainable initiatives in ski areas? I'd love to hear what you have to say!
Fan of Pinterest? These pins are here for you!