WHY LES ARCS IS THE IDEAL ECO-FRIENDLY SKI RESORT
Looks like heaven right? Well the snowy mountain views of Les Arcs can make you believe you're up in the clouds. When you get to the viewing point at l'Aiguille Rouge the views of the Mont Blanc are mesmerizing!

But before I tell you more about these beautiful views, first let's see how to get there!
How to get there

If you catch the snow train in Brussels you can get to Bourg Saint Maurice in about 6 hours or 6 episodes of any good Netflix show. Going by train is a stress free way to travel keeping the environment in mind. You can ride all the way to the foot of the mountains where a beautiful funicular awaits you to bring you to the top. If you have the chance to take the funicular, please do! It will give your arrival that extra edge. It takes about 6 minutes to get to the first village. Fun fact: the fee of the funicular is included in your booking!

Sustainable transport is also one of the main priorities of Les Arcs, France. They are always looking for new ways to lower their carbon footprint. There are plenty of other resources to get to the snow without having to drive your car. And if you do bring your four wheeled companion, you'll find charging points for electric vehicles.
About Les Arcs

Les Arcs exists out of 4 small villages (Arc 2000, Arc 1950, Arc 1800, Arc 1600) and each and every one has their own unique vibe. I had the opportunity to stay at Arc 2000 the hip and trendy ski village where as Arc 1950 looks more like a winter wonderland. There's so much to do that you'll probably get anxiety from all the options. But fear not, we've got your back and we'll skip right to the good stuff. 🙂

Snowy slopes
Staying at Arc 2000 has the major bonus of being right next to the slopes. If you're located in a lower village you can easily take a tele cabin that will bring you to the fresh powder. At the end of the day you can ski all the way down again.

Les Arcs has 425 km slopes and there's something for everyone. Easy slopes for the starters, a snow park for the daredevils and scenic routes with après ski possibilities for the bon vivant.

If you like viewpoints you definitely have to stop at l'Aiguille Rouge. It reveals a breath-taking 360° panoramic view where you have a great view of the Mont Blanc.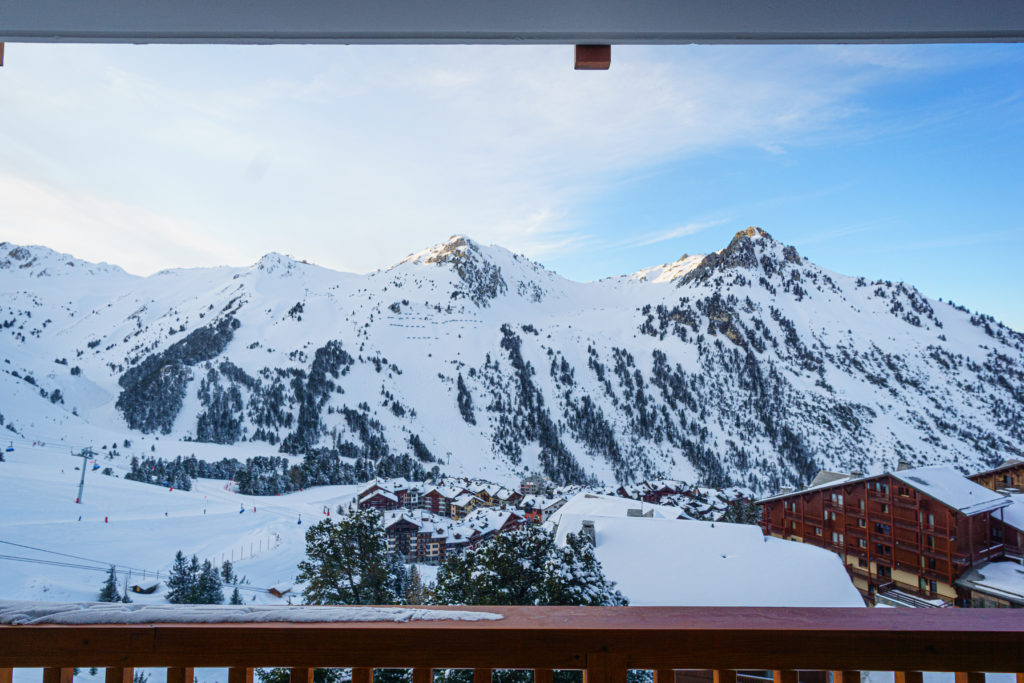 There's more to it than skiing
Not much of a skier? There's plenty more to do besides skiing or snowboarding. Go and rent yourself some raquette or snow shoes and go hiking in to the wonderful snowy landscape. You will not be disappointed! Although I liked it more going downhill 😉 Try to take a guide if you want to learn more about the environment. They'll teach you about the fauna and flora of the mountains while making stops for a little local apero in the woods.

Looking for something with more speed? Try out the snakegliss. You slide downhill on tiny sleds hooked to one another. Looks a bit like this. If you want to go all out, try to find a spot at the end of the line. Luckily there's a very capable instructor who will get you down safely cause it's a hell of a ride.

Or just go and enjoy the igloo village. Get your refreshing drinks at a real ice cave and admire the ice sculptures within.
Taking care of your body
After a day of grinding on the slopes you can go and relax in some of the amazing spas on site. I assure you, you'll be totally zen when you discover the spa treatments. This will get you ready for another day on the slopes!
I went to the Deep Nature spa at Arc 1950. You can warm up at the volcanic cave and cool down at the frozen cave, or simply enjoy a hot tub outside with amazing mountain view.
Keeping it clean
Since a couple of years the Alpine ski resort has noticed a change in the behaviour of their visitors. People tend to pay more attention to a greener resort. They are more concerned about cigarette pollution on the slopes and littering in general. That's why Les Arcs started 'collective Les Arcs': what can we do to decrease our ecological footprint and what can we do together?

Les Arcs' responsible thinking is making sure that the mountains preserve their beauty. Their ambition? To be a no plastic ski resort. We are definitely rooting for them and hope that they can make it true. But what are they doing right now?

1. Besides the funicular which runs fully electric, they're also looking at the usage of renewable energy. For example every new ski lift will be fitted with solar panels.

2. They created a natural observatory to be aware of the environment and local life. They make sure the impact of a new project is as small as possible for mother mountain.
3. If you want to do your part you can roll up your sleeves during the big clean-up they organise every year. They invite a bunch of volunteers to help clean up the mountains. In 2019 they cleaned up 650 kilo of waste!

4. But also the crew of Les Arcs is chipping in. Cooperating with sustainable partners like the brand Picture Clothing Organic, that uses recycled materials for their clothing. Basically the crew is working in plastic bottle jackets to keep them warm.

Green snow
Although there's pretty much a snow guarantee at Les Arcs from December till April, there's always some room for extra snow at some areas. That's where the artificial snow comes in. As they explained to us, they make 'the right snow' by using only water, air and the cold. They naturally collect rain water in a lake like reservoir where the water gets a new life as snow whenever there's need for some extra powder. They collected a lot of data over the years so they have a clear view of the production of artificial snow, this way they don't overproduce.
Want to read more about sustainable ski holidays? Check our tips of Savoie Mont Blanc, Verbier in Switzerland and Hochkönig in Austria.
Where to stay and Where to eat
When you're housing at Arc 2000 I would definitely recommend residence La Source des Arcs. You get a fully equipped chalet with 5 star staff. The rooms are great and the people who work there are really nice and will make sure your stay runs smoothly. Looking for something more budget friendly? Base Camp Lodge at Bourg Saint Maurice might do the trick. Or just go and take a look here for more accommodations.
For lunch on the slopes you can make a quick stop at Chalet de L'Arc. Looking something for the evening? There are a lot of great restaurants at the ski resort like Table des Lys or Le Diamant Noir. But if you want to have the full mountain experience, go get your cheese fondue on at Le Savoy at Arc 2000.