HOCHKÖNIG, SKI AMADÉ: A SUSTAINABLE AND DELICIOUS EXPERIENCE IN AUSTRIA
The Ski Amadé, Austria's biggest network of ski resorts, boasts over 760 km of slopes, 270 lifts and 260 ski huts. It is divided into five regions: Hochkönig, Gastein, Grossarltal, Salzburger Sportwelt and Schladming-Dachtstein. I explored three cozy villages in Hochkönig: Maria Alm, Dienten and Mühlbach. They're ideal for you if the Austrian mountain air, creaking fresh snow and yummy local food sound appealing.

With one ski pass you can discover all five regions, which means 760 kilometers of slopes. So, it's safe to say you will not remain hungry, literally and figuratively. This is because TASTE Ski amadé brings together all local, sustainable initiatives that are sure to pull you in. From the highest farmers market in the Alps to culinary-rich ski routes with wine tastings, there's something for everyone.

Want to know more about Hochkönig as a sustainable ski and snowboard paradise? Then read all about my wonderful experience below!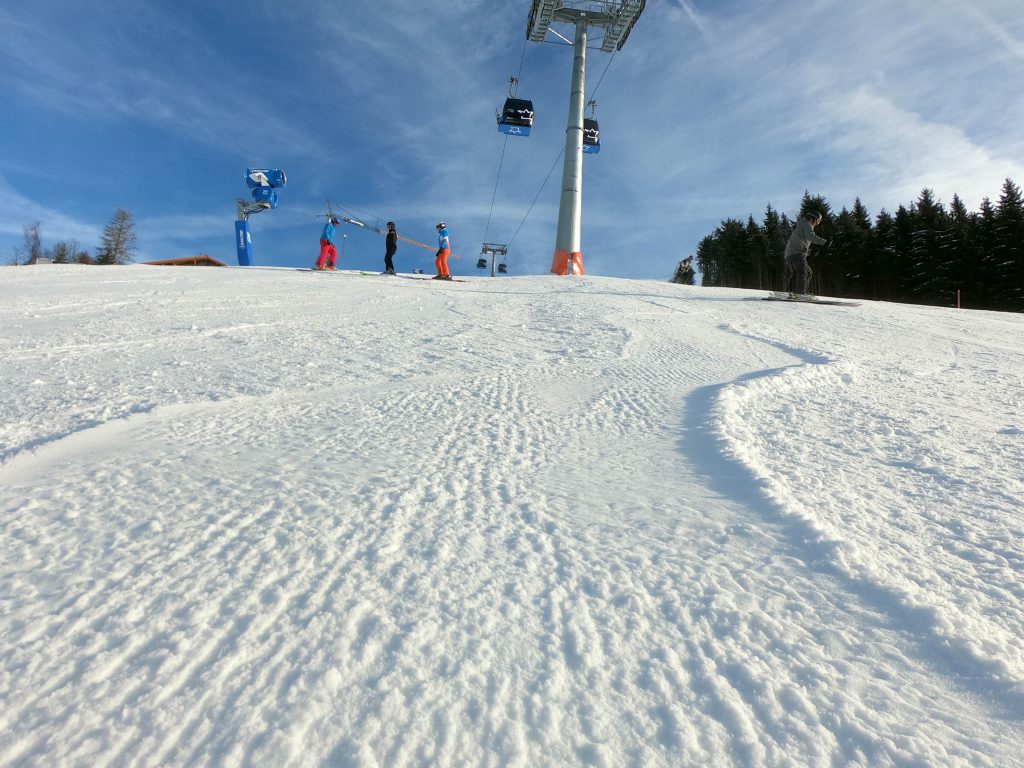 Skiing without the crowd
A bit of snow has fallen last night, so the white and gold flecks crackle softly under my snowboard boots. This mighty crackle makes me even more eager to hit the slopes. Fervent snowboarders and skiers will know what I'm talking about: that feeling of being the first on a perfectly groomed slope is just something else. My heart actually explodes when I start the descent… oh, how fantastic it feels to be back in the mountains!
Then, when I want to take one of the comfortable new lifts a little later, it really dawns on me: my travel companion and I are almost alone here. It is just a couple of weeks before Christmas so it is still quiet on the slopes. Even better is the fact that you can still find a place to eat in the ski huts.

Sustainable travel tip:
Try to avoid the typical Christmas holiday, crocus holiday and Easter holiday periods. It is not only much more expensive to go during these weeks, but it is also very busy on the slopes.
So avoid travel during peak times. Whether you go skiing in Austria, Switzerland, France or Italy, this is really the golden rule for avoiding mass tourism.
TASTE Ski Amadé – deliciousness up in the Austrian mountains
After a few hours of snowboarding or skiing in the fresh mountain air, it feels absolutely wonderful to walk into a warm, cozy Austrian ski hut with some serious hunger pangs.

The many ski huts in Ski Amadé consciously opt for regional seasonal products. For this reason, you get to indulge in high-quality, sustainable meals. You also get to know the local culture much better. Win-win!

Sustainable travel tips:
Eat locally/regionally. Products grown in the region cover less distance than products produced on the other side of the world. This saves a lot of CO2. When traveling, it is not only more sustainable to eat regional products, it also gives you more insight into the local culture.
Opt for dishes with seasonal products. Not sure which products these are? Simply ask the employees of the ski hut or restaurant.
You can also choose to be more sustainable during après-ski and taste the local wines, schnapps and bubbles. Oh, do try the Secco Rosé. It's like rosé prosecco but from the region. Recommended for sure!

In mid-March, check out the annual Ski & Wine Enjoyment Week. You can taste local wines in the ski huts and hotels for a week. In 2020, this will take place from 14th to 21st March.

In the same week you can also discover the highest farmers market in the Alps.

Would you rather have a beer? Then go for the Craft Beer Festival in Hochkönig – it won't disappoint.

We ourselves tried one of the 'enjoyment ski routes' from Hochkönig and it was quite awesome. You can choose from the Herbal tour, Real & Tasty tour and the Peak Enjoyment tour.

Other fun things to do in Hochkönig
Visit the Christmas market
Enjoy mulled wine and unwind by a fire. The Christmas market in the village of Maria Alm is one of the nicest I have ever visited. Local entrepreneurs sell everything from homemade honey and herbal ointment to warm socks.

Check out the local church
Okay, you will not often hear me say this but you should definitely visit this church: Wallfahrtskirche in Maria Alm. During the Christmas period you can enjoy a light show with beautiful music. Truly a magical experience.

Taste schnapps and gin
The Rainer family will give you a warm welcome at the top of the mountain where you can enjoy homemade schnapps or gin. This distillery Grünegg is run by father and son who share the same passion. Here, you can eat and drink well, then sled down the mountain which is 1.5 km long.

MADE MY DAY Ski Amadé experiences
These are packages that you can add to your ski pass. You can enjoy professionally guided ski tours, snowshoeing, early bird skiing with breakfast, freeriding or even ski yoga tours.

Après Ski
Close a day of skiing at Tom Almhütte, a trendy and aesthetically pleasing ski hut with a top kitchen and a mascot dog… I kid you not!

Wellness
Nothing is better than a sauna with panoramic views of the mountains or swimming in an infinity pool. Sepp and his team welcome you to their top design (adults only) hotel where you can really indulge in wellness therapy. Hotel SEPP is attentive to the smallest details and committed to sustainability. What does this mean? Well, for starters, you will not find minibars in the rooms because they consume a lot of energy and must be replaced every five years. A minibar consumes an average of 152 kg CO2 per year. Since Hotel SEPP has 40 rooms, that would be around 6000 kg CO2 every year! So just go to the bar and order a drink, be social. At the reception you can find a huge assortment of loose tea and several taps with infused water. There's no plastic in the entire hotel and they use mostly fresh local produce. All in all, a fab sustainable ski hotel!
Sustainable travel tips:
Buy your souvenirs from local entrepreneurs. Choose handmade products instead of the typical 'made in China' magnets.
Always opt for locally operated hotels and restaurants. In this way you contribute substantially to the local economy.
Still looking for a fun and sustainable ski trip this winter? Give Hochkönig in Austria a shot… it might soon become your fave ski destination!