5 must-do tips for a weekend in Friesland
Get out of your comfort zone this fall and "freshen up" with our 5 must-do tips for a weekend in quirky Friesland. A place where orange cookie is a pink cake, some cities are no bigger than a village and the wind embraces you from all sides. With its base in Leeuwarden, the mainland of Friesland is the perfect place to get a breath of fresh air for a weekend. Get ready for a shot of nature, adventure, stargazing and daydreaming at the water's edge. "Freshening up" is literally recharging your winter slump as only possible in Friesland.
1| WONDERFUL MUDFLAT WALKING AT MODDERGAT
It may not be a southern salt flat or an exotic desert, but the mudflats in Friesland are absolutely unique. Twice a day, the slowed down current in Moddergat creates a living, vast mud flat between the mainland and the Wadden Islands. Guide Harm-Jan will guide you in shorts with a wooden stick through the mudflats to the border with the North Sea. You can count on being able to splash through the mud, clams and oysters for 2 hours.
Practical: mudflat walking is only allowed with a guide at fixed times, so be sure to book in advance.
Tip! After walking the mudflats, warm up in picturesque Dokkum. At KB Food & Drinks you can eat a delicious fresh lunch with seasonal products in an eclectic decor. Need something stronger? Brouwerij Dockum serves regional beer with a twist. Try their latest creation 'Opfrieser' with the local liquor Berenburg.
2| ADMIRE THE FRISIAN WATERS FROM A FISHING BOAT OR YACHT
In Friesland you don't only have the long coastline, but also huge lakes and watercourses. That is why boating is the most authentic way to explore Friesland. For a short boat trip you can contact Ulbe from De Alde Feanen. He will take you on a night trip in the evening or will be happy to rent you a boat for a few hours (50 euros) to a day (100 euros). Especially at night you can stargaze to infinity with a clear sky and argue whether or not it is the little bear you see there.
You can also rent a furnished boat with heating for a weekend or week. That is, by the way, extremely popular in Friesland at Christmas and New Year's Eve. You don't even necessarily have to have a sailing license in your pocket. You sail your floating holiday home to the spot that you like best and can drum up the whole family as a sailor. Schiffart Yachtcharter has 37 rental boats in all sizes and will send you out with an experienced boating instructor. They let you sail on your own as soon as you are a worthy captain.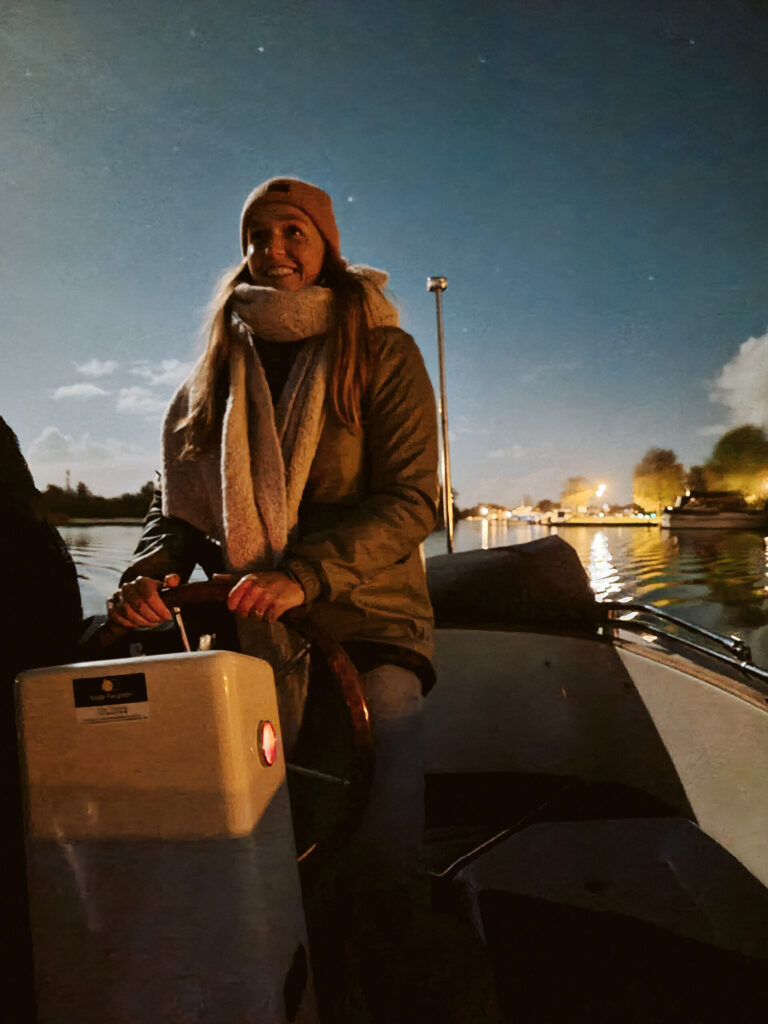 3| CONQUERING HEIGHTS ON THE BOSBERGTOREN IN APPELSCHA
The highest point in Friesland is the copper-coloured Bosbergtoren, which towers high above the trees of Appelscha. The tower stands on a 25 meter high dune that has completely blown over a tree and the 33 meter high tower stands on top like a stately tree trunk. The spiral staircase leads you slowly but surely to the top level where the quickest way down is… jumping off (seriously!). Fortunately, this is completely safe under supervision. Slowly shuffling or hopping like a rabbit you can abseil back down the entire tower. You won't help but feel warm spontaneously.
Practical: abseiling is possible as of 10 people and as of 25 euros per person at the Jongens van Outdoor. If you just want to climb the tower, it will only cost you 2 euros.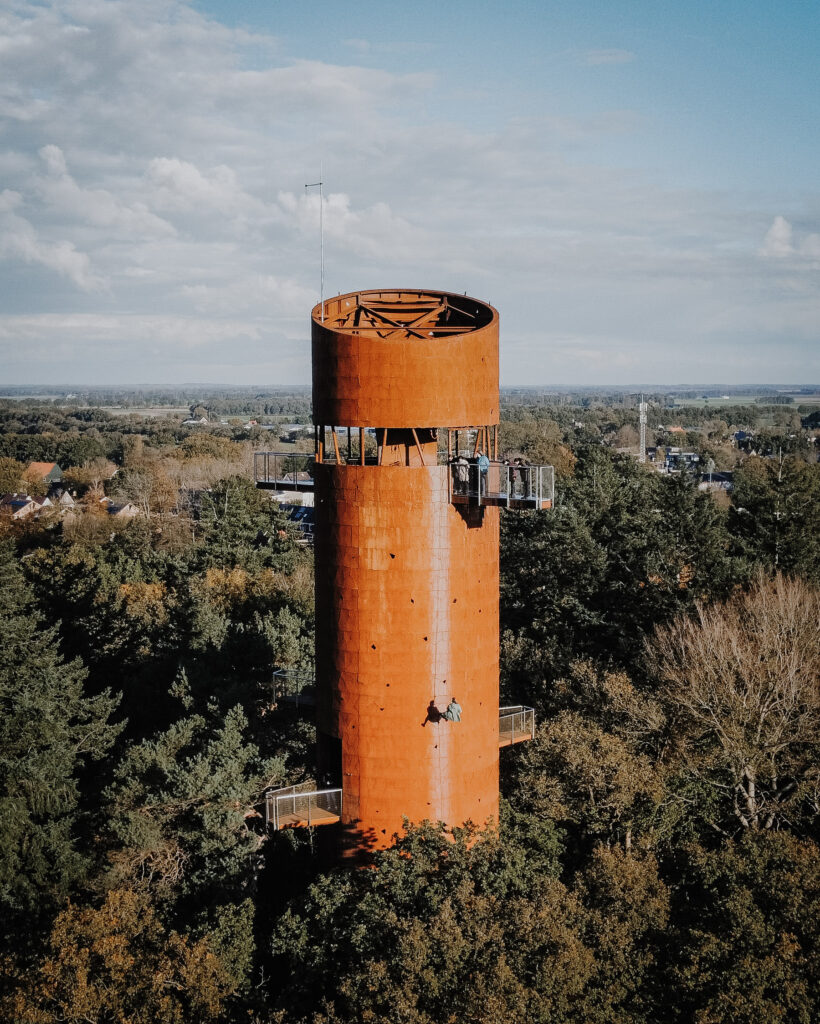 4| DRIVING THROUGH THE DRENTS-FRIESE WOLD ON AN E-CHOPPER
On the border of Drenthe and Friesland you will find a very special piece of nature in the Drents-Friese Wold. Winding forest paths and wide views over the moor enchant you with ease and lure you deep into the nature park. As everywhere in the Netherlands, you can explore nature here in all possible ways: walking or cycling, challenging or at ease, on paved or unpaved paths. Do you want to see as much as possible of the Drents-Friese Wold and still not work up a sweat? Take it easy and rent an e-chopper. The glitzy scooters are electric so you'll seem to float through the park at about 25 km/h. Recommended!
Practical: you can rent a chopper from 30 euros pp for 2 hours if you have a driving license or scooter driving license via the Jongens van Outdoor.
5 | RECHARGE YOUR BATTERIES IN LEEUWARDEN
Leeuwarden is located in the heart of Friesland and gives you the best opportunities to explore all directions. If the weather is a bit worse or you want to take it easy, you can certainly indulge yourself here. Get a free city map from one of the vending machines and stroll along the Oldehove, the Kleine Kerkstraat, the Blokhuispoort and the Fries Museum. You've also come to the right place for easy shopping and good food. Finally, you can visit the Fries Museum for a taste of culture or an immersion in the resistance history of Friesland. The exhibition Freedom, Feuds, Purgatory brings the medieval history of Friesland to life through their own (sensible) way of life, language and clothing.
We let ourselves be pampered during our stay in the colorful hotel Via Via. For lunch we ate a delicious burrata salad at Stek. And to conclude, we enjoyed well thought-out seasonal dishes in a renovated prison at restaurant Proefverlof.
THIS IS HOW YOU MAKE YOUR WEEKEND IN FRIESLAND A SUSTAINABLE TRIP
You are already making a difference by looking up everything via the Ecosia website instead of Google. Ecosia invests 80% of its turnover in planting trees. So do a lot of research in advance and don't feel bad if you click on ads!
Leeuwarden is perfectly accessible by train, about 4 hours from Belgium. A single ticket will only cost you 42 euros, which is really cheap!
Book your accommodation via Trooper and money will be automatically donated to Entrepreneurs Without Borders or choose a donation of your choice on trooper.be.
It is definitely a good idea to think carefully about what you put in your suitcase and how sustainable that is. That is why from now on you can use our packing list for on holiday  that we have carefully put together after years of sustainable travel with TravelRebel.
Have something to eat or drink in a local establishment and buy your souvenirs in the nice little shops that you see everywhere. This way you support the local traders as much as possible.
MORE TRAVEL INSPIRATION
Are you still looking for extra inspiration? On our blog under the Netherlands category and on opfriesen.nl you can find even more travel inspiration.
Text and photos: TravelRebel Silke Lamoen
Drone photo: Waanzinnige Wereld