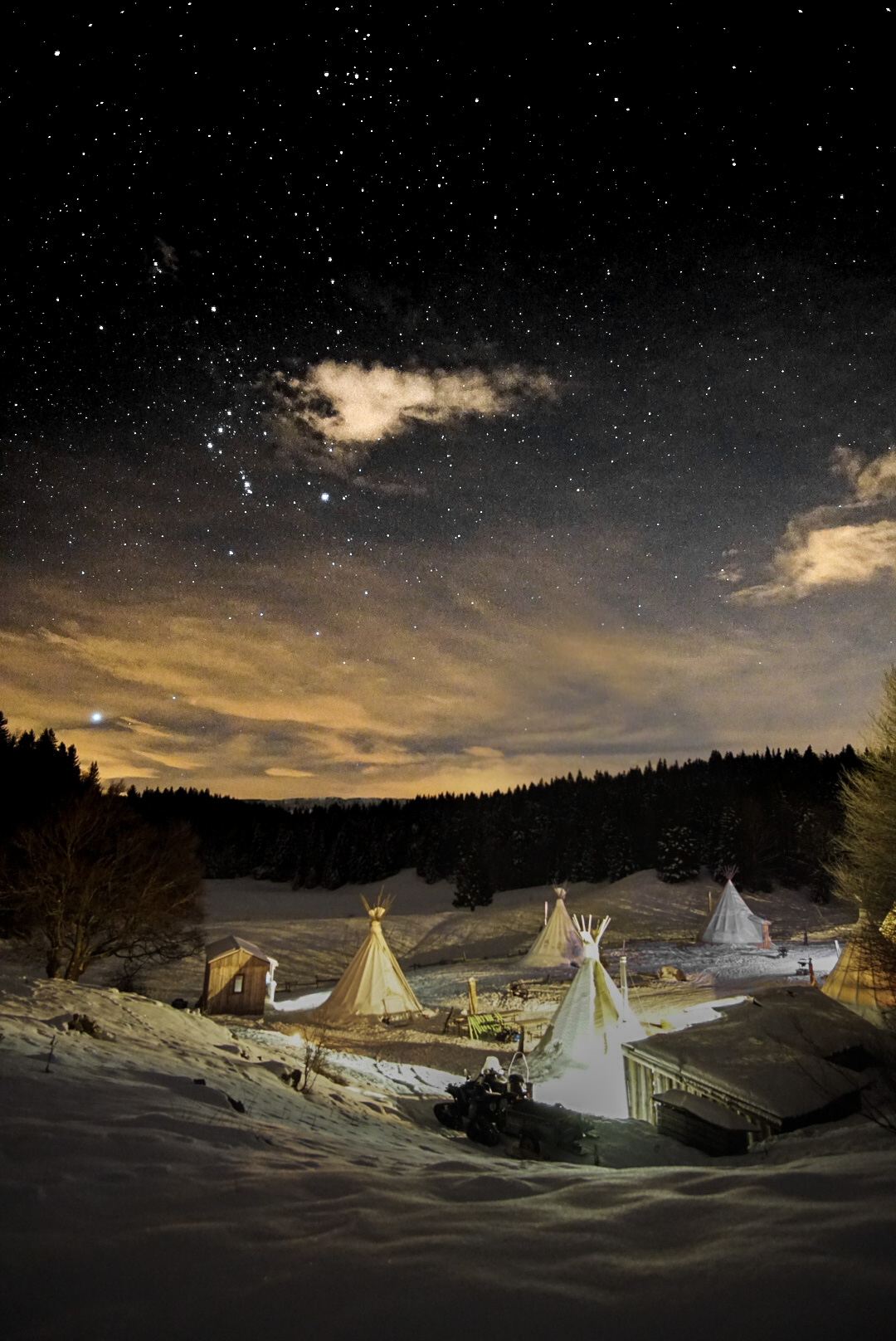 SUSTAINABLE SNOW SPORTS IN THE FRENCH SAVOIE MONT BLANC REGION
Les Saisies is cradled at the foot of the Mont Blanc and counts 192 kilometers of ski slopes, 120 kilometers of cross-country ski runs and rises up to 2070 meters high. They have a load of sustainable initiatives like snow stocking, nature protection, animal protection, water retention and cooperation with local farmers. The Massif des Bauges is a regional park and lies in between Chambéry, Annecy and Albertville. The area has 2 ski stations, 150 kilometers of cross-country ski runs and amazing views over the nearby lakes. Enough space to get away from the crowds and do some sustainable snow sports.
Biathlon, the James Bond version of cross country skiing
If you've never watched a biathlon during the Olympic games, you should definitely do so next time. Even better, you should definitely try it next time on ski holiday. Biathlon is a combination of cross country skiing and shooting targets the size of a golf ball from 50 m. distance. You alternate between gracefully sliding in between the trees and and ultimate concentration for hitting your target. If you miss one, you need to do an extra lap.
Several ski areas already offer initiations in biathlon. Sometimes you can do it with laser guns and sometimes with real guns. Also the distance to the target can vary between different organizations. Do you want to try the real deal? You can practice in Les Saisies on the slopes from the 1992 Olympics, with a real gun and the full distance. I got 2 out of 5 with the smallest targets, not bad right?
Ski raquettes, an easy alternative to ski touring
Ski raquettes aren't that known yet and you can't mix them up with snowshoeing. The concept is as old as the world and was reinvented some 50 years ago in Canada. Nowadays you can try it out in several locations throughout France. They are short skis that are covered for two thirds in synthetic skin that you can't take off. The skin makes it easy to walk up with the skis and relatively fluent to slide down again.
The best part about trying ski raquettes is that you can make your own path through the untouched nature and powder snow. You won't be lining up at the ski lifts and you can go into the mountains as far as you like. To find the best spots, get a local guide like Anne-Marie who took us on an adventure.
Snowshoeing, enjoying the peace and quiet on the mountains of Savoie Mont Blanc
For those who prefer slow traveling or hiking, there is of course the possibility to go snowshoeing. You have more time to enjoy the amazing views and explore the fresh animal tracks in the deep snow. Deer, foxes and hares hop from one bit of snow to the other and draw Picasso lines in the white fields. Use a local guide for the best adventures and recognizing the different tracks.
The perfect stop after a challenging hike up is of course a charming mountain hut with a delicious offer of homemade dishes. You'll probably end up yielding for one of the creamy local cheeses like the Beaufortain or Tome des Bauges. Our favorite spots? Chalet des Marmottes in Les Saisies and Chalet du Sire or Chalet du Loup in the Massif des Bauges.
Snooc, sledding and ski touring in one
If you are a bit adventurous and you want to feel young again, the Snooc is the perfect gadget for you. Little side note: if Ikea DIY kits drive you crazy, it's not a good idea to start this. When you leave, you have 2 touring skis with skins dangling from your feet. You climb as high as you want on a mountain with as little trees and people as possible. After that effort, pay attention and craft your skis into a sled in 6 steps.
That's when the fun starts. Your 2 skis are screwed on top of each other with a seat and you won't need your ski poles anymore. You steer the creation with your arms and legs. The only difference with a sled is that you need to make some turns if you don't want to fly off the mountain like a kamikaze. It's lucky you only fall into powder snow. The Snooc is invented in the Savoie Mont Blanc region and you can try it out in dozens of places in France.
Dog sledding, but the hard work
Is dog sledding on your bucket list? Then you are probably expecting an idyllic tour with beautiful scenery while you cuddle up under a blanket in the sled. You can get it even more authentic when you steer the sled yourself. The dogs are prepared for their day out as early as 8 in the morning with breakfast and prepping. On the departure location, in Savoie Mont Blanc, you still need an hour of preparations to get all dogs in their harness and in the right place on the rope.
And than the ride begins. The dogs are jumping and pulling impatiently and they are peeing a lot out of enthusiasm. When you release the break it goes fast quickly, really quickly. I need all my concentration to keep the right distance behind the sled in front of me and to slow down with the mat or the break during the descents. Fortunately, our supervisor yells the instructions through the walkie-talkies. After a good hour I'm happy to catch my breath, this is an intensive sport!
Sleeping in a snow teepee in Savoie Mont Blanc
When you go on skiing holidays, you usually sleep in a charming chalet, an apartment or a hotel. But you can do it completely different as well. On the Plateau du Revard in the Massif des Bauges you can sleep in white teepees in the middle of a snowy meadow. It has something magical about it. There are 5 to 10 beds in one teepee that is heated by a pellet stove at night. But you won't get cold, I promise.
In the dinner tent you can eat hot cheese out of the oven with potatoes and fresh vegetables. And besides chilling in the teepees, you can relax in 2 Norwegian baths that are heated with a wood fire. The owner, Sébastien, does everything to minimize the footprint of his teepees. The showers show how much water you use by changing color and all used materials are durable. The food comes from local farmers and traders.
Getting to Savoie Mont Blanc the green way by train
If you didn't know yet, it's not necessary to take the car or airplane to the French Alps. Nowadays, you take a direct train from the Netherlands through Belgium. You can get there in 5 hours for around 100 euros. You can buy your train tickets here.
Afterwards, it takes less than an hour by bus or taxi from the train station of Albertville. Besides the teepees we also slept in the brand new apartment complex of MGM Amaya and the charming chalets of Chalets du Berger.