VLIELAND – THE NETHERLANDS: A SUSTAINABLE GETAWAY
Whether you are looking for the ideal destination for a (long) weekend or a week off, Vlieland is the perfect destination for total relaxation.
The wadden Islands
The Wadden – the largest tidal system, always on the move. Discover the power of ebb and flow.
Recognized as a UNESCO World Heritage Site since 2009 and voted the most beautiful nature reserve in the Netherlands.
Why should go to Vlieland?
Friesland is rightly a "hidden gem" and in 2018 it was in 3rd place in Lonely Planet's Best in Europe!
The destination is primarily intended for people who want to avoid over-touristy places and is also an excellent ecotourism destination because of the biosphere reserve.
The area includes: sandbanks, mussel beds, salt marshes, tidal flats, beaches and dunes and it is home to numerous plant and animal species. The Wadden area is considered as one of the most important areas for migratory birds in the world.
Vlieland, the smallest inhabited island
The islands also have more hours of sunshine than the rest of the Netherlands. Vlieland is the smallest inhabited island and is furthest from the coast. The island is almost car-free and offers wonderful peace and clean air.
Vlieland is still fairly pure and also a rugged island, there are many dunes, a few forests and a large sandy plain, the Vliehors, which is also called the Sahara of the North.
There is no mass tourism, and has the most beautiful beach in the Netherlands!
You can completely unwind here and get energy again, leaving all the hustle and bustle behind.
How do you get to the island of Vlieland?
Almost Car-free Vlieland
Every day (yes, effectively 365 days) a ferry sails towards Vlieland from Harlingen several times a day.
Important! Vlieland is an almost car-free island. This means that it is best to leave your car on the mainland or even better, by public transport up to the ferry.
Ferry to the island
The ferry is from the Doeksen shipping company. It is a fairly large ferry that is extremely comfortable with options to eat and drink something on board.
Exact departure times and online tickets can be easily found via: https://www.rederij-doeksen.nl/
Prices vary between 10 and 30 euros.
You can also take your dog on the ferry for free.
Address: Rederij Doeksen – Waddenpromenade 8861 NT Harlingen
Public transport
You can take the train to Amsterdam and even to Harlingen train station. From Harlingen train station it's only a 6 minutes walk to the ferry.
Take a look at the website https://9292.nl/ to find the most current times of public transport.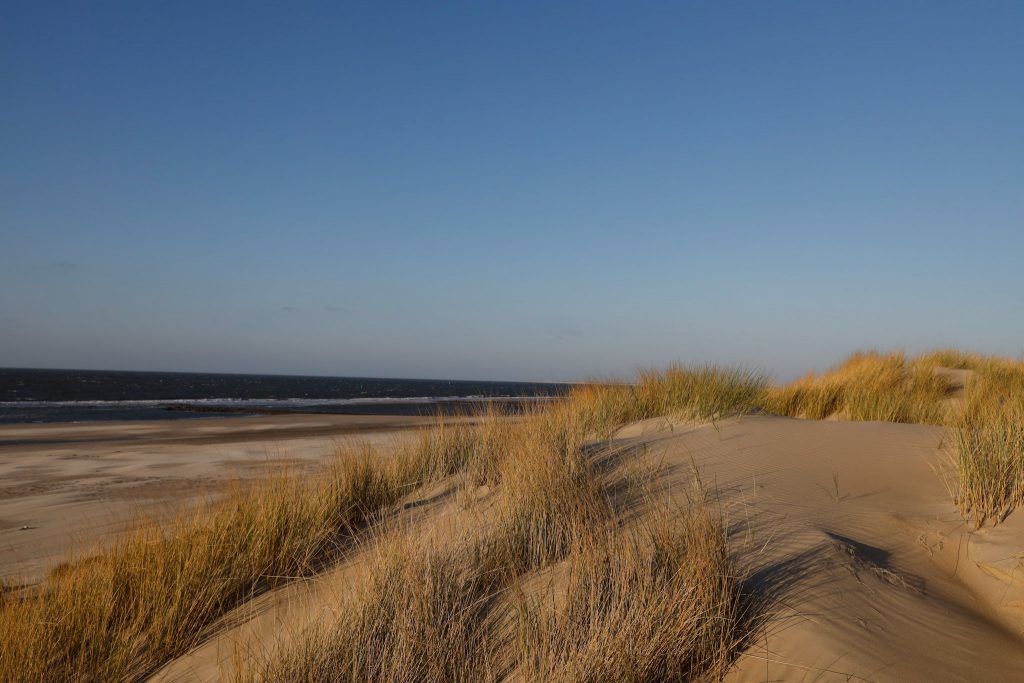 Parking the car
If you are coming by car to Vlieland, it is best to park your car near the ferry.
You can park your car in front of the ferry terminal or parking garage 'Tsjerk Hiddes' within walking distance (about 10 minutes) from the ferry terminal.
Address "Tsjerk Hiddes": Skieppedykje 1, 8872 NA Midlum.
Arrival at Vlieland
You can have your luggage transported to your place of residence for a small fee per piece of luggage. Look for company Zeelen or Wietze de Boer on arrival at the Vlieland ferry.
Arrival at Vlieland
You can have your luggage transported to your place of residence for a small fee per piece of luggage. Look for company Zeelen or Wietze de Boer on arrival at the Vlieland ferry.
Transport on Vlieland
Of course you can easily explore the village (only village on the island) on foot.
There are also electric buses on the island if you want to do some longer distances.
My tip: rent a bike!
The Netherlands is a cycling country & Vlieland is ideal to explore with a steel steed.
You can also safely rent electric bikes, children's tandems, cargo bikes, child seats, dog carts, etc. at Jan Van Vlieland.
"Wad to do" – What can you do in Vlieland?
Oost-Vlieland is the only village and is really picturesque!
Approaching over the blue sea with its countless sailing boats, Vlieland is also sometimes called "Vliebiza" because of the relaxed hippie-like island atmosphere.
Particularly in the Dorpsstraat there are a lot of trendy restaurants and lifestyle shops, boutiques with brightly colored accessories, beach clothing and slippers.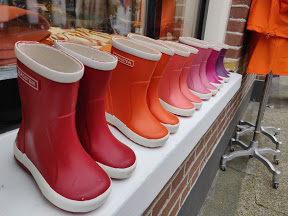 Wadden excursion
The Wadden are something unique in the world! You cannot find this natural phenomenon anywhere else. So it is certainly advisable to go on a Wadden excursion to learn everything about it.
The Wadden Sea is one of the largest tidal areas in the world. The entire area extends along approximately 500 kilometers of coastline from the Netherlands, Germany and Denmark. Since 2009 the area has become a UNESCO World Heritage Site.
A Wadden excursion is an absolute highlight, but always go out with a guide because it is too dangerous to do this independently.
Explore the village of Vlieland and the lighthouse
Vlieland has only 1 village and approximately 1100 inhabitants.
At the top of the Vuurboetsduin is the lighthouse of Vlieland, also known as the Red Gnome. It is the second highest dune in the Netherlands.
Vlielander cheese bunker
Taste the fully organic Vlieland cheese. You can find the Cheese Bunker next to the lighthouse. The face behind the creation of these special cheeses is Nils. Formerly a music teacher, now a full-time passionate cheese maker.
He processes the Vlieland cheeses with, among other things, seaweed and lets them mature in this bunker. Recent studies have shown that seaweed can be the food of the future because it requires no agricultural land, no pesticides and no fresh drinking water.
In Vlieland you can also go on a seal excursion, enjoy yoga & wellness, horse riding, swimming, blokarting and kite surfing. For each his own. Take a look at www.wadtodo.nl for more inspiration.
Spend the night in Vlieland
Boshuisjes Stortemelk
These cozy sustainable forest houses give you the ultimate feeling of tranquility.
The houses are completely absorbed in the forest and at night you only hear the sound of the wind and the trees.
Glamping
On the adjacent camping site, with beautiful sahara-colored tents, they strive to have all accommodation such as sanitary facilities and shops 50% supplied with energy that is generated by solar panels and heat boilers. Stortemelk received a golden label of Green Key.Sustainability at its best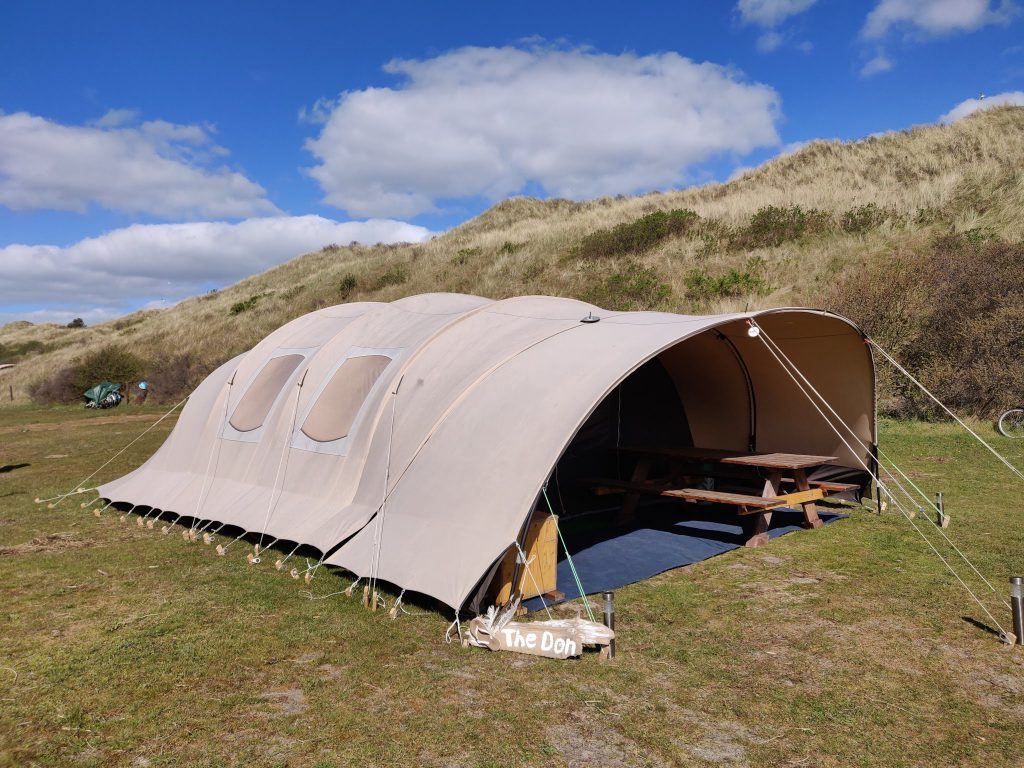 Nice places to eat in Vlieland
Het Armhuis
This special restaurant can be found right next to the church and is the former diaconia house from 1632.
It was a shelter for former sailors, later also shelter for needy, orphans and drowning people.
The interior with small various rooms will surprise you and exudes stories about sea shipping. The ceiling is an old ship's hull, by the way.
In 2001 it was transformed into a restaurant and is famous in Vlieland and far beyond.
It is run by Clara, a very smooth lady who gives you the warm feeling as if you are coming to eat with grandma.
Clara is assisted by top chef in the kitchen and very friendly, slightly humorous waiter who excels as a sommelier.
They work according to the principle of 'eating what the pot buys', freely translated, 'zero waste' with exclusively fresh and seasonal produce.
Clara was, as it were, a visionary in the field of sustainability when, almost 20 years ago, she turned the Armhuis into a top restaurant.
't Badhuys
This beach pavilion can be found on the North Sea beach and perfect for a magical "sunset dinner".
At the beach entrance there is ample parking space for bicycles + kiosk with free brown paper bags that bathers can take with them to deposit their waste. Keeping our beaches & oceans clean.
I had a real "WAUW feeling" when I first stepped in at 't Badhuys. The industrial look with lots of black matte metal, large lamps with perfectly dimmed light and the tables made of raw wood complete the picture. You have a formidable view of the wide beach and sublime sunset.
Everything exudes a lot of atmosphere and cosiness, you want to stay here!
The food was great, everything very fresh, healthy with an eye for local products. We were allowed to taste, among other things, beautiful white wine from the Apostelhoeve de Müller-thurgau. You also get Earth Water here that invest in sustainable water systems.
LEUT
LEUT serves honest healthy products prepared with passion. The exuberant is a very cordial and spontaneous madame that makes you feel right at home.
Be sure to try the "Wake-up breakfast board together" (croissants, pistolets, nut and sourdough bread, chocolate mice, local cheese and jam from cranberry, ham, salicornia, etc.)