The five colorful seaside villages that make up Cinque Terre – literally the Five Lands – and the surrounding hills on the Italian Riviera are designated UNESCO World Heritage sites. This Italian region may not be as famous as Tuscany or the Amalfi Coast, but it still draws plenty of tourists. How, then, can we explore and appreciate the beauty of the region in a mindful manner? Read on for our top tips on treading off the beaten path and avoiding the tourist crowds.
Trudge the trails between picturesque seaside villages
If you are looking for a destination with delicious food and several opportunities for hikes in the beautiful countryside, Cinque Terre is an excellent option. The five stunning seaside villages dot the crescent-shaped coast line of the Italian Riviera and are connected only by ferries (save for Corniglia which is perched higher up on a cliff), trains or trails. In the past, the older trails were the only way to reach the villages. There are no roads, hence no cars!
Keep sustainability in mind
While tourism is important to the economy, it is hard to imagine that tourists do not inflict any damage on what is essentially quite a small area. Back in 2016, there was already talk of limiting the number of visitors to preserve the centuries-old villages.
Theoretically, an app could direct tourists to less crowded villages or create a virtual waiting list for the more touristy walking trails. Although it is not yet clear when this might be implemented, there are already ways to travel consciously and avoid the worst of the tourist masses.
Get off the beaten track
First of all, it is important to check which trails you can access. The Cinque Terre trails are often under construction and closed to the public due to landslides.
Secondly, if you are looking to hike off the beaten track, I recommend the Itinerary of the Terraced Vineyards. Start in Corniglia and end in Riomaggiore. The paths are a little more strenuous but so much more beautiful than the famous blue trail. Follow trails 7a, 6d and 6 from Corniglia to Manarola via Volastra.
The trail starts off with a seemingly never-ending path uphill through the forest until you can see the pastel colours of Corniglia down below. If you are motivated to rise early, you will likely encounter few other hikers. The path will guide you through the terraced vineyards which hug the steep cliffs. From there, you will be able to enjoy wide stretches of gorgeous sea before the heat kicks in.
Discover idyllic Manarola and Riomaggiore
Most regard Manarola, like Vernazza, as one of the most picturesque Cinque Terre towns. After descending countless steps, you can choose between the valley trail and the panoramic trail. The latter will offer you several pretty views as you steadily continue your way down into Manarola.
Give yourself ample time to explore the quaint village and rest your legs, then locate trail 531 to Riomaggiore via Beccara. It is another climb but your efforts will be rewarded with mind boggling views of the town tucked away in the valley and surrounded by lush vineyards. When the heat intensifies, the trail into Riomaggiore might become significantly more sweaty. Luckily, you will be walking in the direction of Riomaggiore. That means you will be doing the last part (without shade!) downhill. I must warn you, steps are a thing in Italy. Like pasta, they are omnipresent.
Riomaggiore has quite a nautical feel to it, not unlike Vernazza. If you are an avid walker and would prefer to explore more of the area on foot, you can hike the Ring of Riomaggiore. Seasoned hikers can even go all the way to Portovenere. If not, there is always the ferry or the train connecting you to any of the other villages.
Visit overlooked places of interest
If you have the time, it is worth visiting some other locations nearby. Portovenere (also UNESCO listed) or Levanto, where there are also plenty of trails to explore, are still largely under the tourist radar.
From Monterosso, the northernmost village, you can take the ferry south to Portovenere. It will give you a different perspective because you will get to see all the Cinque Terre villages from the sea. Note that Portovenere does not have a train station. From Cinque Terre you will either need to take the ferry or the train to La Spezia and the bus to Portovenere from there.
(Curious about the relatively unknown Le Marche region in Italy? Check out our tips here.)
Indulge your taste buds at local eateries
There are many interesting local eateries in Cinque Terre and Portovenere. For instance, the friendly ladies at Anciùa in Portovenere who sell Italian street food are amazing. Think focaccia or deep fried mussels – a local specialty.
For a cozy outdoor terrace to wind down and have some drinks after a long day, head to KM0 in Corniglia. If you are looking for a quick bite to eat, I recommend the bruschetta at Bar Pan e Vin in the same village.
In truth, there are considerable options in all the villages, from snack bars to seafood restaurants and fine dining. Seafood is, of course, a must in this region, but also make sure to try the Ligurian pesto pasta and focaccia. The focaccia in the region of Cinque Terre-Genoa is supposedly the best in Italy!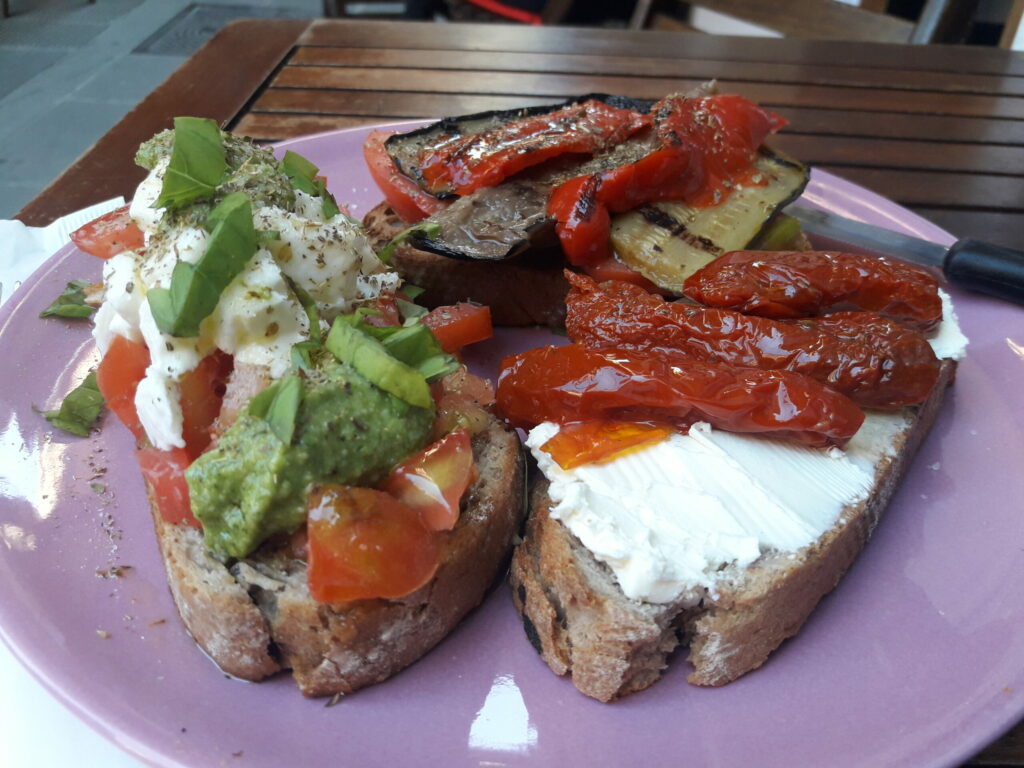 Practical tips for conscious travelers
Get up early to avoid the crowds as well as the heat! If that means skipping breakfast and bringing along a picnic instead, a spork can be quite useful. It may sound like something out of Star Trek but a spork is simply a fork and spoon in one. It is reusable and practical as it takes up very little space.
Most places in Italy fortunately have fountains with drinking water. You can refill your water bottle, eliminating the need for several plastic water bottles. However, if you want to be on the safe side, a water-to-go-bottle contains a unique filter so that you can get easy access to safe drinking water anywhere.
You require a Cinque Terre Hiking card (€7.5) to access the touristy blue trail. The funds go towards the upkeep of the trails.
There will be signs along the blue trail reminding you to be respectful and not leave any litter lying about. There might not be many trash bins, if any, on the trails. If you use a foldable bag with several compartments for your hikes, it is easy to keep your wrappers and other litter in it until you come across a trash bin. It is such a small effort but it makes a big difference!
Do some research about the trails. Check which are open and which are closed. If you enjoy hiking, I suggest looking up some other trails off the beaten path. You will come across fewer tourists, which is more enjoyable, and the trails are often more spectacular. Choosing less frequented trails helps prevent the well-known ones from becoming overcrowded. This way, you contribute to sustainable tourism in Cinque Terre. Don't worry, the trails are well marked and easy to follow.
About TravelRebel Dorien
Dorien is a professional wanderer, in all senses of the word – physically by exploring the corners of the world, either as an expat or a backpacker, and metaphorically through continuous self-development. Prior incarnations include product manager in the travel and tourism industry and airline pilot – her childhood dream! – until the pandemic sent shock waves through the aviation industry. As a person driven by passion, she believes that re-invention, whether voluntary or not, should be viewed as an opportunity and so she has now embarked on a third re-incarnation within the marketing sector. Her travel experiences so far have been a powerful source of inspiration to improve the world, to make it a kinder and more beautiful place, one trip at a time.