STAYCATION IN LIMBURG WITH AN ELECTRIC CAR
4 ways to recreate the holiday feeling without stepping on a plane
'Staycation' has fast become the holiday-related buzzword of 2020. As we are way less inclined to take the plane, why not explore our own country? I'll tell you why — the destinations here seem too close, too accessible, so we chalk them off as something we'll do later.
Well, we finally realized that the time is now and set off for Limburg. With a few tips from a local and a huge chunk of enthusiasm (yes, even in Corona times), we got on our 100% electric Audi E-tron Sportback and left for our two-day trip.
Venture off into the unknown
Did you know you don't have to travel all the way to San Francisco's Lombard Street to drive down eight hairpin bends? You can simply do so at the Tiendeberg, or as the locals in Kanne call it, the Slingerberg. Ideal to test your driving skills!
In search of a nice viewpoint of this area, we turned on Google Maps and came across a name that appealed to the imagination: Chalet d' Observant. Without even realizing it, we crossed the border to the Netherlands and, to our great surprise, arrived at an abandoned mining factory. Here, there was indeed a chalet where you could eat and drink something small and even charge your car!
At first glance, we thought this couldn't possibly be a natural view, so we had a chat with the friendly manager of the place. Apparently, for years (as far back into the Middle Ages) marl mining happened here, which changed the view enormously. But it also uncovered millions of years of history, so several fossils of the Mosasaurus have even been found here!
Take note that there are several hiking and mountain bike trails, so take advantage of those. More information can be found on the Natuurmonumenten website. All in all, definitely an unknown pearl you should explore!
Nature therapy is better than retail therapy
Maasmechelen is known to the general public as the place that unleashes your shopping beast. But led by our motto — 'do the unexpected' — we swiftly crossed Maasmechelen Village and entered Connecterra. This was the site of the Eisden coal mine in the late 1980s but a stunning piece of nature has now been created here. It is also the main entrance to the Hoge Kempen National Park. The remains of the mining past can still be seen throughout the two enormous shafts, among other things.
Since we chose a sweltering day for this adventure (33°C!), we chose to do the shorter hike of 3.4 km. This hike, too, had some beautiful viewpoints for us to enjoy and wasn't strenuous at all for avid hikers. There is also a longer route of 13km. On the way, you cannot miss the Ecotron from the University of Hasselt with 13 high-tech ecosystem rooms in which they simulate different climate scenarios. It's quite a sight!
We'd definitely recommend this excursion. Bask in the amazing nature of the Hoge Kempen National Park and step a bit further than shopping because it's worth it.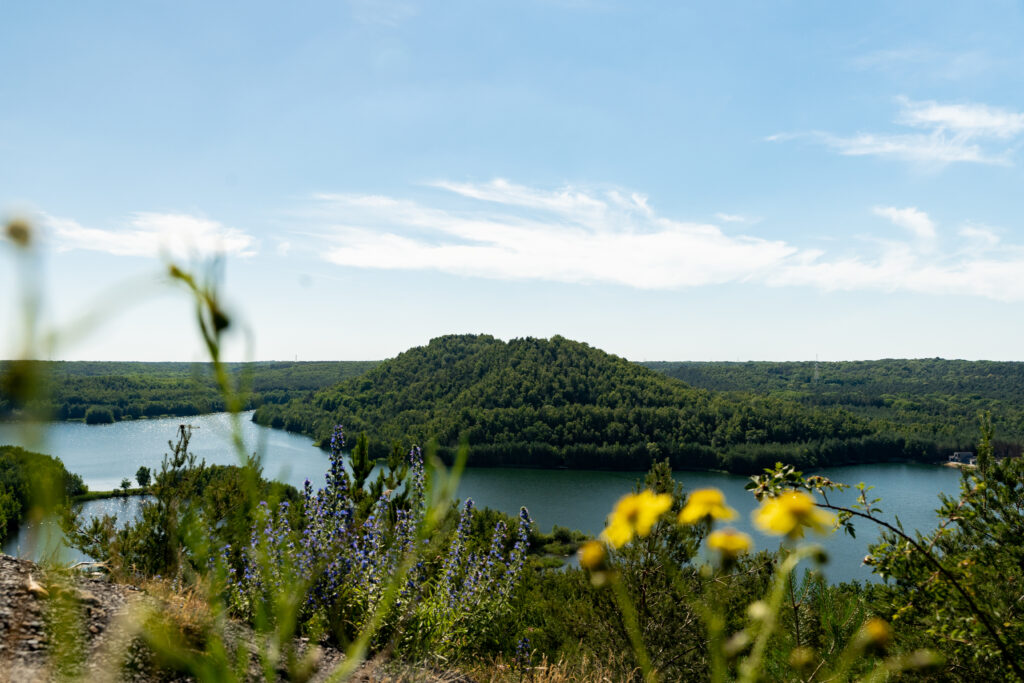 Sleep on the water in Limburg
We wouldn't be Rebels if we didn't find unique stays, would we? And not just any unique stay, but one that brought us back to basics, without Wi-Fi or electricity. We could just enjoy the surroundings, each other, and the beautiful sunset.
SailcenterLimburg, fully run by two strong women and a large number of volunteers, started overnight stay options on a Treibgut camping raft in 2016. Located right between Belgium and the Netherlands, we got to float between the Limburg borders.
With the E-tron plugged in, our sleeping bags ready, and a picnic on the raft, we were ready for a new adventure. After an explanation on how to sail forwards and backwards (kinda like driving lessons all over again!) we sailed into the evening.
After we found ourselves a nice spot, we decided it was time to anchor. But first, Mother Nature treated us to a wonderful sunset. Instead of sleeping indoors, we decided to put our air mattress on the roof, which the owner allowed, to avail the ultimate experience.
After the night, with the adventure truly etched in our memories, we sailed back ashore to get our feet back on the ground. Needless to say, we will definitely be back.
For more information and reservations, be sure to take a look at Sailcenter Limburg's website.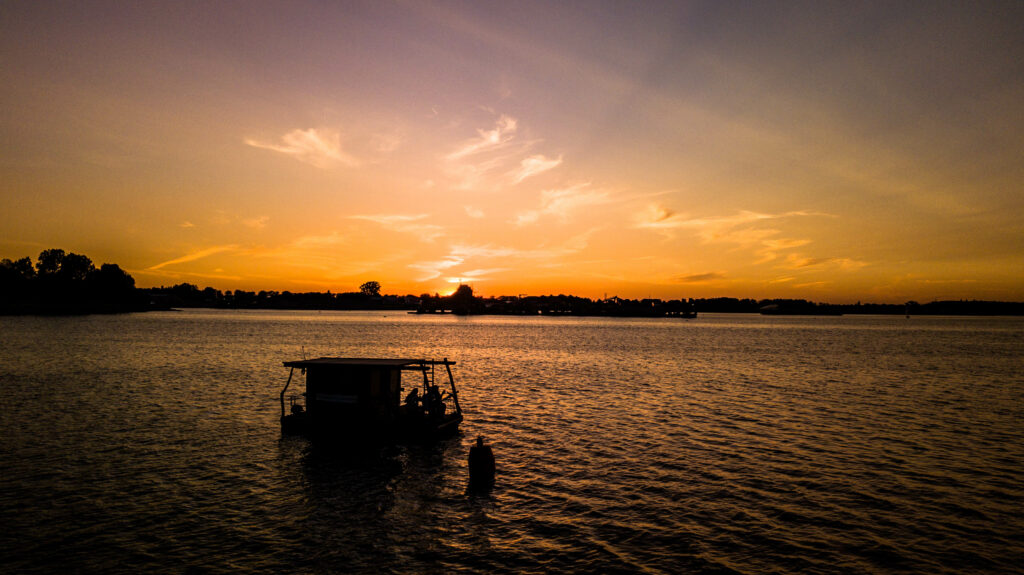 A Sahara and forest all in one
After an evening, night and morning on the water between Belgium and the Netherlands, it was time to further explore Limburg. We got in the car once again and drove to the Lommel Sahara. This is a part of Bosland and boasts five hectares of wooded area in Lommel, Hechtel-Eksel, Pelt and Peer.
The term 'Sahara' massively appealed to us so we decided to check it out on another very warm Belgian day. Due to the heat, we once again opted for the shorter route (3km) but rest assured, you can also go all the way and opt for 6 or 12km!
During the walk, we came across the large, impressive sandy plain and also beautiful coniferous forests and lakes, which made this a one-of-a-kind experience. To get a nice view of the entire area, we climbed the 30m high lookout tower… it was worth it!
Do note that to prepare for one of the walks, you can order a hiking map online for € 2.50.
Over all, we discovered during our trip to Limburg that it is indeed possible to have a brilliant holiday in your own country… without stepping foot on a plane at all. Of course, we should not stop discovering other lands and cultures, but it was such a revelation to see these awesome places right here in Belgium!
Have you visited one of these places already? Will you do so now? Do comment and tell us all about your own Belgian adventures!