Are you going on vacation or workation in Luxembourg and you don't know what to do yet? TravelRebels Kim and Silke went out to explore in December. The schedule included hotels with good wifi, but above all lots of fun activities and nice stops. According to them, these are the 7 tips in Luxembourg to put on your schedule.
Why Luxembourg?
Luxembourg is, incomprehensibly enough, still not visited by many. However, there are plenty of reasons to make this an annual trip. It is only a good 2 hours drive from Flanders, the perfect electric car distance actually. You can also get there in a few hours by train. You will soon read our tips for driving to Luxembourg by electric car on this blog.
Furthermore, Luxembourg City is a gem to see. In addition, you can enjoy delicious food, drinks, but also walking and cycling throughout Luxembourg. All the perfect ingredients to get away from it all. In terms of a sustainable destination, Luxembourg is definitely at the top with its mobility solutions and focus on nature.
Tip 1 | Enjoy the sparkling Luxembourg City
Luxembourg City Center
Luxembourg City has a unique vibe that balances between a fascinating past and a modern present. With a cloak of city walls, bridges and gardens on all levels, you'll find a nice vantage point everywhere. In the small town center. You can get lost between all the small streets and alleys with shops and restaurants on every corner. In December you will also find a Christmas market in various squares. Loads of colorful string lights and decorations are scattered all over the city. Warm up with a Luxembourger Feuerzangenbowle as the icing on the cake.
Continue your exploration with the electric Vel'ohs
The best way to explore the city is with an electric Vel'oh. You will find the stations for these bicycles scattered all over the city, so you can get on and off to your heart's content. They may not all work smoothly, but you can choose which bikes have the best score when taking one. The very best news? They only cost 2 euros for a whole day. That is really unbelievably cheap. We found the inspiration for our cycling tour on the Visit Luxembourg site.
Free public transport from your hotel
If that wasn't enough, all public transport in Luxembourg is completely free for everyone. Moving smoothly, sustainably and inexpensively on vacation has never been so easy. That is why it is no problem at all to stay at a hotel slightly outside the center. By bus you are there within 10 minutes. We slept in GRAACE hotel, a unique hotel on the outskirts of the city that creates an industrial atmosphere with sustainable materials. The rooms are small but practically furnished and the sliding desk is ideal for your workation.
Tip 2 | Wake up in the Mullerthal and discover the Beaufort castles
There is nothing better than exploring nature by walking. And walking is of course one of the better activities during a workation. A part of the Mullerthal trail runs to the Beaufort castles. You can take the local loop B4 from that. Since it is only 6 km and 100 meters in height, this is the perfect walk to wake up peacefully in the morning. Deck paths, forest paths, a lake and beautiful rock formations: you will find everything you want from a walk here!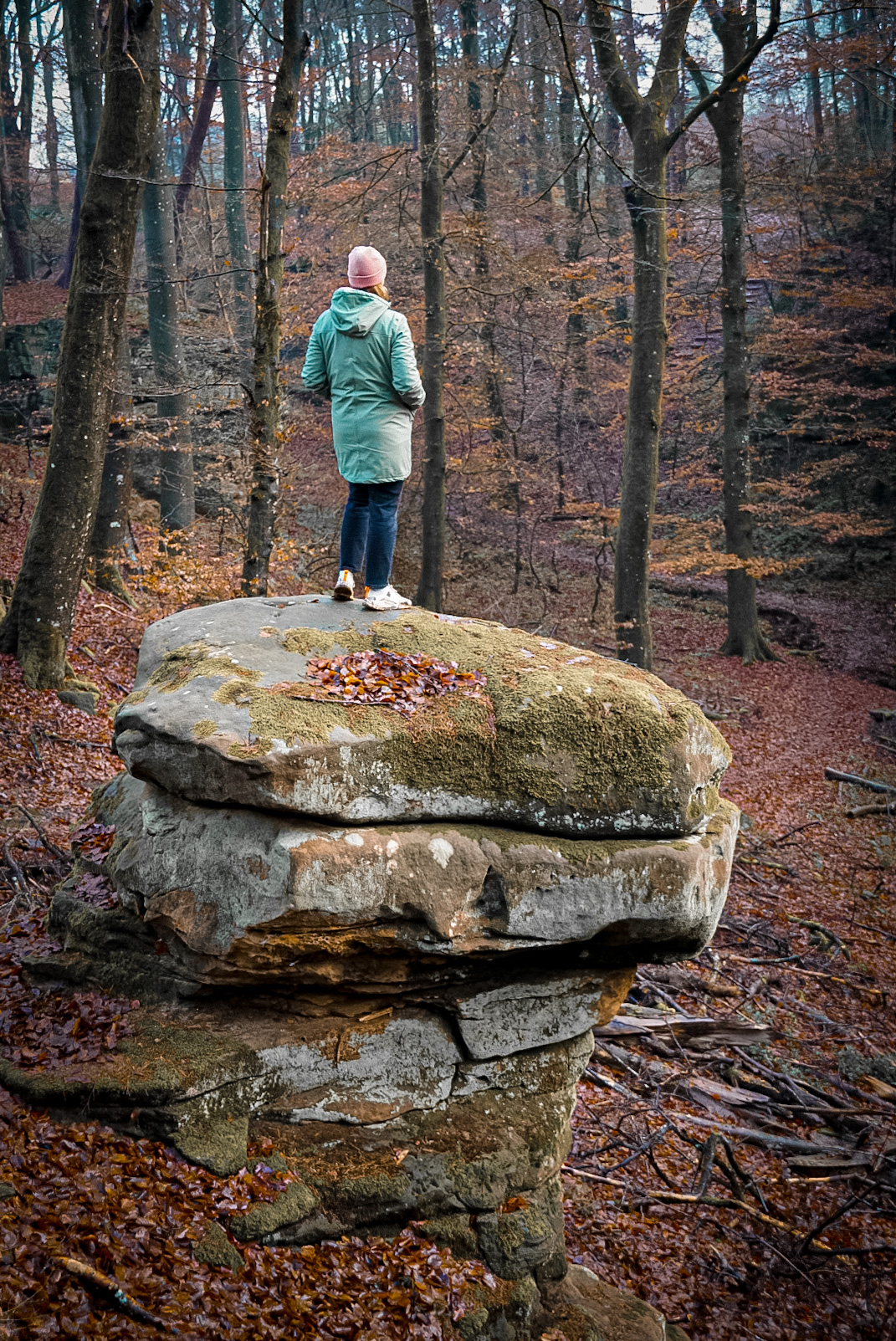 Since the walk starts and ends at the Beaufort castles, it is the perfect pit stop to warm up afterwards. In addition to 2 castles, you will also find 2 funny cats, 2 gardens and a local liqueur production in the castle cellars. The liqueur has been made here for over 100 years. Meanwhile, it is brewed by Jacqueline who has lived here for over 40 years.
The best time to visit the castles is between April and November when the oldest castle is open. For a tour of the Renaissance castle, it is best to give a call in advance. By the way, the tour is usually finished with a delicious tasting of the berry liqueur.
Tip 3 | The best vegetable restaurant in the world: La Distillerie
If you like good food, Luxembourg is definitely the place to be. One must-see is the Michelin-starred restaurant La Distillerie in Bourglinster Castle. Chef René Mathieu learned from his grandfather what treasures are hidden in the surrounding forests. By combining his grandfather's forest ranger knowledge with his vision of sustainable food and living, he now conjures up the tastiest vegetable dishes on the table. He deservedly won the prize for the best vegetable restaurant in the world in 2020 and 2021.
At La Distillerie, not only seasonal vegetables are on the menu. You will rediscover plants, roots and berries that you never knew were once used in the kitchen. Some examples are birch bark, amaranth and alant root. Nearly all ingredients are picked from nearby forests and fields by local suppliers or are personally pulled from the ground by the chef. They are then fermented, solarized or infused to bring out the surprising flavors and vitamins.
Tip 4 | E-mountain biking in Guttland
What you can't miss out on is a cycling tour in Luxembourg. Guttland is the perfect region for it. Here you will find hundreds of kilometers of asphalted bike paths, away from the road. Old train tracks have been converted into kilometre-long bicycle routes. There are a lot of well-signposted loops that you can combine through forests and fields. The enchanting nature is enhanced by various castles and dreamy villages that peep left and right.
We chose the loop that connects Useldange with Boevange, Vichten and Reimberg and were certainly not disappointed. An electric bike makes it just a bit more relaxing, since it is quite hilly here. Use the free cycling map Mam Vëlo am Westen to easily map out your route, which you can find at the tourist office or at your accommodation.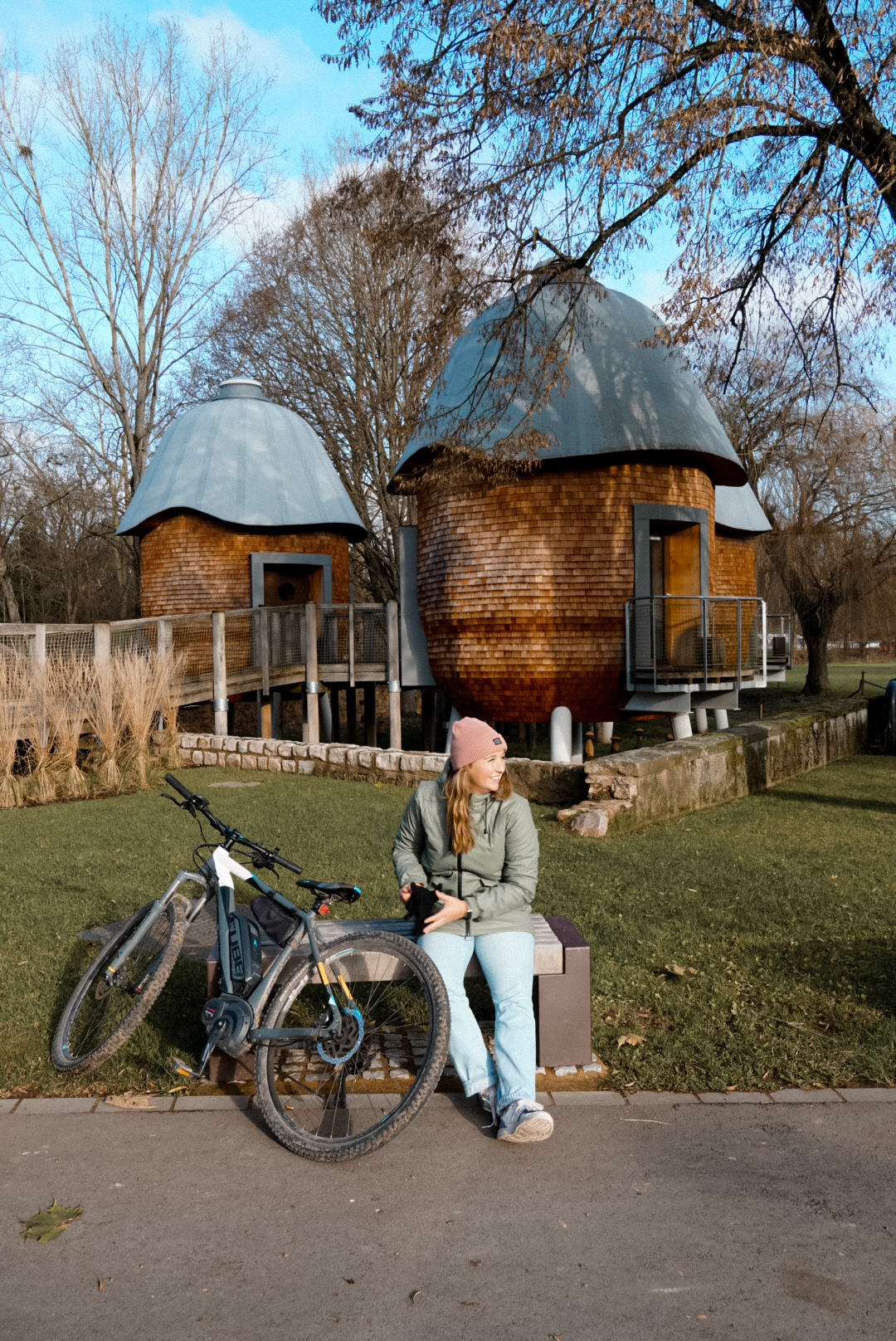 The starting point for our bike ride was the chambre d'hôtes Green & Breakfast, run by Murielle and Ady. Here you can enjoy a wonderful weekend away with a blissful wellness, delicious food, and cycling routes that pass 50 meters from the front door. They offer packages that include the rental of an electric mountain bike and/or wellness. And Murielle and Ady are also just two fantastic owners with their heart in the right place.
Tip 5 | Slurping cider at the Ramborn cider farm
In the small village of Born, there is something deliciously hidden away. At the Ramborn cider farm, they go all-in for sustainable production in all ways. Operated by friends and supported by the community, they want to go for zero waste apples and pears.
The tradition of cider had long died out in Luxembourg. In the past century, about 90% of all apple trees disappeared. Now the Ramborn cider farm produces award-winning apple, pear and quince ciders. Combine your cider tasting with a hike through the ancient orchards in the surrounding valley and make your day unforgettable. Maps of the 5.5 km long walk can be found in the shop.
Tip 6 | A pit stop or day trip in Echternach
In Luxembourg you will reach a national border sooner than you think. Echternach is an example of a border town that doesn't feel like a forgotten spot on the border at all. You can especially enjoy fantastic walks in neighboring forests, but the town itself is also worth the effort. There is a gigantic abbey with a basilica and you will find a lot of small shops and restaurants. Extra tip: have breakfast or lunch at Carli's Coffee for delicious vegetarian or vegan pastries, soups and sandwiches.
Tip 7 | Urban vibes at Make Koler Kooler and Benu Village
Sometimes you can discover the best things with small stops on the way to your final destination. The Make Koler Kooler project in Kahler is a prime example of this. This small village just over the border was originally nothing special. In any case, until an artist decided to rename it street art into a kind of living open-air museum. Hilarious and unexpected, and all the more reason to have a pit stop here.
Benu Village in Esch has other good reasons to pop in. It is the first eco-village in Luxembourg and has big plans. Together with volunteers they are building an upcycling shop, a furniture workshop, a rescued food and zero waste restaurant, a water tower and so on. In 2022 you can go here for all the above initiatives. You can currently visit the upcycling clothing store in the artistic containers made of recycled materials in the parking lot in Esch. The sewing studio is right above it.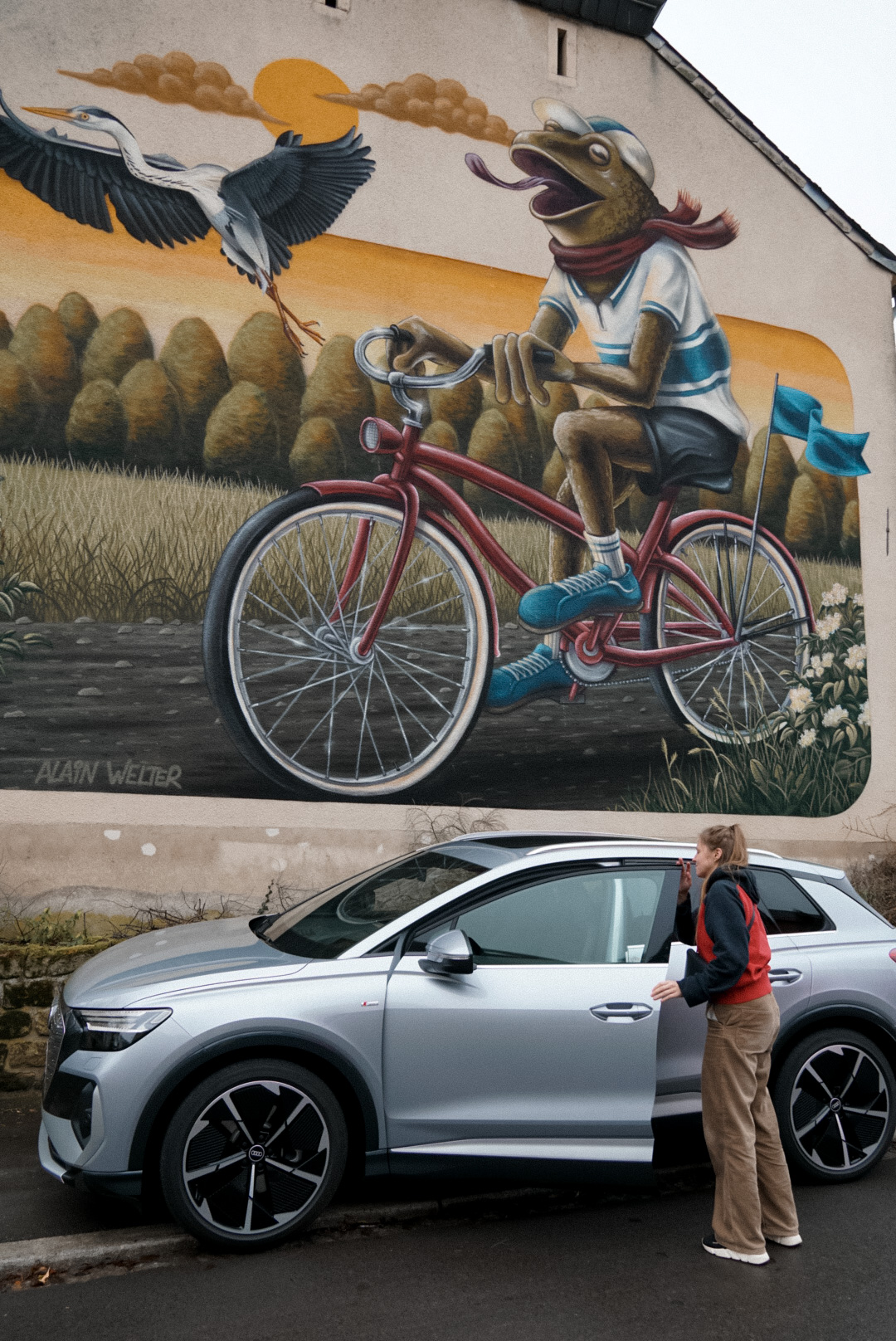 Copy and photography: TravelRebel Silke
Video: TravelRebel Kim