Sustainable by train through Europe: 4 dream destinations
Trains are getting more again. Since corona, we have been thinking even more about the impact of our travels. In addition, increasingly smoother intercity trains and night trains are being added to compete with airplanes. And rightly so, because traveling by train is by far the most sustainable and pleasant way to travel. We went sustainable by train through Germany, Switzerland and Austria with a multi-day Interrail pass. On the schedule: Freiburg, Lake Constance, Tyrol and Berlin.
Freiburg: home of the sustainable daredevils
From Belgium you can reach Freiburg sustainably by train in just 6 hours, with a change at Cologne or Frankfurt. Freiburg is the capital of the Black Forest and is nestled at the bottom of Germany, against France and Switzerland. 40% of the city still consists of Black Forest. Everywhere you look, you see a piece of nature squeaking or water flowing through the streets. The Freiburgers especially like to enjoy good food and drinks, sports and not too much stress.
Good food in Freiburg
You don't have to go far for good food and drinks. Every day, under the cathedral, there is a market with local products between 07:30 and 13:30. You will find vegetables, cheese, ham, sausage and more. Still very hungry? At a 5-minute walk you can go to the Markthalle where you choose from dozens of stalls of international food. For the best wine from the region, which is completely organic by the way, give Weingut Andreas Dilger a call. He links social and cultural entrepreneurship to viticulture with a delicious result of wines and schnapps. Zum wohl!
Exploring in Vauban
One neighborhood in Freiburg stands out head and shoulders above the rest in terms of sustainability. Located on the outskirts of the city, Vauban was built with the participation of the inhabitants. You hardly see any cars driving there, a car parking space costs a whopping 18,000 euros. Everyone here goes on foot, by bike or by tram. You also hear that when you walk around, no noise pollution here. Almost all streets are play streets divided by small parks and blocks of passive houses.
We slept here in the cozy Green City Hotel Vauban, surrounded by climbing plants and near the tram stop. Sustainable, local and inclusive working are at the top of the list of priorities here. With the card of your room you can even use public transport for free!
Beating the borders on Lake Constance in Switzerland
Lake Constance is a gigantic lake that plays tag with Germany, Switzerland and Austria. It is 4 hours by train from Freiburg. If you want to spend the night here like us, you can get off at Staad train station and walk 5 minutes up to the radiant white castle and bio hotel Wartegg. The owners renovated this historic gem 30 years ago with attention to sustainable materials and attractive decor. You can even charge in front of the door with an electric car.
In the 14 hectare park around the castle you can stroll between the vegetable garden, beehives and sheep. And you can taste that in all the plates they serve here. You can hardly get enough of the crusty bread, the creamy herb soup, the local wine and all the seasonal vegetables. Relax afterwards in the oval turquoise bubble bath on the first floor. It looks like it came straight out of the Harry Potter movies.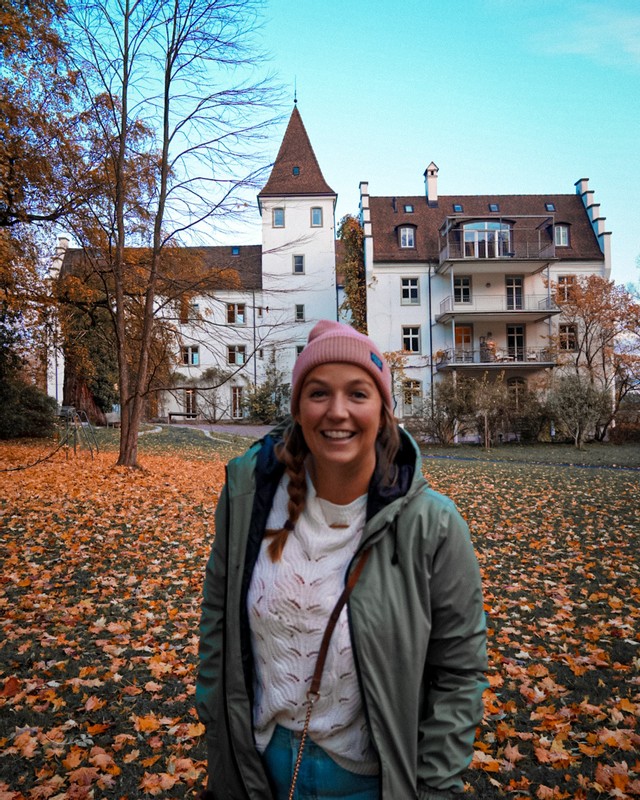 Cyclists will get their money's worth here with a gigantic network of cycle paths. In addition, you can sail a boat around Lake Constance, go island hopping and even fly a zeppelin. We got an electric bicycle that took us over the Swiss hills. The views are almost straight out of a fairytale. And the train connections here are optimal for hopping around. Tip: walk or cycle to Steiniger Tisch for a coffee with a view.
The Germans say it very aptly:

"Wenn ich den See seh, brauch ich kein Meer mehr". – "When I see the lake, I don't need the sea anymore."
Away from the world: the most sustainable stay in Tyrol
3.5 hours sustainable by train to Austria is a hotel that is a destination in itself. After getting off at Jenbach station and taking bus 8 uphill, you enter a different world. From the outside, Biohotel Grafenast doesn't look that much more special than other chalets in Tyrol. But when you walk in, you are immediately captured by the charm of this place.
The Unterlecher family has been treating tourists here with great love for over 100 years. However, you will not easily find treats from plastic or disposables here. All products and electricity are 100% organic. They go so far as to process your food scraps into bags of compost that you take home for your garden. In addition, they ensure that the very low 4 kg CO2 emissions that guests emit here are double compensated. In other words, you sleep soundly here, on your spelt chaff pillow.
In the summer you can walk and cycle directly from the hotel. You can even borrow electric bicycles for free at the counter. There are also plenty of options for winter lovers. The ski lift is a 2-minute walk away and you can also enjoy cross-country skiing here. But you may have a hard time leaving this wonderful place just like us. The rooms have a heavenly view of the valley. And you can completely relax in the forest sauna.
Eat your belly around in Berlin
Thanks to the ICE trains that zoom through Germany at 300 km/h, you can travel from the south to the north in 1 trip stress-free and without traffic jams. Berlin, meanwhile, is way ahead of other cities when it comes to sustainable, vegetarian/vegan and international food. Ideally, you discover the city while eating, with your nose in the direction of the best delicacies. You'll find tons of inspiration in the Going Local Berlin app and on Fork and Walk's food tours. Below we list some of our favorite sustainable restaurants and shops in Berlin:
1| Beba restaurant
Beba restaurant is hidden in the entrance hall of the Gropius Bau museum. Not only do their traditional Middle Eastern dishes have a fireworks display of flavors, the ingredients grow right next to your table. Beba uses Infarm's ingenious vertical greenhouses to grow their herbs and lettuce on site. Inspired by grandmother's kitchen, but above all made with a lot of love and quality. You just want to come back here every day.
2| Markthalle Neun
Markthalle Neun is a historic building that was saved from decay in 1970 by the supermarket chain Aldi. Meanwhile, the market hall draws so many people that it has survived the Aldi. Here you will find all kinds of stalls with local delicacies from bread, cheese and charcuterie to entire restaurants and breweries. So you can not only buy short-chain products here, but you can also taste them immediately. We fell for a cheese platter from Alte Milch and beers from Heidenpeters.
3| Pars Pralinen
Lovers of chocolate and wine should head to Pars Pralinen. These chocolates seem almost too precious to eat. It takes 2 days of manual work to finish a praline. Don't expect a traditional chocolate bomb, but a refined edible piece of art with local seasonal vegetables and fruits such as beetroot and pear. You can also score an organic wine here to pair with your praline.
4| Isla Coffee
For a good coffee with pastries, knock on the door of Isla Coffee. Isla goes a step further than the other vegan and/or vegetarian coffee bars you'll find all over Berlin. Zero waste is central: coffee grounds go to the plants, leftovers of milk go into the bread pudding and even their coffee cups are made from coffee residues. We did not ask what they do with leftover cake, there is clearly not a crumb left.
5| Frea
Do you really want to go all the way sustainable in Berlin? Frea opened its doors here as the first vegan zero waste restaurant in the world. The skeptics don't have to worry, it's definitely not a hippie thing here. This restaurant is for real gourmets and does not make you feel for a second that you are eating vegetarian or even vegan. Creamy, tasty sauces bring every dish together. Tip: the baked potatoes as a starter.
Are you also looking for a sustainable hotel to sleep in? We fell asleep happily exhausted and with a round belly at Almodóvar Hotel in Friedrichshain. Hand in hand with their regional suppliers, they provide comfortable rooms with sustainable furniture and a delicious vegetarian/vegan breakfast buffet. The vegan croissants were even applauded by the French guests here. They have also thought of relaxation with a yoga mat in every room (why doesn't every hotel have that?) and a rooftop sauna.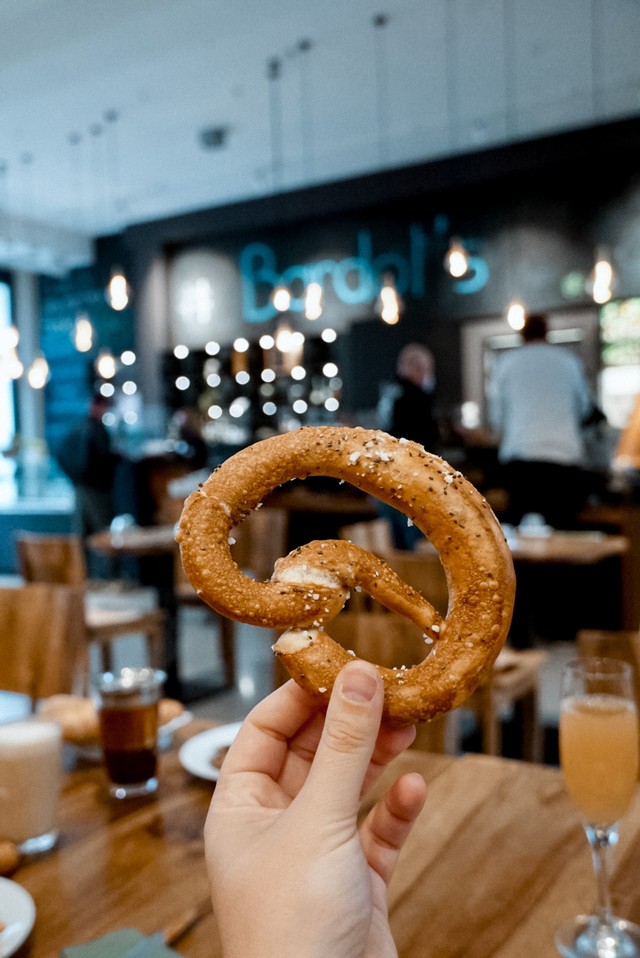 Sustainable by train: the Interrail pass
Traveling by train is not expensive at all, despite what many think. However, it is useful to book your tickets a few weeks (or sometimes months) in advance to be sure of a good price. But sometimes you don't want to book everything in advance at all. Maybe it will suddenly snow in Tyrol and you want to go there. And the next day you already had plans in Berlin, hundreds of kilometers further…
With an Interrail pass you have complete flexibility and you can choose how many days you want to travel within the 33 countries that belong to the pass. This way you get a good deal, especially in Switzerland, because everything costs a little more there. By train you also save 90% CO2 compared to a plane trip. Even more reason to explore sustainably by train!
By the way, have you ever thought of combining your train journey with a bike ride? You will find a lot of inspiration in our article about cycling along the Elbe.