WHY YOU SHOULD EXPERIENCE THE BENGALI NEW YEAR IN BANGLADESH
The welcoming heat of the bright sun, a sea of smiling faces, and chaos that was as colorful as it was magnetic… that's how I started my first morning in Dhaka, the capital of Bangladesh. Needless to say, I couldn't have had a better introduction to the energy, love and people of this part of the world. Every feeling, every experience was so new and literally pulsating with life. Read on to learn more about my journey, and why my timing, which coincided with the Bengali New Year, was utterly perfect.
Shuvo Noboborsho!
Pahela Baishakh, also known as Bangla Noboborsho, is the first day of the Bengali calendar and falls on April 14. The traditional greeting is Shuvo Noboborsho, which means happy new year. If you're interested in exploring Bangladesh, I'd strongly suggest going around this time to experience these awesome celebrations.
So what was it like? Well, it's hard to describe exactly, but you can compare it a bit with the first hours of Tomorrowland. Ecstasy from dawn, crowds of happy and spirited people, and no hangovers just yet.
This festival starts with the first rays of sunlight at Ramna Park and the University of Dhaka. Spend some time beforehand  looking for a nice traditional outfit at local tailors or go to one of the GIGANTIC shopping malls (not kidding, they're huge).
Here's a quick tip: head to the Bashundhara City Shopping Complex and once there, steer completely to the far right side upon entering. In this area, you'll find all the beautiful handmade clothing, jewelry, and souvenirs all at once!
The locals think it's great if you wear a traditional outfit and you'll probably hear requests of "selfie, ma'am?" dozens of times. They love photographing and being photographed, but are always polite and ask for permission. Most of the Dhaka residents understand some English and hand gestures will get you quite far when that fails.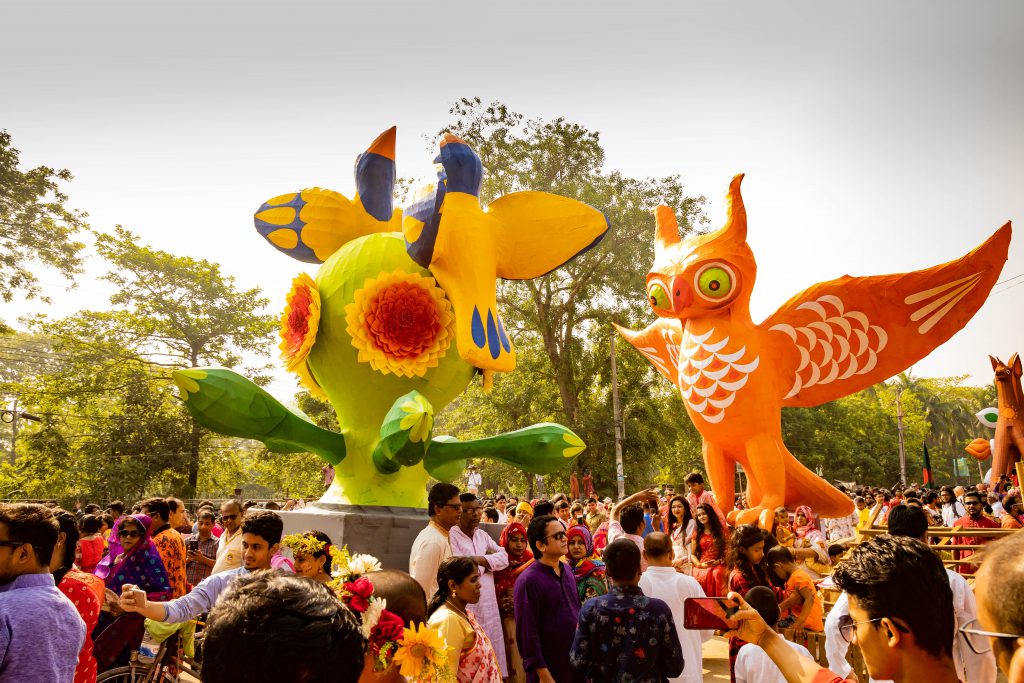 The most important part of the festival is the colorful Mongol Shobha Jatra procession organized by the fine arts students at the University of Dhaka. In 1989, these pupils wanted to show hope for a better future during the Bengali New Year, giving birth to this display. Each year, you will see at least one work that represents evil, one that represents courage and power, and one that represents peace. This procession shows that Bengalis are proud of their folkloric heritage, but also stand united in a democracy that unites people regardless of their caste, religion, gender and age.
To guarantee the safety of the large crowd, there is of course some police present and the streets are blocked for transit. To be very transparent, I never felt unsafe during the festival and enjoyed every minute of it.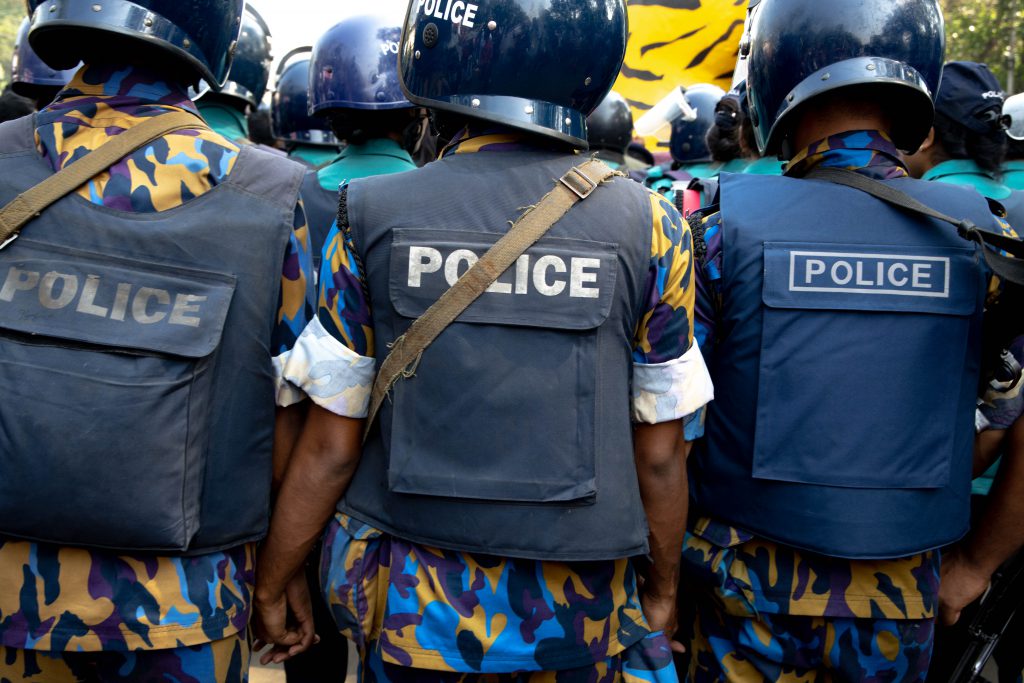 How to make the most of this fantastic celebration
Practical guide for Bengali New Year
Apply lots of sun cream, because even though the festival is in the morning, it is very hot.

Drink lots of water, please! It is tempting to just fully let go of yourself in the bustling chaos and completely forget that there are basic needs such as food and drink. I became so absorbed in the moment that I forgot to eat and drink for quite a while, but I paid for it afterwards when the heat and exhaustion got to me a bit.

Go shopping! Like I said, look for the perfect local outfit for the festival. This applies to men as well. A little bling bling is certainly okay in Bangladesh!

Always ask permission to take a picture of someone, even though hardly anyone will refuse. It's simply a matter of respect.

Buy one of the beautiful handmade flower wreaths or flower ribbons. Go on, adorn yourself.

You'll notice that some people would like to paint your face or hands. I myself have fairly sensitive skin, so if you know you can react allergically, just thank them kindly and move on.

Take your camera, an empty memory card, and if necessary an extra battery with you because every second you'll see another fantastic photo op.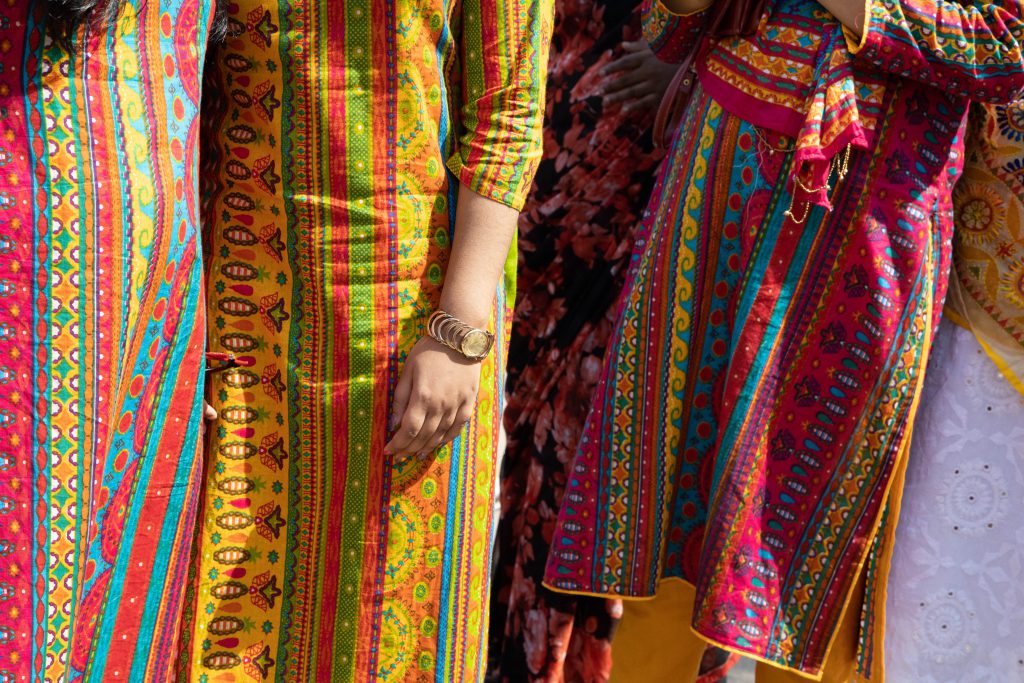 Testing the new Canon EOS R
Canon Belgium entrusted me with their newest mirrorless baby for a month — super cool, I know! It was the new EOS R. A few months ago, I had already gotten this pearl in my hands during a show in Ghent, but like many others, I had some doubts. This is because the new EOS R requires a lot of adaptability from most canon enthusiasts, but I quickly found my way around with this friend. I was also surprised by the battery. As you can see in the above mentioned tips, I did have an extra battery on me, but I did not need it during the entire test month.
If you would like to see some more photos of Bangladesh (and how the EOS R truly fared), take a look at the Sea of ​​Smiling Faces post.
All in all, ringing in this new year was an experience unlike any other and I don't think any place can replicate it. Is Bangladesh on your travel radar yet? Let me know!