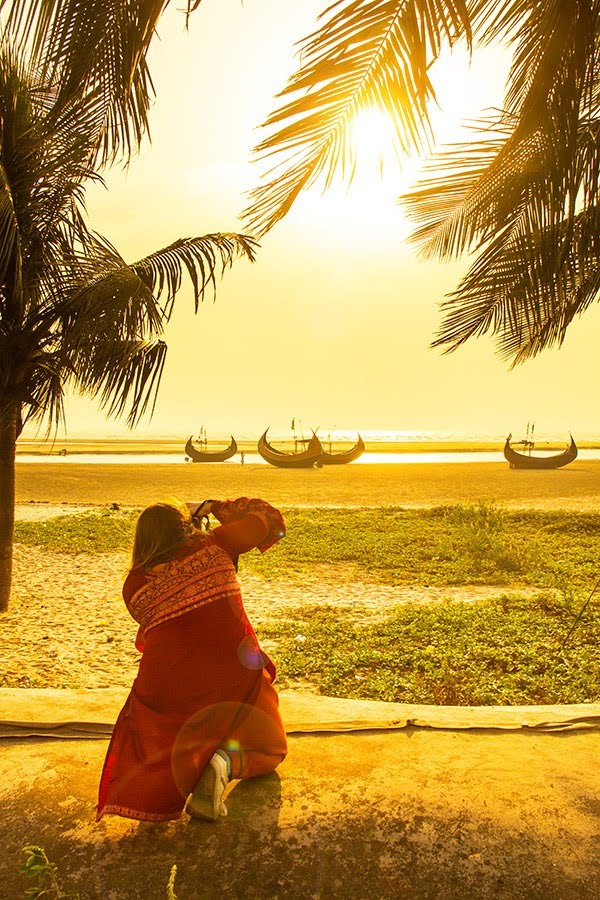 16 THINGS TO KNOW BEFORE TRAVELING TO BANGLADESH
Bangladesh, lovingly known as the 'land of rivers' because of all its waterways, will change the way you think about everything. In fact, it will even change your perception of life. Here, you will find yourself immersed in the mysteries of nature, unique and colorful festivity, and interactions with wise and wonderful people. 
And here's the kicker: South Asia's greenest jewel, rich is culture and heritage, is still off the beaten tourist path, just waiting to be truly discovered. 
So just when should you go? Here's a quick seasonal breakdown:
High season (October to March): Cooler temperatures, almost chilly in January and February. It'll be pretty dry as the worst of the monsoon has passed, but there are some late rains in October. Prices in Cox's Bazar may be inflated.
Shoulder season (April to May):  I went in April as I prefer not to travel in high season (this helps more people benefit from tourism because income through tourism is more spread out during the year instead of just during high season). On April 14, you can celebrate the Bengali New Year with the locals. This was one of the best travel experiences of my life! Do note that it's really hot during April and May without the cooling monsoon rains. But don't worry, there are other cool things to experience in shoulder season: mangoes start ripening in May (yum, who doesn't love mangoes?) and you can join honey harvesters for the honey-collecting season in the Sundarbans. Unfortunately, I am allergic to bee/wasp stings.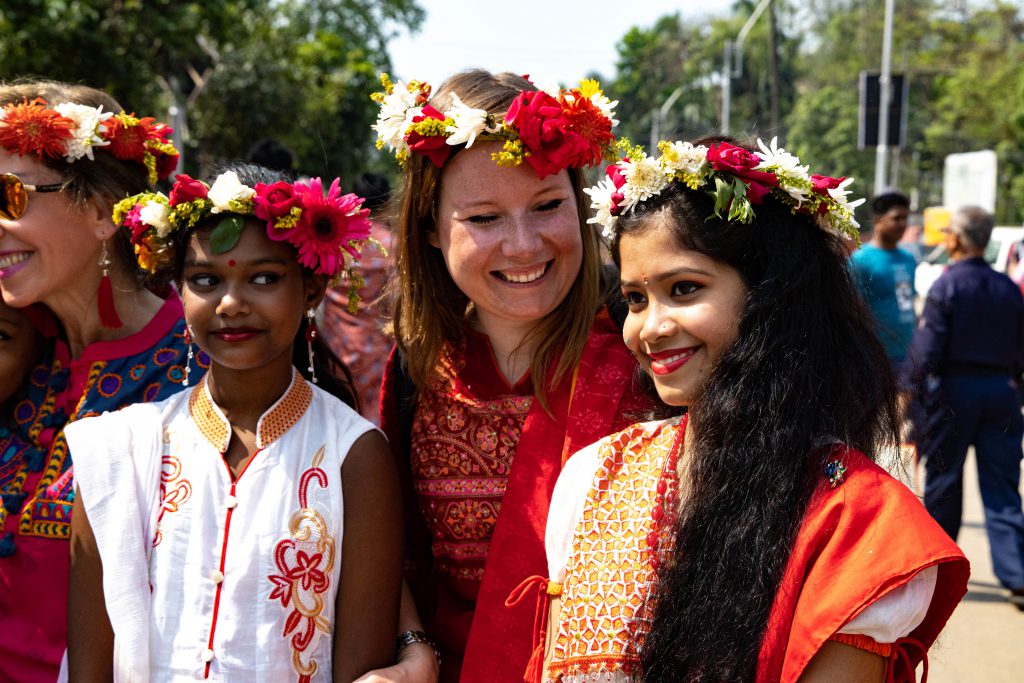 Low season (June to September): Monsoon season, hot but the rain cools the air. Tea-picking is in full swing in Sylhet. 
Need more help to plan your trip? Well, here are 16 points you don't want to miss!
It's the land of six seasons
Did you know that Bangladesh is known as the land of six seasons (Sadartu)? Because of its geographical location, it has a temperate climate and although mainly sub-tropical (which means warm and humid), the Bangla calendar is traditionally broken down into six seasons: Grisma (summer), Barsa (rainy), Sarat (autumn), Hemanta (late autumn), Shhit (winter) and Basanta (spring). 
Did you know that Bangladesh is known as the land of six seasons (Sadartu)?
In actuality, this country has three very distinct, noticeable seasons: a cool and dry winter season from November through February, the pre-monsoon from March through May, and the rainy season which continues from June through October. Mid-October to mid-November is often also thought of as the autumn, and March is considered to be spring.
So now you know – pack accordingly.
https://www.instagram.com/p/BwkJi0VFgUp/
Visas for Bangladesh
Almost everyone needs one. A 30-day visa on arrival is available for many nationalities. I got my visa at the local embassy in Brussels, Belgium, for EUR 50, just to make sure things would go smoothly when I arrived in Bangladesh. 
Currency  and money in Bangladesh
The local currency in Bangladesh is the taka (tk), so don't forget to exchange or withdraw some money in the cities. I only used my Mastercard and local takas, so no clue if they accept dollars widely. You can also ask your hotel to exchange money, but you probably will not get the best rates. There are foreign currency friendly ATMs in most big towns and cities, but not all. 
Mobile phones
You can bring an unlocked phone to use a local SIM or, if you're lucky, your smartphone may already have double SIM capability (great investment if you travel a lot). 3G is widely available and so is 4G in the cities. I didn't have much trouble with my SIM card and mostly used the data. Data is really cheap – yay!
Travel cheap in South East Asia
Simply put, Bangladesh is a really cheap destination. You can hop on local trains and buses or even catch a domestic flight to get around. A regional bus ticket is usually between 80 tk to 200 tk (EUR 0.8 – EUR 2). Travel on an air conditioned coach or hiring a car can cost you around 600 tk (EUR 6).
A meal in a Bangladeshi restaurant will only cost you between 80 tk to150 tk, but if you want to have dinner at a restaurant that serves international cuisine you can pay up to 1800 tk (a little perspective: that's still under EUR 20!).
If you want to backpack on a budget, Bangladesh is the place to go because you can travel with a budget of under EUR 20/day.
Not everyone's cup of tea
So here is an important, but often overlooked, truth bomb: Bangladesh isn't for everyone. Sure, it's beautiful and full of delights, but I wouldn't recommend visiting alone unless you have some experience in traveling to other developing countries under your belt. Keep your expectations in check. It may get a bit rough from time to time and you may have to forego your morning latte for a few weeks.
https://www.instagram.com/p/BwgBdWZFt_m/

Getting around in Bangladesh
Buses & coaches
If you have enough time, I would suggest traveling around by bus as this will give you a very local experience. It'll also be dirt cheap if you don't mind squashing into the local ones. Don't worry: there are more comfortable (and a bit more expensive) coaches available most of the time as well. 
Boats
When in Bangladesh, you definitely have to try traveling by boat. We discovered the Sundarbans (home to the world's famous Bengal tiger) this way and it was awesome. Riverboats are the king of travel.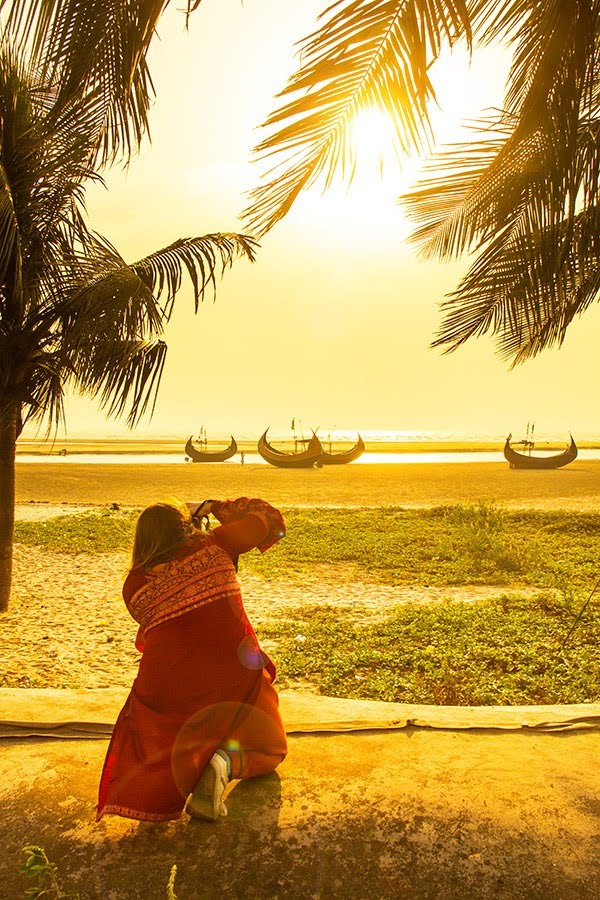 Trains
Trains are actually a safer option than road travel, but the network and tickets are more limited.
I also think trains are easier on the nerves than buses. You can even book first class and enjoy some luxury. For a full list of routes, times, journey durations and prices, go to the official website of Bangladesh Railway. You can't book tickets on this website but it helps to plan your journey. 
Planes
If you short on time, I would suggest you catch domestic flights from Dhaka. Not the most sustainable way but definitely time efficient. 
Get picture ready!
While traveling around, be forewarned, everyone will want a selfie with you! As Bangladesh is relatively unused to foreigners, locals tend to have this genuine interest in why you are visiting their country. They want to get a picture with you (I was literally a part of hundreds of selfies!) and some will even find you on Facebook. 
During my time here, I was interviewed by several radio and television stations. I even got interviewed by the BBC about the Bengali New Year. 
As foreigners are still rare in Bangladesh (less so in Dhaka), they are a source of fascination for many locals. People taking photos and videos of you is something you will just have to accept. 
You will not get scammed that easily
As it is still an untouristy destination, you can benefit from the fact that there aren't many tourist scams in place. Apparently, you have to be careful of theft while in a CNG (auto-rikshaw), but generally you don't have to worry nearly as much as you would in places like Indonesia, Vietnam, Thailand, etc. Please Bangladesh, stay this way!
https://www.instagram.com/p/BwrHHbxlz9o/
Infrastructure is not yet where it should be
Folks, be prepared for unpaved roads and squat toilets. Bangladesh doesn't have many Western travellers, so just go with the flow and get over it. Transportation might be challenging now and then, but a worthwhile adventure nonetheless. You will only find sit-down toilets in midrange and top-end establishments. At gas stations and public places, the very few facilities are pretty horrific. So just be prepared (and always keep toilet paper with you on the road). This is not the best destination for little princesses looking for luxury travel. 
You will have the most authentic travel experience
I have to say it: Bangladesh just puts a smile on my face. It might not be the easiest of destinations to travel to due to the lack of infrastructure, but it is so genuine. Many travelers in Bangladesh agree on one thing: the people here are the biggest asset! It's true. Bangladeshis are welcoming, kind and love to interact. Go to local festivities, such as Bangladeshi New Year, to experience this warmth first-hand. The colorful sea of smiling faces will make a permanent mark in your heart.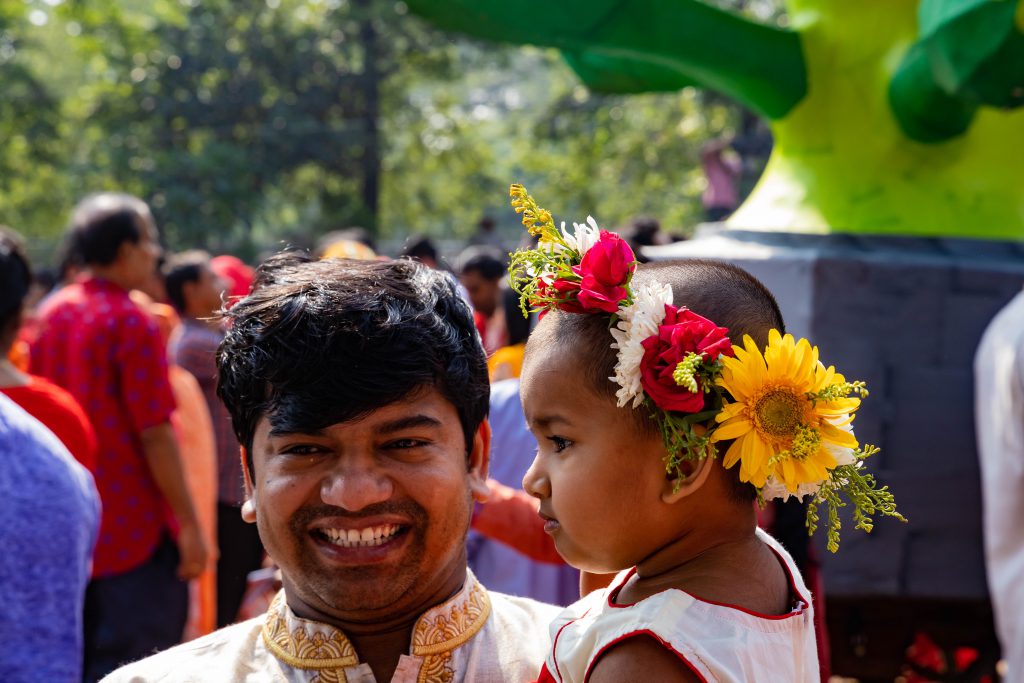 You will feel safe
Even though Bangladesh is a poor country, you will feel safe. Locals are intrigued, and often very excited, to have you as a guest in their country. They will ask you questions and generally be really helpful. They will want to show the best of what their country has to offer. I have been in a super crowded public event in Bangladesh and didn't feel unsafe or uncomfortable for even a second.
https://www.instagram.com/p/Bwoq1HXlYjm/
Come before the tourists!
Yes! The time is NOW! If you want to go to a rather unknown destination, this is your shot…the clock's ticking. You will hardly bump into any other travelers, so if you love untouristy destinations, this is the perfect place.
Keep your health in check
As some of you know, I make it a point to keep my health in check  when I travel. I try to raise awareness on getting the necessary shots and health insurances. 
Bangladesh definitely was a destination I discussed thoroughly with my doctor. Although I got all of the most common vaccination shots for adventure traveling, I still checked in with my doctor. She mentioned that after my return, I'd need a blood check for Hepatitis C & E (as you can't yet get a vaccination for these ones). I do have a vaccination for Hepatitis A & B, which I highly recommend if you want to travel to more adventurous destinations. 
Travelers tend to worry about contracting infectious tropical diseases in this part of the world. For this reason, I will always advise to see your doctor and even make an appointment in a tropical medical center.
Traveler's diarrhea
Everyone fears a case of the Delhi belly or Dhaka belly (traveler's diarrhea) when traveling to India or Bangladesh. You can take some prevention medicine but please discuss this with your doctor first. I was lucky enough not to become really sick in Bangladesh, but I did return with some kind of parasite to Belgium (a small souvenir from my trip). 
Traveller's diarrhea is by far the most common problem affecting travelers: between 30% to 70% will suffer from it within two weeks of starting their trip. In 80% of the cases, Dhaka belly is caused by bacteria, so it responds promptly to antibiotics. (Again, ask your doctor which medicine to keep on you for the duration of the trip).
Here are a few tips that may help you avoid Dhaka belly:
Don't drink tap water and avoid ice. 

Bottled water is usually safe, but do check if the seal is intact.

Avoid fresh juices, especially in smaller eateries, because they may have been watered down. 

Boiling water for 10 minutes is the most efficient method of purifying it

Water filters, such as the

Water-to-go

ones, should also filter out viruses. 
The incredible heat and pollution tend to take a toll on your body and can make you feel less energized. Hygiene is quite poor throughout the region, so food- and water-borne diseases are pretty common. I usually take my own reusable water bottle with me, but in Bangladesh this might not have been the most intelligent choice (please don't drink from the tap here). So even though I hate using plastic, I just had to play it safe and stick to bottled water. 
Many insect-borne diseases are a real fear, too, particularly in the tropical forested areas. Luckily, most of these can either be prevented with some basic common sense, or be treated easily with a well-stocked traveler's medical kit (want to receive mine? Sign up for the newsletter).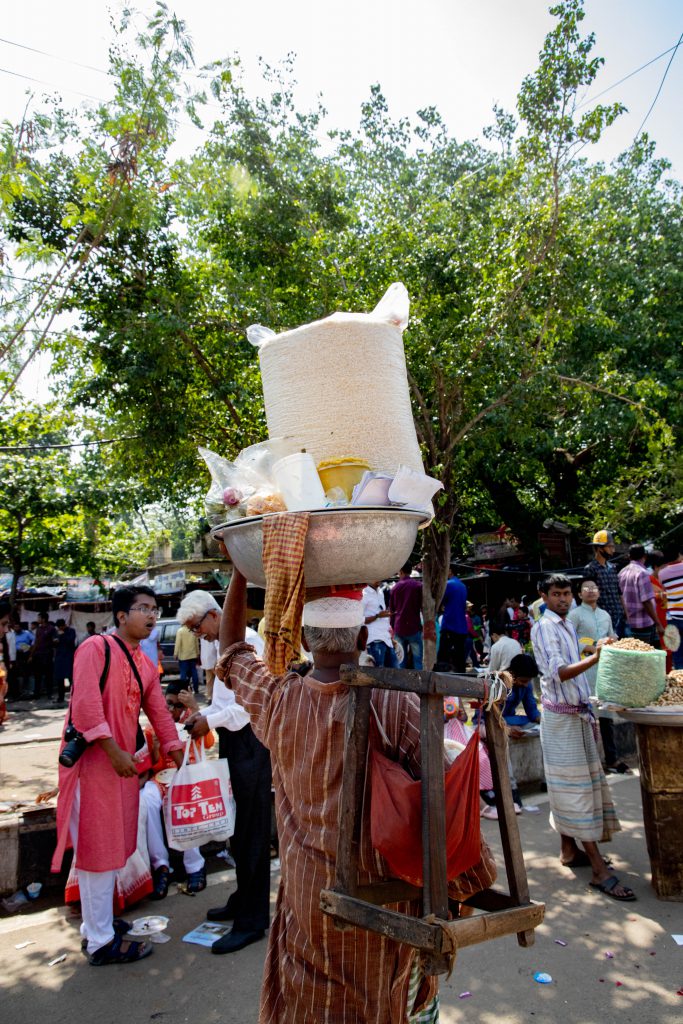 Create environmental awareness
As mentioned above, it's smarter to drink bottled water in this region for your health. Nevertheless, I urge you to discuss plastic pollution with locals and help raise awareness about what can be done differently. Bangladesh has a long way to go before changing into an eco-friendly destination even though it's in urgent need of such change. Factually speaking, Bangladesh is one of the most vulnerable nations to the impacts of climate change. According to the National Geographic, climate change here is a pressing issue, leading to a migration crisis, especially as it is located on the Tropic of Cancer.
https://www.instagram.com/p/Bx-TEamoCOh/
You just won't regret this trip
I've saved the best for last: you simply must go to Bangladesh because not only will you have a great time, but you'll also be doing good. Sustainable tourism has incredibly positive consequences. We read about the perils of over tourism pretty much every day, particularly in popular destinations that are swamped with visitors, but what about conscious travel and how it can transform nations for the better? Why not take a country like Bangladesh, often perceived negatively by the outside world, and give it our best… while also having wonderful, stimulating experiences. In my honest opinion, places like Bangladesh can benefit the most from the right kind of tourism. Let's play our part in connecting such places with the outside world and bringing economic benefits to communities that receive so little.
And there you have it! If you have any more questions about Bangladesh, feel free to let me know.