Located in the Eastern Caribbean Sea and consisting of more than a dozen islands, Guadeloupe is a French archipelago whose rich heritage and natural beauty make it the perfect fit for those planning an exciting holiday away from the crowds. With a UNESCO recognized Biosphere Reserve and a number of pristine beaches, waterfalls and hiking trails, you'll never run out of things to do in Guadeloupe.
Nicknamed the Pearl of the French-Caribbean and "Karukera" or "the Place of Beautiful Waters" by the native inhabitants, Guadeloupe can offer you a wide range of exciting activities that will make your vacation one-of-a-kind. Whether you're a nature lover, an experienced surfer, a scuba diver or an avid hiker, you'll find things to do in Guadeloupe that will make your trip truly unforgettable.
Things to Do in Guadeloupe
The French archipelago has a little something for everyone. So much so, you could spend a lifetime exploring Guadeloupe. But if you are short on time, choose from these top things to do in Guadeloupe to make the most of your visit.
1. Go Island Hopping
One can never say they've travelled to Guadeloupe without spending at least a day hopping from island to island. With a population of about 400,000 people, the French archipelago has a total of five main islands with Basse-Terre and Grande-Terre being the largest two while the smaller ones include Marie Galante, Les Saintes, and La Desirade. What's best is that all islands are situated only 20-45 minutes away from each other, so it's definitely possible to visit all five in one trip (or one day).
Basse-Terre and Grande-Terre are separated only by mangroves and due to them being fully developed, you can reach the two islands via a highway while the three smaller islands are accessible via ferry rides. 
As the main islands, both Grande-Terre and Basse-Terre can offer an array of activities that can spice up your vacation. There is an abundance of sandy beaches, restaurants, and markets near the town of St. Anne in Grand-Terre while nature lovers will have a blast in Basse-Terre since this is the home to several waterfalls and challenging hiking trails.
For those who prefer unspoiled mother nature and panoramic views of the spectacular ocean, Guadeloupe's three smaller islands are the locations that you should not miss. Explore the island of Marie-Galante on an ox cart, soak up the gorgeous views at Les Saintes' world-class bay, and explore the ruins of a cotton factory in La Desirade.
2. Parque Nacional da Guadeloupe
Located on the island of Basse-Terre, Parque Nacional da Guadeloupe is a must-see attraction — especially if you're a nature enthusiast. Created in the late '80s, this national park covers over 22,000 hectares of land brimming with rich flora and fauna. It's nearly impossible for you to explore the area without encountering several wildlife species wandering around in its natural habitat. You can spot everything from mongoose to curious raccoons, hummingbirds, and stick insects camouflaged on tree barks and branches.
One of the highlights in this national park is, of course, the majestic Carbet Falls which is one of the top things to do in Guadeloupe. Even Christopher Colombus himself was so astonished by the sight of these three waterfalls that he included them in his ship log during his trip to the islands.
To reach the waterfalls, you can choose between the three different hiking trails that'll lead you to each cascade. Keep in mind that a small fee of €2.50 is charged per adult while children can enter for €1.
If you're someone who's in great fitness and doesn't mind embarking on a steep and challenging hike, go ahead and take the trails towards the first cascade that has water plunging from 110 metres above you. With an elevation of 900 metres, the trail will take about three hours of your time.
In the mood for a more relaxed hike? Take the second trail that'll lead you straight to the second cascade. This paved trail is rather easy and it'll only take 20 minutes to reach the waterfall. However, you won't be able to get too close to the cascade as there is a safety barrier installed due to the earthquake that happened back in 2004. Aside from its accessibility—even those in wheelchairs can take this trail—the route can also lead you to a few hot springs.
To reach the lowest waterfall, put on your best hiking boots and choose the third trail to reach the 20-metres cascade. This Guadeloupe waterfall has the greatest water volume compared to the other two. At the end of the waterfall, you can spot a beautiful circular basin. However, this trail is only advised for highly experienced hikers as the steps are far more challenging than the other two hikes and it'll take about 4 hours of your time.
If you're looking for family-friendly things to do in Guadeloupe to reach the area's waterfalls, go to the Cascade aux Ecrevisses where no hike is needed. You only have to walk for ten minutes from the parking space until you're greeted by the scenic waterfall surrounded by the tranquil tropical rainforest. Feel free to take a cool swim or if you still have some energy left, go on Grand Etang, a discovery trail perfect for bird watching.
3. Visit the Beaches
Whether it's a beach with soft, golden sands, white or black, you can find all of them in Guadeloupe. If you're in a dire need of a few relaxing hours just lying about on the beach without having unwanted noise disturbing your peace, then head to Grande Anse Salines Beach. Located near the coastal town of St. Francois, this pristine beach has a view straight out of a postcard—white, soft sands that'll sink your feet, vibrant turquoise waters, and a great view of La Desirade.
As for those looking for things to do in Guadeloupe with kids and toddlers, spend some time visiting either Anse Du Souffleur Beach or Sainte-Anne Beach. Both locations can be found on Grande-Terre Island and the two beaches are known for their shallow and calm waves, making it perfectly safe for your kids to have fun. The beaches also feature numerous food trucks, restaurants serving tasty Caribbean delicacies as well as local markets.
For something much more unique, head to Malendure Beach on Basse-Terre Island that is famously known for its black sands. If you think the sight of the dark sands combined with the crystal clear water is already impressive, wait until you dive underwater where you'll get to see groups of colourful fishes and turtles swiftly swimming around. Not a fan of scuba diving and snorkelling? Rent the glass-bottomed boats and feast your eyes.
4. Go Snorkelling or Diving at Reserve Cousteau
Can't get enough of the wonderful marine life and beautiful coral reefs of the Caribbean? If so, you should definitely include Reserve Cousteau on your list of things to do in Guadeloupe. Nestled in the town of Bouillante, just a few minutes away from Malendure Beach, this protected underwater reserve is best known for its vibrant corals and outstanding marine species.
It is a popular spot for avid divers and is regarded as one of the most beautiful scuba diving sites in the world. There are various interesting sites that you'll get to see once you're deep in the water. One of them is the Coral Garden where you can get a chance to take a glimpse of the vibrant corals ranging from staghorn, elkhorn, and brain coral. You'll also get to swim up close to almost all sorts of marine animals including the colourful seahorses, French Angelfish, and many more. The reserve also has a site filled with three old shipwrecks; The Gustavia, Franjack, and The Augustin Fresnel II.
Just remember to wear a reef safe sunscreen. You are more likely to get a sunburn when you are in the water or snorkelling, when compared to on land. 
5. Explore the Town of Pointe-À-Pitre
Pointe-A-Pitre is a town located in the middle of Guadeloupe, on the island of Grande-Terre. This town is well-known for attracting tourists with its lively sets of streets, museums, markets, and colonial buildings dating back hundreds of years ago.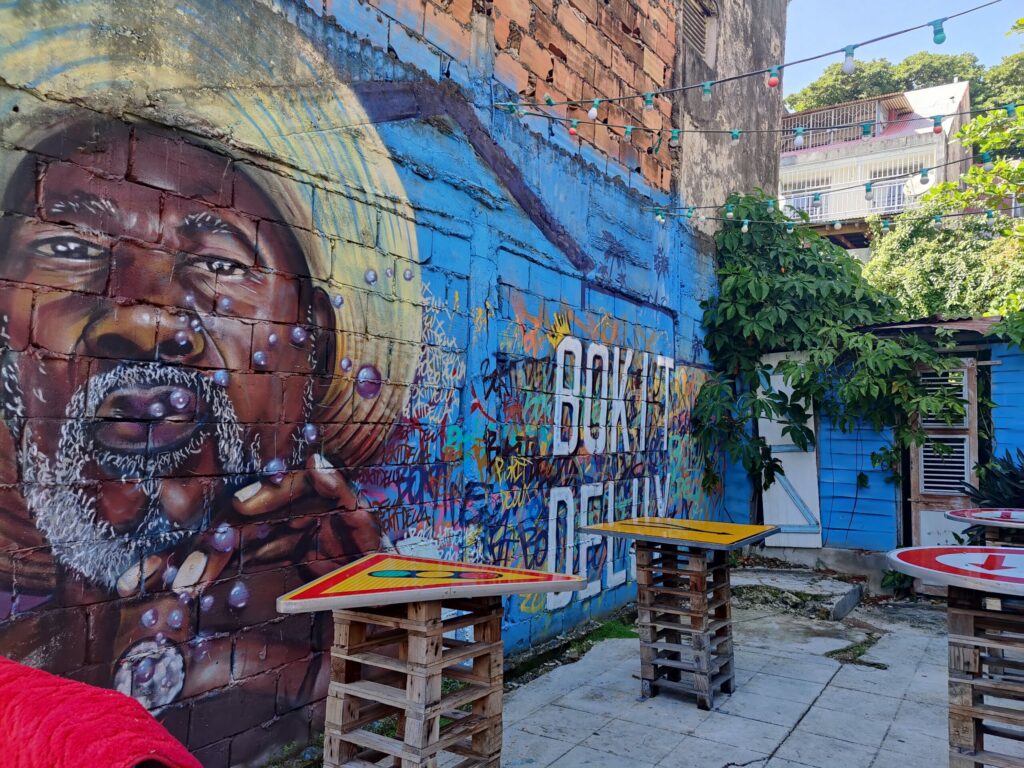 Every Monday to Saturday, you can find busy morning markets like the Marché de la Darse selling fresh fish and exotic fruits. If you're planning to do some shopping, visit Saint-Antoine Market that has many stalls selling all kinds of Creole goods and trinkets.
If visiting museums is what makes your vacation better, spend some time going to Saint-John Perse Museum or Memorial ACTe Museum. The latter was first opened in 2015 and acts as a cultural centre dedicated to the Memory and History Slavery Trade.
6. Explore Les Saintes
Les Saintes consists of nine smaller islands, two of which are inhabited and named Terre-de-Bas and Terre-de-Haut. This Caribbean paradise is filled with a set of lush mother nature and small towns where you can enjoy hours of relaxing time at the beach bars and restaurants.
This island is also where you can find the world-famous Les Saintes Bay. The views at the bay are stunning! You can either take a breezy stroll along the area or go on a hike until you reach Fort Napoleon, a historic structure perched on top of a hill, 114 metres above sea level.
Before you leave Les Saintes, don't forget to get your hands on Tourment d'amour, a sweet treat originating from the island. The soft tart-looking cake is filled with tasty fruit jams and the smell alone will make you drool for hours.
7. Visit a Distillery
What's a trip to the Caribbean islands without visiting a rum distillery? If you're curious about how this particular drink is made, be sure to drop by Damoiseau Distillery in Le Moule, Grande-Terre. Known for producing the best white rum in the whole wide world, this distillery also features an 18th-century windmill that'll look good in a photo. Aside from watching how the rums are produced and participating in the tasting session, you'll also get to learn some pro-tips from the professionals about how to choose the best rums. It reminded me of my visit to taste Flor de Cana Rum in Nicaragua.
Other distilleries that are worth a visit include Bologna Distillery on the island of Basse-Terre that is built on the site of a 17th-century sugar factory, Montebello Distillery as well as Rhum Pere Labat that produces over 300,000 litres of rum every year.
8. La Soufrière volcano hike
La Soufriere or also known as Vie Madanm' La in Creole and The Old Lady in English is an important landmark in Guadeloupe. Perfect for adventure seekers and nature lovers, this volcano has a height of 1467 metres, making it the highest point in the Lesser Antilles. What makes this hike up the volcano worthwhile is, of course, the majestic view of the horizon and the entire archipelago from above. If you're an early riser, don't miss a chance to catch the sunrise from the summit as the view is absolutely unbelievable.
The route to the summit will take at least two hours of your time and the journey will start with a car ride up through the lush green forest road until you reach a car park at 950 metres altitude. From there you'll have to continue on foot for another half an hour until you reach the foothills of the volcano—this is where your surroundings will begin to change.
As you get closer to the summit, you'll feel as if you're in Jurassic Park with all the volcanic gasses and the smell of the sulphurous vapours. But, peculiar smells aside, the view from the summit combined with the strong wind blowing through your hair is undoubtedly stunning. Adventure seekers, add this hike to your list of things to do in Guadeloupe.
9. Visit La Désirade
La Desirade can be reached from Saint Francois in just under 45 minutes or as part of an island hopping tour. It is off the classic tourist trail and was by far our favourite island in the Guadeloupe archipelago.
Known for its unspoilt nature, you can visit the island's National Nature Reserve or tranquil beaches such as Souffleur and Baie Mahault. This island is also home to an old meteorological station from the 1930s. Back in those days, the station was used to monitor hurricanes and other natural disasters that could hit the archipelago.
For beautiful views of the island, traverse the Route de la Montagne where you can get a chance to see the village of Baie-Mahault and the Double Headland Lighthouse from above. The town of Beausejour is the island's main settlement where you'll be able to travel back in time and admire some of the unique buildings and memorials dated back to the 18th century, as well as visit du Désert Botanical Garden for interesting plant life.
10. Discover Carnival
One of the many things that you shouldn't miss in Guadeloupe, especially when you're travelling from January to March is Carnival. During these three festive months, locals will be dressing in fun and vibrant colours while parading through the towns, various contests and shows will be available to the public, and dozens of vendors will set up their stalls, selling all sorts of traditional sweets and delicacies.
First held in the 17th century, this traditional carnival highlights the island's rich culture and heritage. There will be float parades, unique dancers moving their bodies to the rhythm of Guadeloupe, and musicians showing their exceptional talents, beating on the Gwo ka—a French drum that also plays an important role in Guadeloupean folk music.
11. Discover Guadeloupe's Fusion Cuisine
Other than jaw-dropping beaches and festivals, another thing that makes Guadeloupe special is all of the mouth-watering French Creole cuisines. Guadeloupe's cuisine is a creative blend of French, African, and Indian culinary traditions. The eclectic mix of exotic fruits and local spices are what make them stand out.
Some of the must-try food that you shouldn't miss during your holiday in Guadeloupe includes Bokit sandwich, a fried sandwich filled to the brim with hearty portions of meat, cheese, and greens as well as Creole Court Bouillon which is a steamed red or yellow snapper in a spicy sauce prepared with fresh herbs and tomatoes.
As for coffee lovers, make sure to get a sip of Bonifieur Coffee at Musee du Cafe that uses coffee beans growing out of the volcanic soils of Guadeloupe before ending your food-hunting session with a bowl of either passionfruit or coconut sorbet mixed with a tiny amount of rum.
12. Visit Pointe des Chateaux
Some people might say that you can never leave Guadeloupe without setting foot at Pointe des Chateaux, a protected heritage site popular for its unusual landscapes and rock formations. Located about 11 kilometres away from St. Francois, Pointe des Chateaux is where you can get a dramatic view of the Atlantic Ocean and the Caribbean sea collide.
You can either hike up the cliffs where you'll be greeted by a cross that has a history traced back to the 19th century or just simply enjoy a breezy walk along the long stretch of sandy beach while admiring the uniqueness of the rocky limestone formations. If you still have some time to spare, walk to Pointe des Colibris, a spot where you can see La Desirafe from afar.
A holiday in Guadeloupe means exploring beaches, swimming in the crystal clear waters and getting to know the local culture. There is no shortage of things to do in Guadeloupe. So, what's next? Practise your French and start packing for a memorable Caribbean holiday.
What is your favourite thing to do in Guadeloupe?