A ski trip is an annual tradition for us and this year we took our trip to Samoëns in France to discover the Grand Massif resort. Located in the Alps, this French ski resort has over 265 kilometres of ski runs and typically experiences above average snowfall. However, this year the weather was not in our favour.
Over the course of a few days it would rain high in the Alps, so we weren't able to ski every day. Fortunately, it soon became apparent that Samoëns has much more to offer than ski slopes. This historic ski village of Samoëns is an attraction in and of itself.
Samoëns, France
The Grand Massif ski area is not far from the Swiss border and consists of five sub-areas: Samoëns, Flaine, Morillon, Les Carroz and Fer-à-Cheval. For our stay, we chose to spend four days in Samoëns in the Giffre valley.
Samoëns is a cozy ski village with a rich history. The name of the town dates back to medieval times. The expression "Samoëns" was used to describe seven mountains, referring to the massifs which surround the town. Today, the locals wholeheartedly take up this meaning and refer to themselves as "septimontain".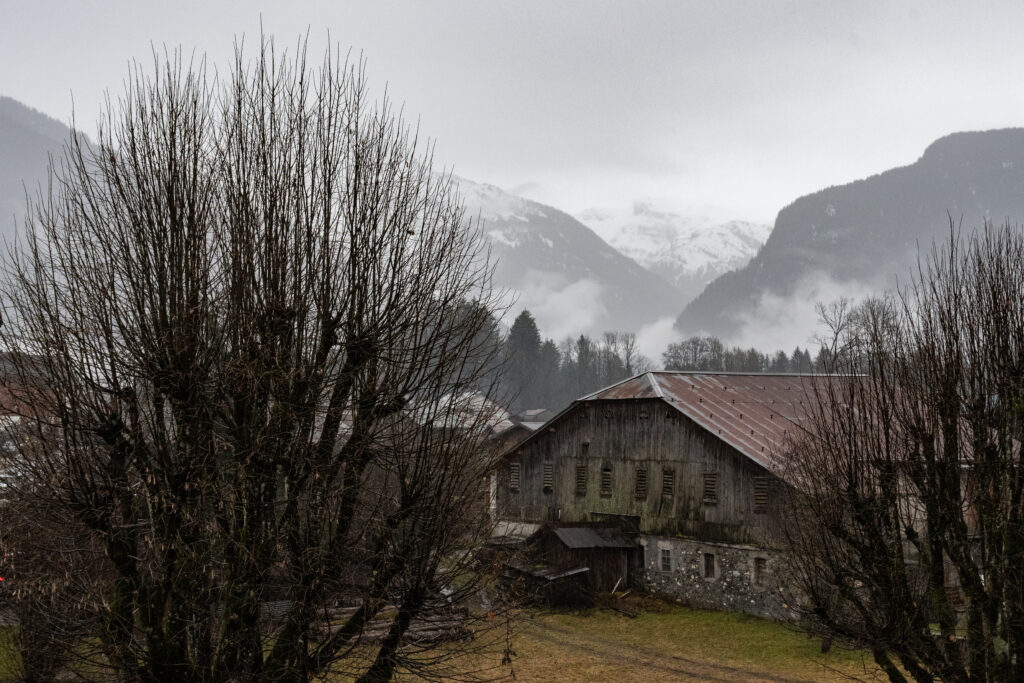 You can take a long walk through the village, past iconic stone churches and several charming chapels. The main square with its ornate fountain, the covered market, chateau de la tour and the legendary lime tree are of all particular interest. To learn the history behind these landmarks, take a guided tour of the town.
Even if you don't go skiing, it is pleasant to stay there. In addition to historical sights, there are also nice shopping streets and enough bars and restaurants to please everyone. Outside of eating and drinking, the Alpine Botanical Gardens, the local market and regular activities held by the Tourist Office will keep you busy in the winter months.
Skiing at Grand Massif
Above all else, the main reason to visit Samoëns is for the incredible skiing. The Grand Massif ski area is a world-renowned playground and one of the largest ski areas in the French Alps. Here, you'll find 142 slopes or 265 kilometers of skiing pleasure. It is even home to a 14 kilometre run! 
The slopes are varied and therefore suitable for skiers and snowboarders of all levels. Both families with children and groups of friends can enjoy themselves perfectly here. However, real adrenaline junkies who like steep slopes and big challenges may find themselves at a bit of a disadvantage. Black runs are somewhat rare in this area however, the red runs are enough for most thrill seekers.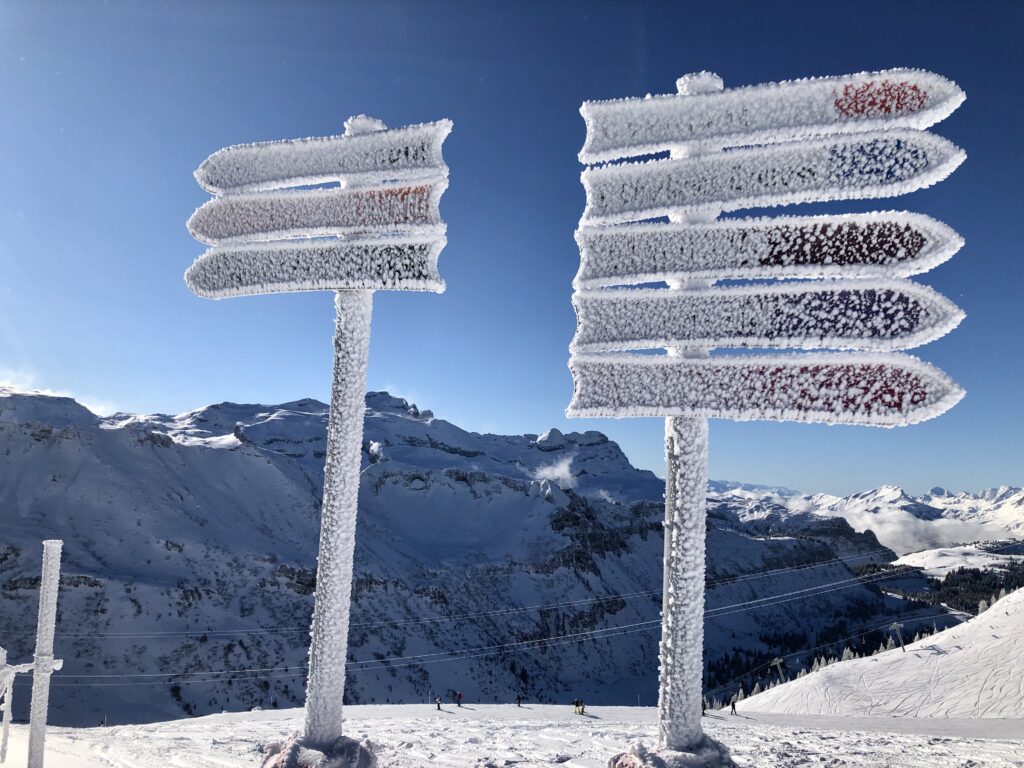 If you prefer Alpine skiing, there are a number of areas dedicated to getting off the beaten track and into the trees. All the areas of the resort are connected by modern ski lifts.
If you are new to skiing or want to improve your current skills there are a number of ski schools in the area. You can focus on skiing, snowboarding, or other specialities like monoskiing. Lessons are available for both children and adults.
Getting to the Slopes from Samoëns
Samoëns is only 710 meters above sea level so skiing onto the slopes from your hotel may not be possible. However a cable car can quickly take you to the slopes at Grand Massif. There is a free shuttle bus that runs through the village every 20 minutes. Once on the cable car it is a quick 8 minutes before you can touch down on the snow.
Cuisine in Samoëns
Not only are the streets and buildings in Samoëns authentic but the dishes that you can find in the different restaurants are too. Like most ski villages in the Alps, cheeses are abundantly present on the menus here but there is much more to offer than just that.
At La Table de Fifine, for example, you will find other typical French dishes. I ate oeufs cocotte en meurette, a typical French starter with gently cooked eggs, onion and bacon in a red wine sauce. For breakfast, at another traditional French restaurant called Les Tartines de Martine, I ate a delicious pancake with salted caramel sauce. The atmosphere in this cozy eatery was completely French.
However, the culinary highlight of my trip to Samoëns was the visit to La Ferme Dunoyer. As the name suggests, you eat a working farm. You're seated at one long table within the kitchen of the farm. The room has a glass wall where you can see cows in their stable — whose milk is responsible for the cheese you will be served during the meal. It's the ultimate farm to table experience.
The guests all chat together since they are all seated at the same table. Together, you're served bread and charcuterie and then the fondue machines are brought out. Michel is the cook on duty and likes to talk about life on the farm, their original concept and shares lots of interesting facts and folklore.
While at this Samoëns dinner experience, we learnt that each cowbell makes a different sound. Folklore says that a farmer or herder can recognize their cows if they get lost in the fog. La Ferme Dunoyer has dozens of cowbells hanging on the wall that you can try out for yourself. You can experience this unique, sustainable evening for € 30 per person with wine included.
Unique Experiences in Samoëns
With the weather, we had to get creative with things to do in Samoëns. Luckily, we found the following unique experiences which we enjoyed immensely.
Afghan Hiking in Samoëns
Ever done Afghan hiking? Although far from its birthplace, we tried this technique for the first time in the beautiful mountains surrounding Samoëns. The "Afghan March" is a technique in which you coordinate your breathing with your walking rhythm. The technique comes from the nomads, who could walk hundreds of kilometres through the sweltering desert in this way.
We tried the Afghan March in Fer-à-Cheval Nature Reserve just outside of Samoëns, where a guide taught us the techniques and guided us through the park. To master this technique the trick is to keep your breath in a constant rhythm, inhaling for a few seconds and exhaling for a few seconds longer. In the beginning, you have to focus intently but after a while, you can establish a stable walking-breathing rhythm. 
The technique even works meditatively. By focusing on your breathing, you forget everything else so you fully immerse yourself in the environment. Something we would definitely recommend you do because you walk through a beautiful valley surrounded by imposing mountains. We put on our hiking boots for this activity, but you can also book it with snowshoes at your feet.
If you are lucky you might even see some of the beautiful wildlife the Natural Reserve is known for. Deer, mountain goats, wild boar and more call the Fer-à-Cheval Nature home.
Survival Experience in Morillon
Another mountain experience we enjoyed near Samoëns, was the survival training we partook in the neighbouring forests of Morillon. As you know, trekking in the mountains is not always without risk. Gilles Leroy of Latitude Canyon was happy to show us how to survive in nature if an emergency arises — something everyone visiting Samoëns should know.
In the forests of Morillon, he shows you how to make a dry shelter with a minimum of resources. He demonstrated which natural objects would be useful for survival and how to efficiently build a fire in the forest. You can also book a canyoning with him if you dare to brave the cliffs and wild waters of the Alps.
e-Fatscoot Riding Near Samoëns
Electric vehicles have become more and more popular in recent years. Not only have cars and bicycles turned their sights toward electrical power but also segways, hoverboards, and scooters have become mainstream. On the other hand, I had never heard of an e-fatscoot before. So when the opportunity came up to take these unique vehicles for a ride near Samoëns, I knew I had to take it. 
An e-fatscoot is a kind of electrically powered fat bike, in the form of a scooter. The thick tires help you maintain stability off-road. There are five gears on the e-fatscoot and you can control the speed with a lever. However, due to the bumpy landscape and some obstacles you will encounter along the way, you have to be smart with your speed and accelerations. Morillon is currently the only village near Samoëns to offer this activity. If you go there, it's therefore definitely worth taking a ride with this thrilling machine.
Where to Stay in Samoens, France
There is a wide range of places to stay in Samoëns both in the town center and on the outskirts of town. If you would prefer to be able to walk to most of the town's amenities, we would recommend you choose to stay in a hotel in the center of Samoëns.
We stayed in Hotel Alexane, a luxurious hotel in the center of Samoëns village that only opened its doors in 2019. You immediately notice that this hotel is still very new. The rooms are modern and tastefully furnished, but they retain the charming character of a typical Alpine hotel thanks to the use of wood and rustic materials. 
There is a spacious ski cellar for you to store your equipment and an extensive breakfast buffet awaits in the morning so that you do not have to leave the hotel on an empty stomach. We would recommend this hotel to anyone staying in Samoëns.
Rain on a ski holiday is always a drag but despite fewer ski days, we were certainly not bored in Samoëns. If you go to Samoëns with a group that can't or won't ski or snowboard, there are definitely plenty of alternatives for them.
What is your favourite thing to do in Samoëns, France?