Tips and tricks to help you reduce your plastic waste drastically
More than 5,000,000,000,000,000,000 pieces (or, in short, 5 trillion pieces) of plastic float in our oceans. Around 80% of these pieces come from the 1,000 most polluted rivers. Hallucinatory numbers, right?
Fortunately, there are many initiatives and organizations, both local and international, that are working hard to help more of us lead plastic-free lives. And here's some good news: we can personally make a difference as well. Want to learn more about how you can do your bit to save our planet? Then read on to know more about reducing plastic usage, because when we all take small steps, big changes come about!
Indulge in local, sustainable shopping
'Don't trash where they splash' is the motto of 23-year-old entrepreneur Axelle. She founded Turtle Green with the main goal of ending the increasing scatters of plastic in our oceans. She does this with a wide range of plastic-free ecological products on offer, such as bamboo toothbrushes, make-up wipes, metal straws, drinking bottles, and even bamboo cutlery!
Also, have you noticed that when it comes to cleaning (be it the floor, dishes, and other nooks and crannies), we have separate plastic bottles for all these supplies, usually chock-full of chemicals? Well, with Ecopods, you can let go of both the plastic and the chemicals — the soluble capsules and concentrated natural products are a win-win for our health and the planet! They've even received the EU eco label.
And what about those daily household products that we all realize are not reusable (or are made of plastic)? This is why Eco Fever came up with tools to reduce this plastic consumption… and they want to share these with you. You can register to receive a new box full of ideas every two months.
Toilet paper, something that we need on a daily basis and where we can quickly make a difference. I would like to introduce you to The Good Roll. They offer all kinds of different kits with toilet paper, kitchen roll and tissues. It is 100% tree-friendly and sustainable. Their rolls are made from 100% recycled paper, without chlorine, colour- or fragrances. Plus the packaging is plastic free. But that's not all. They also invest 50% of their net profit in the construction of toilets in developing countries. How great!
Stop single-use
Fortunately, the world has already established how bad single-use drinking bottles are, so this has led to a significant reduction in their manufacturing and distribution.
Reusable bottles to the rescue! Founded in 2009 in the US state of Oregon, Hydro Flask boasts a different drinking bottle in its collection for every moment. A stainless steel bottle, a CamelBak to keep your drinks fresh for hours during that tiring bike ride, or even a personalized one to keep your coffee hot on the way to work… take your pick!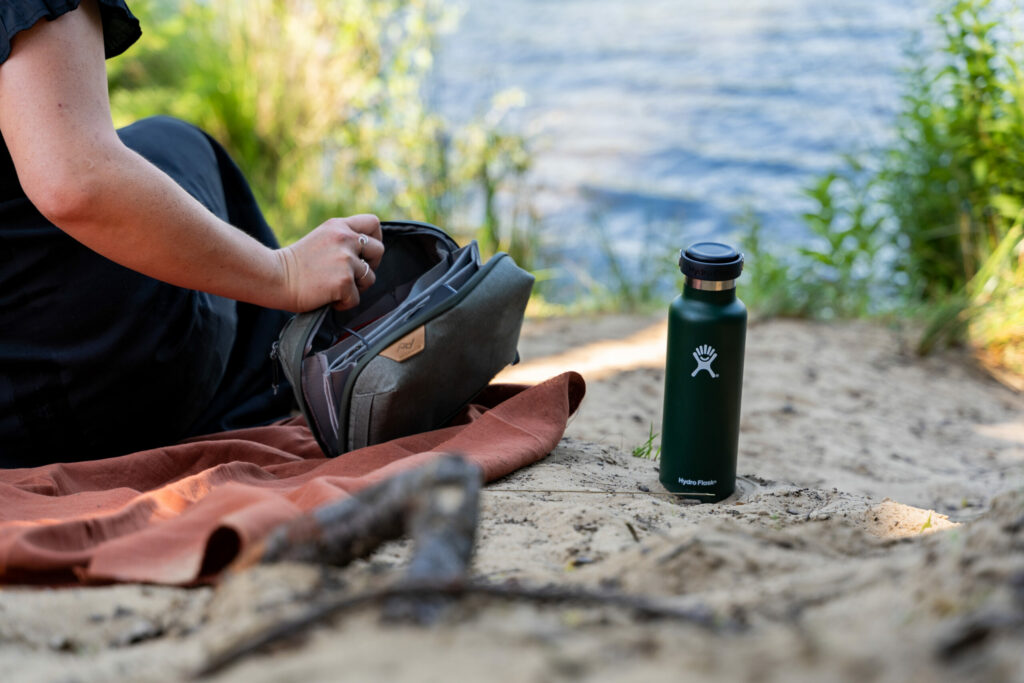 In line with this are the ECO Lunch Boxes. This family business (run by women) has its home base in California. You get these boxes in all shapes and sizes and the products are plastic free and made of stainless steel.
Also, if you're tired of dragging around those heavy liter bottles, sick of those overflowing PMD bags, or just want to create your own soda, say no more… SodaStream to the rescue! This device makes sparkling water with the CO2 cylinders and offers more than 30 different flavors that you can add at your discretion.
BY OLIVE, a company that does everything it can to convince you and I, to switch to ecological alternatives. All of their products are completely reusable and plastic free. Bamboo toothbrushes, organic lip balm, natural dental floss and cotton buds, etc. They really have a little bit of everything.
Respect the oceans
Boyan Slat probably does not ring a bell, but in 2013 this Dutch young man (merely 18 years old) came up with the idea to start The Ocean Cleanup. This is a non-profit organization that works with the largest companies in the world. It develops the latest technologies to clean up the most polluted rivers and oceans. An example? The Great Pacific Garbage Patch located between Hawaii and California is a place where almost all plastic comes together due to currents. With their efforts, an estimated 50% of this patch has been cleared within just five years!
Interested in this project? Learn more about them through their website or Instagram.
WHAT YOU DO YOURSELF…
Locate the right stores
Find your own packaging-free store close by. In many cities you will already notice shops that offer both food and care products that don't come in plastic packaging material. If you don't know how to get started, take a look at the Bewust Verbruiken website. Here, you will see the required shops per province and also come across very handy tips!
Consider the 'No Poo' method
In many shampoos there are tiny plastic particles that end up in the sewer when we shower. The search for solutions to counteract this problem has given rise to a new movement… the 'no poo' movement! It sounds strange (it's actually short for 'no shampoo'), but it's gaining popularity, especially with the younger lot.
On the advice of a friend, I started this about six months ago, and after a lot of struggle, I'm happy to report that I'm almost at the desired result. To give my hair that freshly washed, clean feeling, I use an extract of pure lavender oil diluted with water. Of course, some hair types take longer than others, but the end result is so worth it! And it helps you in your zero plastic journey.
Show up on social media – Going zero plastic campaigns
No, we don't just mean this literally. What we mean is join 'Mei Plasticvrij', learn more about invaluable tips on their website, and use the hashtag #meiplasticvrij on Instagram and Facebook… we all need to keep this movement from losing steam! This year, there are 15 ambassadors who help spread the campaign. Like us, they promote eco-friendly, plastic-free lifestyles.
Read here why you should definitely go for a sustainable world in times of corona. Hope these tips help you get started on your own zero plastic journey. Let us know your thoughts on this topic — and good luck!
Searching for the plastic-free reef-safe sunscreen? Check our tips here.