Backpacker's Paradise
When I was just 21, I went backpacking in Asia for the very first time — and it was fantastic. After a few enriching weeks in Thailand, Cambodia and Vietnam, my eyes were wider and my life seemed fuller. The last leg of my tour was Laos.

Laos is a lesser known destination in Southeast Asia, but as you already know, I'm totally a fan of places that aren't overly touristy. Traveling in Laos is still… pure. Untouched nature, extremely gentle and hospitable locals, and a whole lot of culture. It's also very budget-friendly:  overnight stays are cheap, the food  is tasty and reasonably priced, and the beer costs almost nothing. What does all this add up to? The perfect backpacking adventure!
From Hanoi, I flew to Vientiane, the capital of Laos. It was a short and comfortable flight. The passport control was also pretty smooth and, before I knew it, I had a brand new stamp in my passport. 
VIENTIANE
There's a lot to do in Vientiane and the  easiest way to explore is on foot and by tuktuk.

Pha That Luang, the national symbol of Laos, is a beautiful gold-covered buddhist stupa. I'd say it's definitely worth a visit. Moreover, Wat Si Saket, a stunning Buddhist temple, is worth seeing as well, but go early so that you can observe the locals offering food to the monks.

I personally also liked Patuxai  which seemed kind of like an Asian version of the Arc de Triomphe, but what left  the strongest impression on me was Cope Laos. This organization helps thousands of people with mobility-related disabilities and provides access to prosthetic and orthotic services. By doing so, they give people back their mobility and dignity.
Why is this especially relevant? Well, here's a bit of a history refresher: many people do not know that Laos is one of the most bombed countries in the world. In fact, President Obama even described Laos as the most heavily bombed country in history. Eight bombs were dropped per minute during the Vietnamese war between 1964 and 1973. This is more than the total number of bombings during the Second World War. Seeing the work being done at Cope Laos, and talking to the volunteers and victims was heartening, to say the least.
VANG VIENG
The ride to Vang Vieng is phenomenal. Between the lush green mountains are low, often threatening clouds, and you can regularly spot ferocious waterfalls. (With one of my favorite songs, 'Le Vent Nous Portera', playing in the background, the journey almost seemed otherworldly.)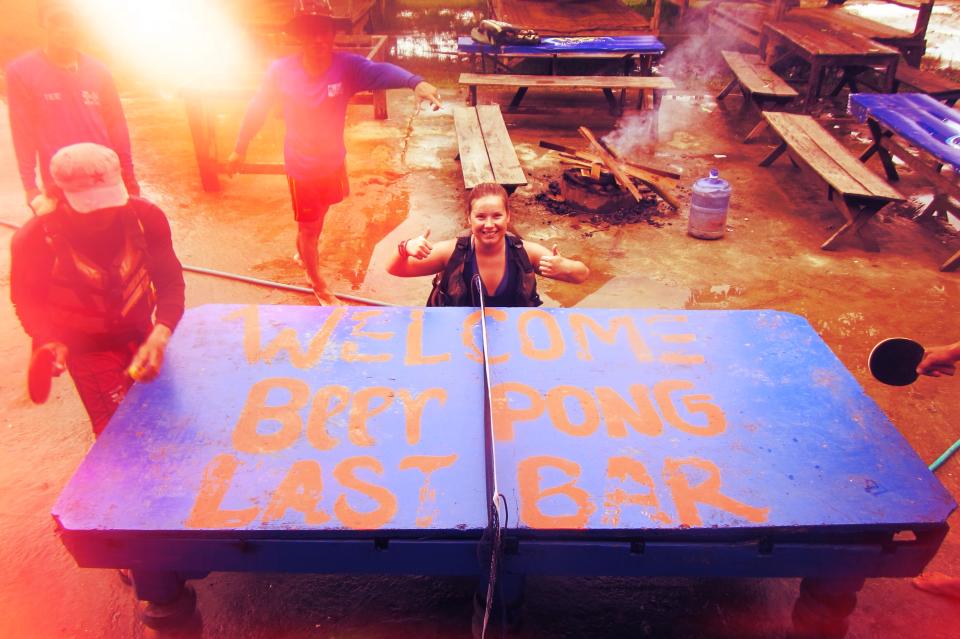 All the small wooden houses along the way, the sweet children draped in colorful clothes, and so much more… you see so much, how people laugh and talk and write, and regrettably you can't remember all the minute details  forever. This is a real fear of mine.

Whenever I spend hours on a bus or train, I often reflect on travel and what it does… in fact, I start mentally preparing for my next adventure even before the current one comes to an end. My hunger to explore new countries, languages, cultures and sights is almost tangible, and I feel it the most on a moving vehicle speeding past new places.
"Focus, Charlotte, focus!" I tell myself to break the reverie at times like this. "There are still days left in this adventure. Make the most of it now, live in the present".

Coming back to Laos, an unforgettable moment here  was a toilet visit en route from Vang Vieng to Luang Prabang. A toilet visit? Yup, you read correctly. Well, hear me out: I'm talking about a squat toilet with just three walls. The open side had a spectacular view of the mountains and the jungle!
The nature of Laos is overwhelming and the locals are super friendly. That's how I got talking with a girl from the country with a contagious smile. She chatted away and even introduced me to a new of fruit that looked a bit like lychee and  rambutan (Yummm… rambutan!). However, it was smaller and greenish yellow. In fact, I tried more types of fruits and vegetables during this trip than I can name or count. (Oh, and speaking of fruit, I even tried things like bat — very bizarre, but not bad. Better than crickets, I'd say, but locusts are my favorite so far.)
Vang Vieng is known as 'the world's most unlikely party town'. It's backpacker's paradise deeply hidden in the jungle where there are simply no rules.
However, a word of caution: deadly casualties regularly occur during this wild party. Luckily, I knew this because of my travels. While I was there, we weren't allowed to go tubing over the river because the current was dangerously volatile. So, we kayaked. Along the banks, you will find one bar next to the other — it's almost like "De Overpoort" by the water!(I think you can probably imagine how some roll out of their kayaks after just a few hours.)
The evenings are super cozy in Vang Vieng. In this small village without tarmac lanes, you will always find welcoming bars where backpackers come together with their guitars. Such is the charm of this place that I almost missed my bus to Luang Prabang in the morning. Let's just say it's a bit hard saying goodbye to this place.
LUANG PRABANG
After arriving in Luang Prabang, we explored the city and the night market, which I am a big fan of. That evening, I ate at Lao Lao Garden where I tried water buffalo steak for the first time.

The next morning, we went mountain biking, but from 9:00 am onwards,  it became unbearably hot.
At 30 kilometers south of Luang Prabang you will find the Kuang Si Falls. This waterfall is one of the most popular things to do in the area and a sight to see for sure.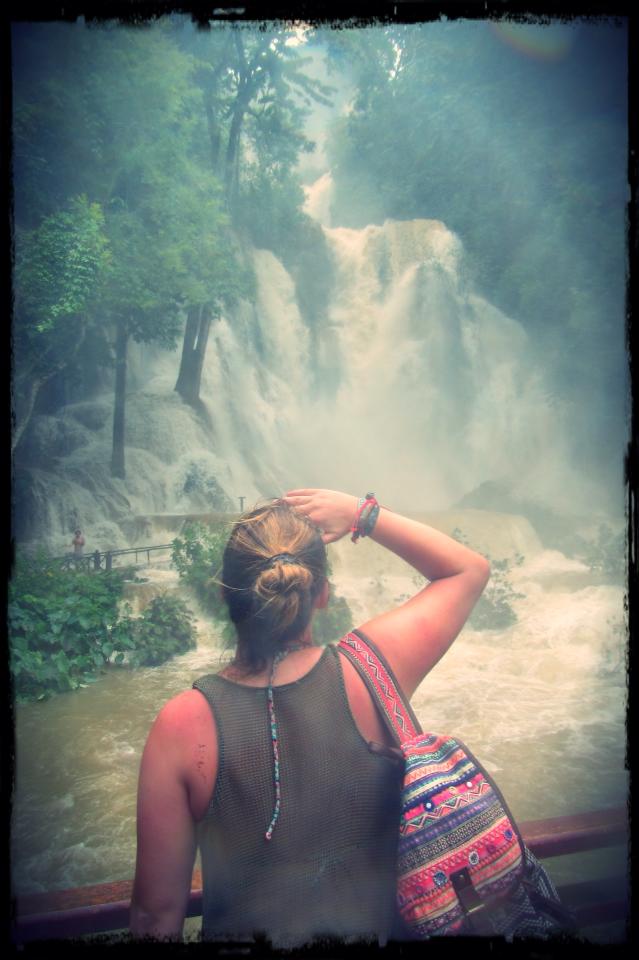 Before entering the park, you will be asked for an entrance fee of Kip 20,000 (approximately EUR 2). Then, you will pass a shelter supported by  Free The Bears organization, where a number of bears that have been neglected or abused in the past reside. While observing the bears does not cost extra money, you can make a donation to this foundation or buy something from the shop.
When you are in Luang Prabang, I challenge you to watch the 'ceremony' of the monks. They walk through the streets at 5:30 in the morning and receive food from the locals. This is a tradition that they want to keep alive locally and it actually shields them from tourists. Throughout the day, the monks only eat food that they have received during the morning walk. At 6.30 am we boarded a slow boat for a few days  on the Mekong river to Thailand..
In the  early evening, we went to a hill tribe village where we would spend the night. According to tradition,  men and women are not allowed to sleep in the same house, so I slept with some friends I had met along the way.
In terms of experience, this was the first time where I found it rather difficult to make contact with my host family. The village consisted of pile dwellings and there were  ducks, chickens, dogs, pigs (and so much more) EVERYWHERE, inside and out. There was no electricity and no running or clean water. It would be pitch dark by 6:00 pm.  The food comprised rice and the catch of the day, such as fish, birds or lizards. Once, when the sun had long set,  I bumped into a local who proudly pushed his win under my nose — a 6 kg  fish caught from the Mekong village! Oh, the village only had one phone that worked just the edge of the river. The locals were very proud of it, but to us, it looked like a toy.

Needless to say, staying with the locals in these basic circumstances taught me a lot. We take so much for granted on a day to day basis. However, one thing is for sure: going back to the basics can be therapeutic. I needed just my very own pop-up mosquito net when I crawled into bed, but the sounds of raw nature outside were extremely soothing.
And I was back on board at 5:30 am, sailing towards my next destination … North Thailand!