Globe-trotters from all over share their unique perspectives
Most of us know what couchsurfing is all about – or at least we think we do. I mean, even if we haven't done it ourselves, we know that friend (or a friend of a friend) who comfortably made his or her way around the world this way.
And if you're one of those who don't know what this term means, here's some information: Couchsurfing technically refers to a social networking website that helps travelers arrange lodging options with locals. However, the term 'couchsurfing' has become so mainstream that it now generally refers to staying in the homes of locals when you travel rather than at a hotel (and not always on couches… sometimes, the hosts even have spare bedrooms available). These homestays are usually free, although travelers are encouraged to contribute in some way, perhaps with chores, or bring a small gift along.
But what does this kind of experience truly come down to? What is the reality of it? Is it really something to consider in terms of lodging for your next trip? To figure this out, I invited travelers from all over the world to share their stories.
Here's what they said in all honesty. So give this a read, make up your mind, and let me know what you think!
(Oh, this is a two-part series, so keep an eye out for Part II!)
LOCATION:
Galapagos Islands
TRAVELER: Thea Wingert (of Zen Travellers)
The Galapagos Islands are a bucket-list destination for many people… and for good reason. Set over 900 km away from the coast of Ecuador, the multi-island archipelago features endless beaches, one-of-a-kind wildlife viewing opportunities, and stunning otherworldly landscapes. On the main island of Santa Cruz, there is also a fairly lively city called Puerto Ayora with a population of about 12,000 people.
Despite its far-flung setting and relatively small population, there are still some couchsurfing opportunities to be found. During my three-week stay here, I was able to find a wonderful host in Puerto Ayora. It turned out to be a great way to meet locals and see how real life on the island differs from tourist life. I spent just under a week in a lovely woman named Lorena's home that she shared with her mother and cute animals. She was very busy working for the National Park so we didn't get to chat as much as I would have liked, but I had a great time meeting her and her family. Being able to couchsurf also saved me some much needed money while traveling through a very expensive part of the world!
LOCATION:
Switzerland
TRAVELER: Dave Anderson (of Jones Around the World)
They say you never forget your first time, and this is especially true for me when it comes to couchsurfing! I was backpacking through Europe on a really tight budget, and found myself planning a quick two-night stay in Switzerland. Since it's known as one of the most expensive countries in Europe, I thought it'd be fun to test out this couchsurfing website I had heard so much about in the travel community. I quickly sent a ton of requests to people with available couches, and got a fast response by the Zurich ambassador for Couchsurfing.com, who ended up telling me to come to the weekly meet-up in the city! Being super interested in this unique travel community, I agreed, and went to the bar later that night with my backpack on! I still had no confirmation for where I would be staying, but by the end of the night had over a dozen people offering me their couch during my time there.
It was during that time in Zurich that I fell in love with couchsurfing and the amazing community it provides. I look forward to hosting guests once I eventually settle down somewhere!
LOCATION:
Hong Kong
TRAVELER: Andrius Arbaciauskas (of KATrippin)
When I talk to my friends about staying with couchsurfers, I like to joke that there are only three types of hosts: the student, the loner, and a guy with a boner. The first two should be self-explanatory but I will clarify about the third type for those who are yet to try couchsurfing. The third one is that creepy dude who has indirect yet obvious statements in his profile suggesting that he only hosts people in exchange for sex.
I can see everyone's eyes peeled to their screens waiting for the 'type three' kind of story but unfortunately it will not be about that! Our recent visit in Hong Kong has actually completely shattered this theory of ours because we stayed in a place which does not fit into either of the groups above.
Run by an international bunch of artists, Nido Asia (the name of the place) in Hong Kong is a gallery and a bit of a social hub. Apart from the usual art exhibitions they have all sorts of things going on such as meditation classes, martial art classes and dancing. In the bustling city of Hong Kong, this bunch of artists live, eat, pray, meditate, practice and exhibit their art and do many other awesome things, including hosting couchsurfers. It was around 6 or 7 of us at the time but we are told they sometimes host up to 10+ people at once, which is amazing.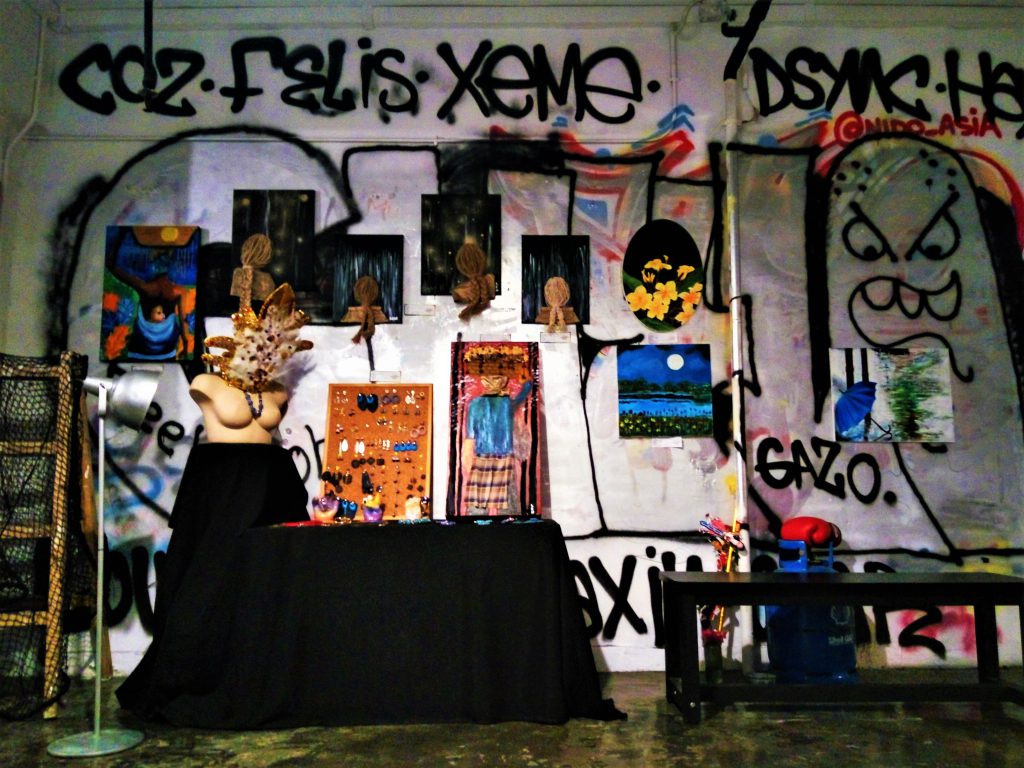 Staying with these people in such an unusual space was a truly unique experience. There were a lot of mattresses, pillows and sheets hidden in a dark corner of the gallery which couchsurfers would raid every evening in order to set up their beds.
The vibe was great too – people from various walks of life would sit together every night and share stories about traveling, art, distant cultures and other things. What surprised and inspired me was that the faces around that table would change completely each day but the sharing of stories, the laughter and the vibe would stay the same. By morning, the space would look like a gallery again and everyone would be on their way. Just like that. Until the next night.
It did not take long before we had to pack our bags and move on to our next destination… but let me tell you one thing. This experience of couchsurfing in Hong Kong was something we will remember for a very long time. I guarantee it would not have been half as memorable if not for the kindness of people we met couchsurfing.
Visiting Hong Kong (or another country) for the first time? Try couchsurfing and find out what I am talking about yourself!
LOCATION:
Singapore
TRAVELERS: Carine and Derek (of We Did it our Way)
Couchsurfing has given us the opportunity to meet so many amazing people. We've been lucky enough to couchsurf all over the world and make some amazing life-long friendships with our hosts.
But sometimes, there's no connection between the host and ourselves. This was the case in Singapore for us. Luckily, our host had another couchsurfer staying with him, and the time we spent with her was amazing.
As we arrived in Singapore, our host let us know that he would not have time to hang out during our three days. He already had plans with his friends, and it was somewhat clear that we were not invited to partake in these activities.
Although it would have been great to discover Singapore with a local, we were happy to get to know the other couchsurfer. Paloma had been traveling through couchsurfing for four years. She was in town for the same amount of time as us, so she became our exploration buddy.
We discovered the city with her and forged a strong friendship. One and a half years later, we're still in touch and try to make our travels coincide so we can explore more places together. Just goes to show that sometimes, things don't go as planned, but they can have an even better unexpected twist!