FALLING IN LOVE WITH TICINO, SWITZERLAND
When I fall in love with a destination, I fall hard. Before I know it, I'm totally head over heels, with my eyes glistening and heart racing at a million miles per hour. Switzerland is definitely one such coup de foudre.
Here, when I stand outside and take in the unparalleled beauty, the pure air, and the sight of the majestic mountain tops still sprinkled with a bit of snow, I'm awed. The love comes rushing in and grips all my senses. This unspoilt loveliness, this silence… what a relief! All around me are the peaks, lakes, waterfalls and the deafening silence. Here, I enjoy. Here, I live.



My recent trip to Switzerland really was one of a kind – and

Cristallina

, the lovely eco hotel we stayed at, really was the icing on top of a delicious cake.  Read on to hear all about it.
An unforgettable trip
As we enjoyed a full breakfast in Genoa, Italy, we were completely unsure about what the day would bring. Would we get to Belgium via Val D'Aosta or would it be Lake Como and Switzerland? As you already know, impulsive travel is totally my thing. Well, we chose the Swiss adventure (no offense, Val D'Aosta, hopefully I'll do some more exploring soon!) and boy, am I glad we did!
We set course for the north with Lake Como as the first destination. In my opinion, Como is more beautiful and refined than Garda, thanks to the Swiss influence. We found a lovely private pool with a view of the lake and enjoyed a leisurely afternoon and a late lunch. Then, at around 6 pm, we set off for Switzerland.
As soon as you cross the border, you will instantly notice that you aren't in Italy anymore. No more Fiat Pandas on steroids and only clean, correct things in sight. Grüetzi Switzerland, Arrivederci Italia!

We arrived in Coglio, in the Maggia valley, near Locarno after two hours of driving and were impressed by the tranquility of this area. There were local license plates, terraces along the roadside, cozy lanterns and waterfalls. Truly paradise. And then, just when we thought it couldn't get any better, we reached our hotel.
The hotel of my dreams

As soon as we entered Cristallina, Marco and his daughter rushed forward to give us a warm welcome. Needless to say, we immediately felt like we were home. Marco explained how this beautiful and unspoilt area is relatively unknown to tourists. Just the kind of thing I love to hear!
Our spacious room had a giant terrace that made the whole space super ventilated and comfortable. At this hotel, the architecture allows for ample sunlight so we basked in the warm, pleasant glow throughout. The sanitary water is produced by solar installations on the roof and all the furniture is all crafted from beech and birch acquired from FCS-certified forests.  We also came to know that a previous expansion of the place used prefabricated wood and the thermal insulation was done with recycled paper panels.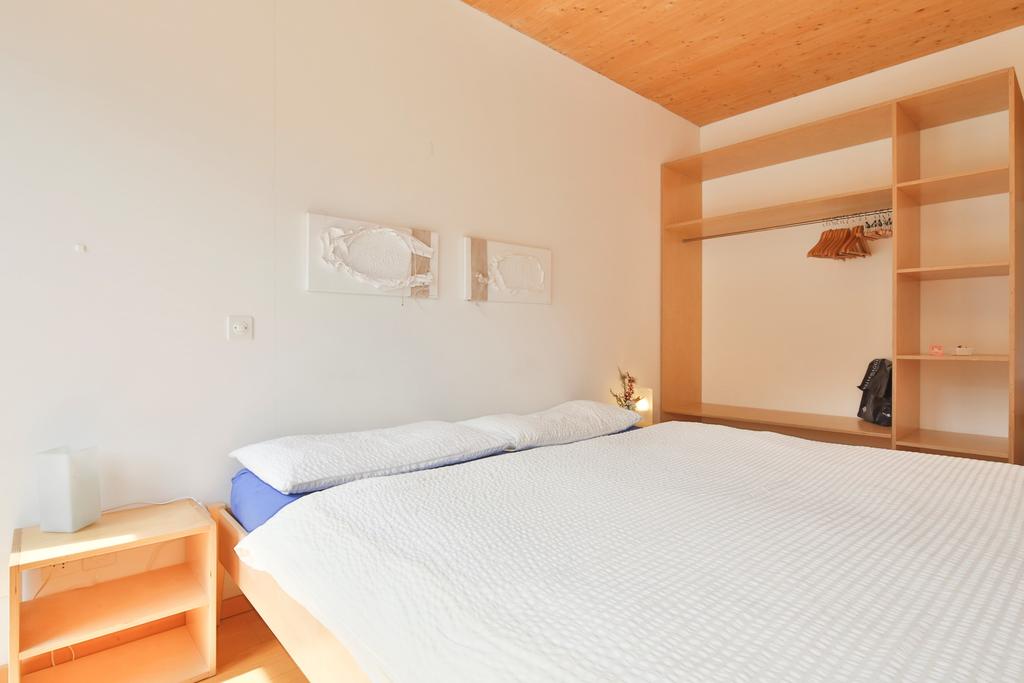 Slowly but surely, we began to notice other outstanding sustainability measures as well. At Cristallina, the towels are dried outside, all the soaps and cleaning products are biodegradable, the emphasis on renewable energy sources is great, and there is no plastic in sight.
Oh and don't even get me started on the food. Honest, tasty and organic meals are enjoyed in the garden surrounded by vineyards and alive by the laughter of children playing. The hotel grows fruits, herbs, edible flowers, legumes, berries and so much more. All these organic ingredients are then expertly used in the kitchen to come up with divine dishes that are wholesome and creative.
All in all, it was delightful to observe Cristallina's commitment to the ecology first-hand. It reflected in everything, from the design and structure decisions to the day-to-day running of the place. The staff members consciously and consistenly lived up to their goal of  creating a "harmonious and sustainable relationship with nature and its resources". For my sensibilities (that are, as we all know, geared towards sustainability), staying here was an absolute treat.
So much beauty all around
In the morning, we filled up on a healthy breakfast of fresh bread, fruit salad and organic yogurt before leaving for Val Bavona. There was little need for words during the quiet drive to our destination as we took in the breathtaking scenery. All the mountain passes and unexpected waterfalls, complemented by the feeling of absolute peace, carved a place for themselves in my mind forever.
There was so much to see and capture, so we made many pit stops at small, old villages with typical stone houses for perfect photo opportunities. There was even one place that refused (by choice!) to connected to the electricity network of today! Absolutely amazing stuff.
In the afternoon, we went to La Froda. The terrace scattered with stone benches and tables (what else do you expect in Val Bavona?) had a view of  a 108-meter high waterfall, the Cascata di Foroglio. It was honestly a superb experience.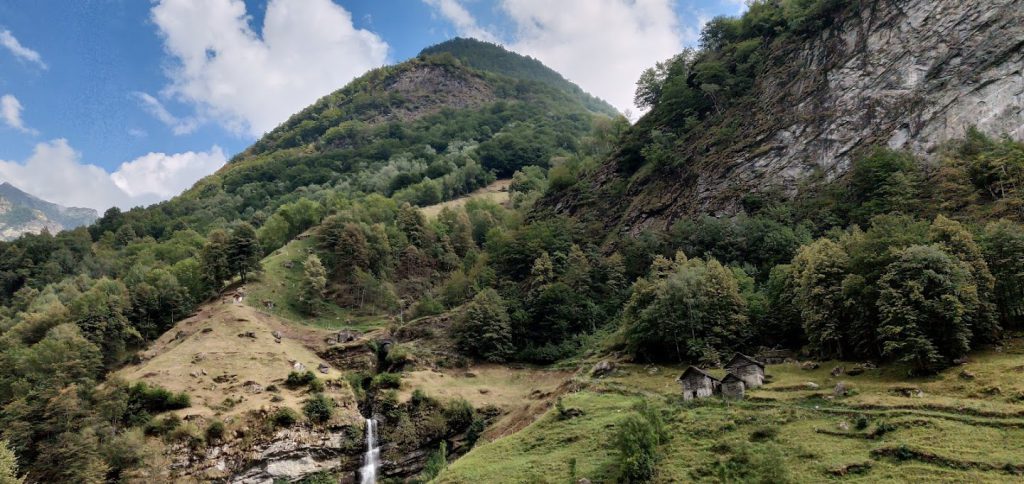 After that, we went to the other side of the valley to explore more old villages (from the 16th century!) and enjoyed learning more about the architecture and lifestyle. We also visited the Church of San Giovanni Battista in Mogno. Boasting bizarre yet really interesting architecture, it was built by famous architect Mario Botta when the 17th century church on the site was destroyed by an avalanche in 1988. In this particular  setting, the church, with its round shape and black and white lines, truly stood out.
I also distinctly took note of in Switzerland were the bus shelters. I know what you're thinking… bus shelters, really? But hear me out: in Ticino, you can see many bus shelters that have been transformed into mini libraries! You can borrow books absolutely free of charge. What a simple yet meaningful feature… it speaks volumes about the people.
All in all, this small country full of a giant character has truly taken over my heart. Needless to say, I hope to be back very soon!